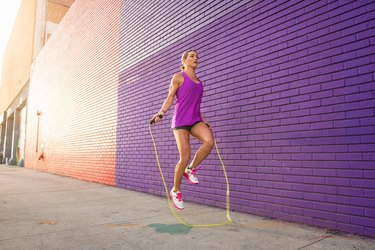 Jumping rope is one of those things that makes you nostalgic for your childhood. You might recall those days when you used to play with chalk on the sidewalk and skip rope over the boxes.
But if you're looking to jump rope for exercise, know that times have changed — there's more to choosing a jump rope than a plastic string with handles on each end.
Just like ice cream, jump ropes come in many flavors, and the right one for you depends on your preferences and goals. Here, trainers explain the different types of jump ropes, their functions and the best options to buy, whether you're looking to improve your double unders or boost your strength and endurance with a weighted rope.
If you usually take your routine outside, it's smart to invest in a rope specifically made to be used outdoors.
"These ropes are built to be durable, and they need to be," says Maillard Howell, an American Council on Exercise-certified personal trainer, CrossFit Level 2 coach, co-creator of The Beta Way and owner of Dean CrossFit in Brooklyn, New York. "I recommend PVC-based ropes outside versus wire ropes, which quickly become destroyed from whipping along the concrete."
Even if wire ropes have rubber sheaths, they tend to become worn out more quickly outdoors, and before you know it, the wire shreds and your rope breaks. Beaded ropes are a good outdoor option as well, Howell says. "The beads should be rubber-based, so they don't crack or break," he says.
Shop the Best Outdoor Ropes
DEGOL Skipping Rope ($7.99, Amazon): This steel-wire, PVC-coated rope has a ball bearing system in the handles to ensure that every rotation is smooth and that the rope won't get tangled as you jump.
Elite SRS Thick Beaded Fitness Jump Rope ($16.99, Amazon): Although this rope is made out of plastic beads versus rubber ones, fans of the rope say the beads hold up well on rough surfaces. "The hardened plastic makes it a pretty good option in terms of durability for outdoor training," Howell says. And because it's slightly weighted from the beads, it can help you slow down and maintain a consistent pace for longer periods.
Llife Tangle-Free Jump Rope ($6.89, Amazon): No matter how sweaty your hands get, the ergonomically designed, sweat-absorbing handles on this rope won't slip. At just a little over 5 ounces, it's extremely lightweight, too, making it easy to pack and go. The PVC material prevents excessive cracking and damage to the rope, even on tough sidewalks and driveways.
The purpose of this rope is right there in the name. If you want to increase your speed, a rope made with very thin wire is best. Ideally, you would use these ropes inside your home or at the gym, as tough surfaces can do real damage to a thin rope over time.
"Speed ropes are great for practicing double unders and working on explosiveness, as the rope enables you to whip it around faster than other heavier ropes," says Eric Rakofsky, a National Academy of Sports Medicine-certified trainer and coach at Performix House in New York City. "They're used a lot in CrossFit and boxing."
Keep in mind that speed ropes may be a tad more costly than other types of jump ropes. Howell, who has been teaching jumping rope for CrossFit for the past seven years, says, "the resources and materials that go into making a speed rope tend to bump the price up."
Be aware that because speed ropes are thin (so they move quickly), you may end up whipping yourself from time to time, so use yours carefully.
Shop the Best Speed Ropes
WOD Nation Speed Jump Rope ($17.98, Amazon): This rope was created for quick movements, but it's stable enough that it will also help you recover after a bad swing without having to stop and reset. Designed for indoor workouts, it's best for smooth surfaces and not cement, turf or other rough terrain, which can destroy the cable. "It's durable, thin and perfect for speed work," Rakofsky says. It's easily adjustable, too — just cut the wire to the length that you need.
Sonic Boom M2 High Speed Jump Rope ($29.86, Amazon): Thanks to the silicone grips on this speed rope, you won't have any trouble spinning it as fast as possible. The rope comes with two adjustable cables, so you can get the exact length you need for different workouts. "This would rank as an ideal rope for me," Howell says. "The lock feature that replaces the mundanely used screws that tend to get loose in other adjustable ropes makes this a big winner in my book."
Fit Viva Deluxe High Speed Jump Rope ($25.97, Amazon): Slim handles and a smooth-turning bearing system are just two of the great features that come with this speed rope. "I love the locking system on this rope that replaces clamps or screws on cheaper models of adjustable ropes," Howell says. Each rope also comes with a storage bag for safe keeping and a 30-day challenge video to help you stay motivated.
Similar to a speed rope, a weighted rope can help improve coordination, agility, footwork, quickness and endurance. But what a weighted rope can do that a speed rope can't is increase strength.
"Weighted ropes are also great for shoulder endurance, and for those focusing on learning to jump at a sustainable pace," says Rakofsky, who has been jumping rope for 15 years. Weighted ropes are generally thicker, and the handles or the rope itself is weighted; sometimes both are weighted.
Shop These Weighted Jump Ropes
Crossrope Weighted Jump Rope ($99, Amazon): This jump rope has a "fast clip system" that allows you to easily switch from a quarter-pound weighted rope to a half-pound one. "The technical features of this rope set it apart from others," Howell explains. You'll also have access to Crossrope's free workout app to give you ideas of what you can do with your new tool. Reviewers rave about its durability and versatility — both of which help explain the higher price point.
Gaoykai Weighted Jump Rope ($19.99, Amazon): "The Gaoykai rope would be awesome to incorporate into a boxing or MMA workout," Rakofsky says. The rope is 10 feet long, but you can adjust the length easily to your height, and it has a ball bearing system that prevents tangling and twisting. Plus, the aluminum handles are covered in a silicone sleeve, which makes them more durable and easy to grip.
Pulse Weighted Jump Rope ($19.99, Amazon): This rope weighs 1.45 pounds, so it will definitely challenge your muscles while getting your heart rate up. You have the option to add weight to the handles, too, which will make the overall rope a pound heavier. One five-star online reviewer says, "I jump rope quite a bit, and the problem I was having was the rope pulling out of the handle after breaking it in, but the rope fasteners used in this one solved that problem."
For a jump rope you can use for a variety of at-home and gym workouts, a gym rope is a good option for you. These ropes are best for general use to get your heart rate up and burn calories.
They're also great for those who are new to jumping rope. "The price point for a beginner just looking to jump at home should be reasonably low, and a lot of these ropes are extremely affordable," Howell says. "Just make sure the rope is adjustable to your height."
Shop These Workout and Gym Ropes
Ballistyx Jump Rope ($25.86, Amazon): With an average rating of 4.5 out of five stars from more than 1,000 Amazon shoppers, this workout rope comes with two different cables: a heavier one for strength and endurance work and a speed cable. This versatile rope is made to last and won't snap or get tangled during your workouts. Plus, you'll get access to instructional videos and workouts to help you get into the swing of things.
SPORTBIT Jump Rope ($5.99, Amazon): Made for beginners, this jump rope comes with a free instructional booklet on how to get started. It's also portable and lightweight, so you can take it with you to the park, the gym — anywhere you want to jump rope — and you can use it indoors or outdoors. "The PVC rope material makes this an excellent choice for durability for workouts at home, on driveways or in garages," Howell says.
XYLSports Adjustable Jump Rope ($10.99, Amazon): The large, cushy foam handles of this rope are comfortable to hold onto for 15 minutes or 45! They don't get too sweaty, either. Like many ropes on this list, the cables are adjustable and don't coil up easily. For a basic rope that you can use to complement your run, dance and HIIT workouts, this one is perfect.