With one of the most inexpensive pieces of exercise equipment -- a jump rope -- you can receive an excellent cardiovascular workout. Jumping rope also helps you increase body awareness and hand and foot coordination. To keep a steady pace, get the most from your workout, and avoid falling flat on your face, you need the correct length rope.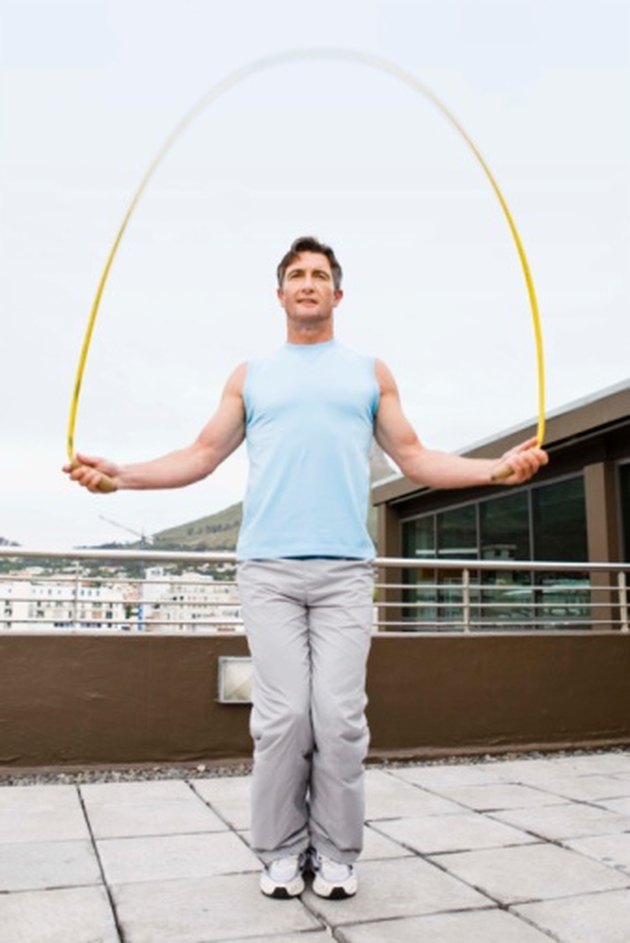 Measuring Height
The correct length for an individual jump rope depends on your height. When you stand on the middle of the jump rope and pull both ends up toward the sky, the tips of the rope should reach your armpits. If the rope falls short of your armpits, the rope will not hit the ground as it passes under your feet when you jump. If the rope comes up well past your armpits, you may trip on the extra length and the rope may become tangled as you jump.
Height Chart
While the way you jump can affect the rope length needed, in general you can follow a basic chart to determine the correct jump rope length for your height. Someone less than 4 feet 10 inches tall uses a 7-foot jump rope. If you are over that height, but under 5 feet 3 inches, use an 8-foot rope. A 9-foot rope fits someone 5 feet 4 inches tall to 5 feet 10 inches tall. If you are between 5 feet 11 inches and 6 feet 6 inches, a 10-foot rope should work. You will need an 11-foot rope if you are taller than 6 feet 6 inches.
Long Ropes
For group play with two rope turners, you need a long rope, or two long ropes of equal length to jump double Dutch. The standard long rope for one jumper is 12 feet. For up to two jumpers, use a 14-foot rope. For up to three jumpers, you need a 16-foot rope. A 20-foot rope fits up to four jumpers. For more than four jumpers, you need a rope that is at least 24 feet. Long ropes reach lengths of 36 feet.
Rope Types
In addition to the length, the type of rope you use affects how well and how fast you will jump. Schools generally equip students with speed ropes and segmented ropes. As the name suggests, speed ropes give you the fastest jump. Ken Solis used a speed rope when he broke the Guinness World Record for fastest 10-mile run-skip in 1988. Often used by boxers, leather ropes are the second fastest ropes, but sting at high speeds. For the most versatile rope, Solis recommends a segmented rope, also called a beaded rope, because it is light and it keeps its shape well. Weighted jump ropes help provide a more intense workout.