Dynamic exercises involve movement and are usually implemented during an active warm-up for a higher intensity activity, such as sport or field activities. These types of exercises help prestretch and activate the muscles without overstretching them, as static stretching tends to do. According to Elite Soccer Conditioning.com, dynamic exercise prepares the muscles for the activity by waking up their stretch-shortening complex, increasing muscle temperature, and stimulating the nervous system, which results in greater power output. These types of exercises involve active full range of motion movements and quick stretches slightly greater than normal range of motion.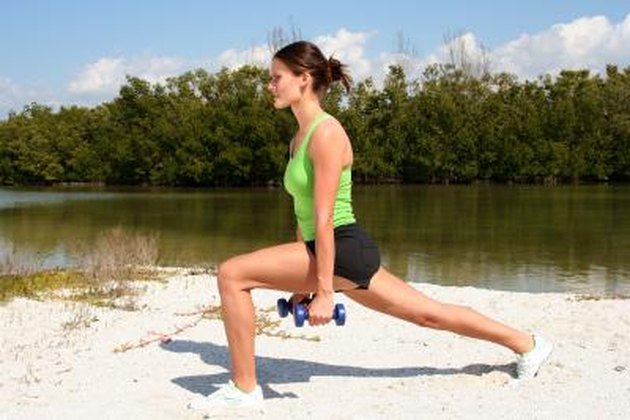 Jogging Variations
The National Strength and Conditioning Association recommends performing dynamic exercises after a light three- to five-minute cardio warm-up. Jogging variations keep the heart rate elevated and exercise specific muscles in the legs that contribute to sprinting and jumping power. Do high-knees by quickly bringing your knees up to horizontal while swinging your arms in opposition. The goal of high-knees is quickness, not stride length. Next do butt-kickers, trying to kick your own bottom with your heels, with the goal again being quickness. Finally, do a backwards jog, or back pedal.
Lateral Movements
The body operates in a three-dimensional world, which traditional static and isometric exercises often neglect. Shuffles involve moving side to side, or laterally, preparing knees, ankles and hips for any and all movement patterns. Start in a half squat position with legs apart, and then shuffle sideways. Do not let your legs cross over each other; rather, do a quick side step-hop maneuver. Also, do the carioca, which is a quick grapevine step sideways, and then a step in front of and then behind the leading foot.
Leg Swings
Leg swings, sometimes called straight leg marches or even Frankenstein walks, are done while stationary or traveling forward. Swing and kick your leg up as high as you comfortably can, feeling a stretch in the hamstrings and glutes while activating your hip flexors. Try to keep your other heel flat on the floor. Continue with the opposite leg. Once you have kicked forward, attempt a backward kick in which you stretch your hip flexors and activate your glutes and hamstrings.
Lunges
Lunges continue to activate all the leg muscles of the legs while providing a stretch for the hamstrings, hip flexors and quadriceps. For dynamic lunges, take a longer stride than traditional lunges. Allow your back leg to bend only slightly, and keep your front knee behind your toes. Hold the downward position of the lunge for two to three seconds, then push off the front leg, and continue with the other leg. Do these lunges sideways as well for an abductor, hip and groin stretch.
Arm Circles
Controlled arms circles activate the muscles of the shoulders, back and chest while stretching the same muscle groups. Circle your arms forward and backward for 30 seconds each. Do torso twists by keeping your arms up and rotating at the hips back and forth to activate the abdominals and lower back.