You know what to do to build up your shoulders and maintain healthy function, but your question is how? Like so many important questions, the answer is not definitive. The number of reps and sets, and how often you should perform them, depends on the results you desire.
If your goal is to build healthy muscle for general good health, the prescription for reps and sets of the best shoulder exercises will differ from the prescription for someone looking to win the next bodybuilding competition.
Although the answer to the question isn't one-size-fits-all, each variation of the answer is simple enough to follow.
Best Shoulder Exercises
Before going on to the nitty gritty of the actual workouts, it's important to review: What are the best shoulder exercises?
Exercises — plural — is accurate because, as the head of the Clinical Exercise Physiology Department at the University of Wisconsin-LaCrosse told the American Council on Exercise, no one exercise can optimally target each of the three heads of the deltoid.
So, his university teamed up with ACE and produced a 2014 study showing that three of the best shoulder exercises in terms of muscle activation are:
Shoulder Press for the anterior, or front, deltoids

45-Degree Incline Row for the medial, or top, deltoids

Seated Rear Lat Raise for the posterior, or back, deltoids

Incorporate all of these in your shoulder workout for a well-rounded experience, regardless if your goal is to improve function, build size or develop greater strength.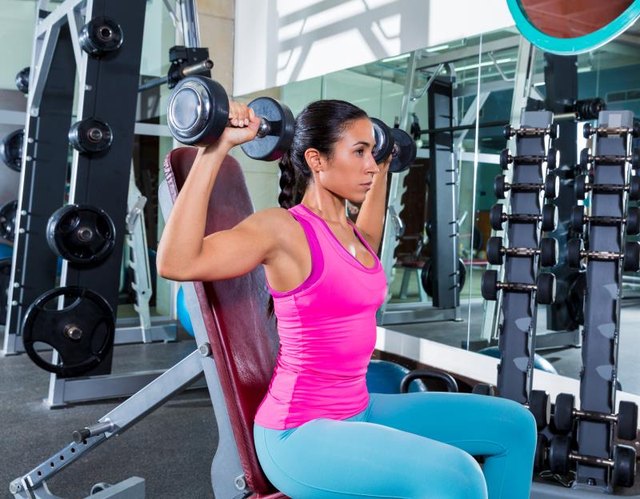 Rep Choices
How many reps you do depends on how much weight you're trying to lift. It goes without saying that you can lift a light weight far more times than you can a heavy one. The National Strength and Conditioning Association recommends the following, depending on your goals:
General Strength and Good Health: 12 or more reps at 67 percent of your one-rep maximum

Greater Muscle Size: 6 to 12 reps of a weight between 67 and 85 percent of your one-rep maximum

Increased Strength: 6 or fewer reps of a weight equal to 85 percent of your one-rep maximum

Power: 1 to 5 reps at between 75 and 90 percent of your one-rep maximum

Your one rep maximum is the most weight you can lift one time that results in muscle failure.
Determining Sets
Doing multiple sets, regardless of your goal, provides numerous benefits, showed a 2015 study published in the Journal of Strength and Conditioning Research. The 48 participants were not experienced in resistance training, but performed one, three or five sets of exercises at three workouts per week of a number of strength-training exercises, including the shoulder press.
All groups, regardless of the sets performed, experienced benefits in terms of muscle gain, body fat reduction and vertical-jump. This confirms that the recommendation for newcomers to strength training will benefit from even one set of 12 repetitions of the shoulder exercises.
The trainees who did the most sets — three to five — experienced the greatest improvements in strength and muscle growth. Those who performed five sets had the most change in their bench press and lat pull-down abilities — five sets did not make as remarkable of a change in the shoulder press.
So, if you're looking to build strength, size or power in your shoulders, aim for a minimum of three sets of each exercise. You will benefit if you work up to four or five sets, but the small improvements these additional sets afford may not be worth the extra time.
Rest Between Sets
Another important factor to consider is how long you spend hanging out between sets. For general fitness and size increases, 30 to 45 seconds is usually sufficient. But, for heavier lifts that develop maximum strength and power, rest 2 to 3 minutes between sets.
Without optimal rest, you won't feel recharged to tackle the next set. You might fail before all your reps are complete, or need to reduce the weight lifted because you didn't let the muscles recover adequately.
Remember to rest at least 48 hours between shoulder workouts, and possibly longer if your aiming for power or max strength development and use extremely heavy weights.