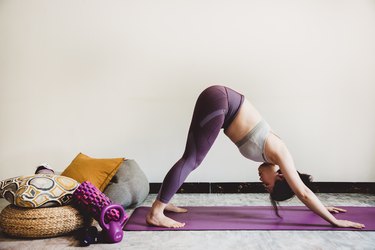 Some muscles, like your legs, are easy to train even if you don't have equipment. There are plenty of exercises you can perform with just your body weight (think: squats, lunges, glute bridges).
Body-weight shoulder exercises, on the other hand, aren't as well-known and require a little creativity. The options range from simple exercises like arm circles to the more complex handstand walk-up. But if you're not ready for handstands just yet, there are plenty of exercises in between.
To give your shoulders a serious at-home workout, give these eight moves a try. This list progresses in order of difficulty from easiest to most challenging. So if you're finding an exercise too easy, move onto the next.
1. Arm Circle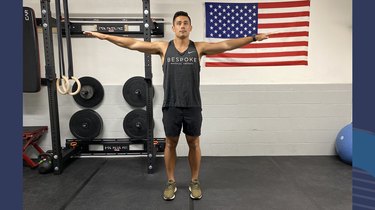 Body Part
Arms and Shoulders
Stand and hold your arms out to the side, parallel to the ground.
Draw small circles in the air with your arms in a clockwise direction.
After 10 reps, make the circles bigger for 10 reps.
Repeat the exercise in the opposite direction, circling counter-clockwise.
Tip
Use this exercise in the beginning of your workout as part of your warm-up or during your workout as an add-on to another shoulder exercise to really feel the burn. Your only resistance is the force of gravity pulling your arms down, but you'll be surprised how tough this one can be.
2. Corner Lateral Raise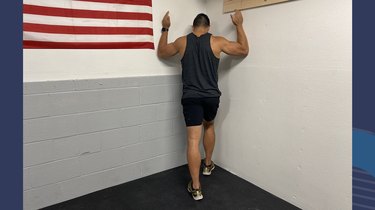 Body Part
Abs and Shoulders
Find a corner in your room with nothing in the way. Stand in the corner, facing the walls.
Raise your arms up into a goalpost position and press into the walls (press against the wall and resist with your shoulders and back).
Gradually press harder until you feel your shoulder muscles working.
Press as long as you can, take a break, then repeat 3 to 4 times.
3. Prone Swimmer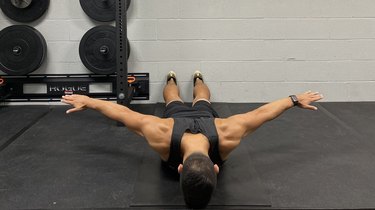 Body Part
Back and Shoulders
Lie on your stomach with your arms stretched out in front of you and your forehead on the ground.
Lift both arms up and overhead, palms facing each other.
Slowly circle them around, keeping them lifted off the floor and making a half circle until your hands are back near your butt, palms facing up.
Reverse the half circle until your arms are reaching overhead again.
4. Bench Dip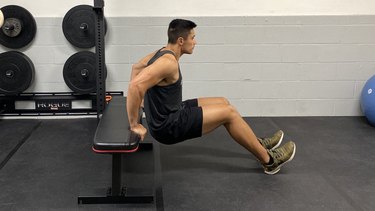 Body Part
Arms and Shoulders
Sit on the side of a bench or chair with your hands planted next to your butt.
Walk your feet forward so that your butt is in front of the bench.
Bend your elbows and drop your butt below the bench.
Keep going down until your elbows are at 90-degree angles, then press yourself back up.
To make this dip exercise harder, straighten your legs or put your feet up on a chair in front of you.
5. Pike Push-Up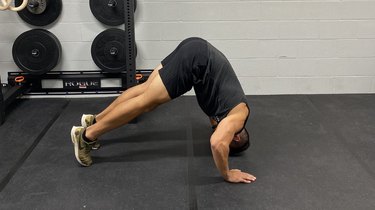 Body Part
Back and Shoulders
Start in a high plank with your hands in line with your shoulders, body in a straight line from head to hips to heels.
Lift your butt toward the ceiling, lower your head and straighten your elbows. Walk your feet in a little bit if needed. You should be in an inverted V shape.
Bend your elbows and lower the top of your head toward the ground.
Press back up until your elbows are straight.
Tip
Chief Instructor at Barry's Bootcamp in New York City, Keoni Hudoba, recommends pike push-ups because they mimic overhead shoulder presses. They work your core muscles at the same time, giving you more bang for your buck.
6. Side Plank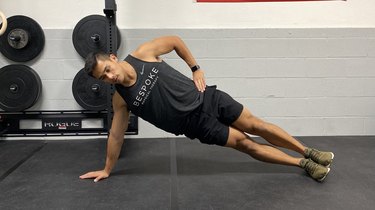 Body Part
Abs and Shoulders
Lie on your left side with your feet and hips stacked, right forearm on the ground.
Pressing into the sides of your feet and right hand, raise your body up off the ground.
Straighten your right elbow and keep the right palm directly below the right shoulder.
Push your hips up toward the ceiling and hold this position, keeping your body as straight as possible.
Hold here, then switch sides.
7. Divebomber Push-Up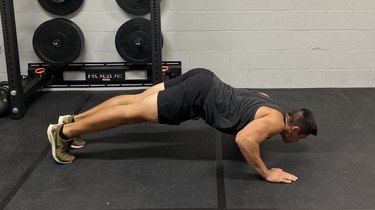 Body Part
Chest and Shoulders
Start in Downward-Facing Dog with your butt in the air and knees and elbows straight.
Bend your elbows and lower your body slowly, leading with your head.
Before your forehead hits the ground, start to lift your head up and drop your hips.
Move forward and simultaneously straighten your elbows, ending in Upward-Facing Dog.
Reverse the movement back to Downward-Facing Dog.
8. Handstand Walk-Up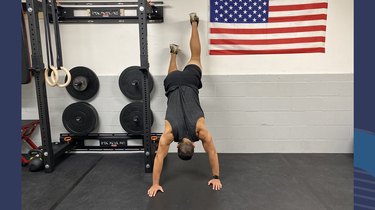 Body Part
Back and Shoulders
Start on an all fours in front of the wall, facing away from it.
Straighten your legs and plant your feet on the wall. Only your hands should be on the ground.
Slowly walk your hands back and, at the same time, walk your feet up the wall.
Keep going until your body is almost completely vertical against the wall.
Reverse the motion, "walking" back to the starting position (a high plank with feet against the wall). Be careful, because if you go too far, you'll tip over and fall.
Tip
Perform as many reps as you can with good form. This is a very advanced shoulder exercise. Don't try this move unless you can confidently do at least 10 reps of body-weight exercises like push-ups and dips. The greater difficulty means that this exercise can help you build impressive shoulder strength.