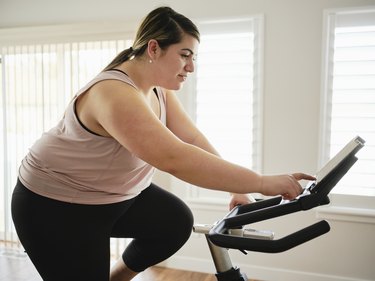 That's why timing is key when it comes to finding home exercise equipment sales. After all, who doesn't love a good deal? Learn how to buy used exercise equipment, the best time to buy it and browse a few of our top picks for your next (savvy) shopping spree.
When Is The Best Time To Buy Exercise Equipment?
What is the best time of year to buy an exercise bike, elliptical, treadmill, rowing machine or other exercise machine? Without a doubt, the winter holiday season, according to Colleen Logan, vice president of marketing for the iFit virtual training platform. That's when demand and sales spike.
Companies like NordicTrack, ProForm and FreeMotion have home workout equipment on sale from around Black Friday (the day after Thanksgiving) through the beginning of the year.
2. Around Food-Based Holidays
The first: Thanksgiving (the third Thursday in November). The second: Super Bowl Sunday (typically the first Sunday in February). So, if you have your sights set on a new smart home gym, elliptical or stationary bike, browsing online during these holidays is a good idea.
There are a few summertime holidays, like Memorial Day (the last Monday in May) and Labor Day (the first Monday in September) that are common sale times, too, according to Logan. These sales — like Memorial Day treadmill sales, for instance — don't generally apply to as many products as some of the others, but can still be a good opportunity to score a deal.
Tip
Some companies sprinkle random sales throughout the year, so it's good to keep an eye out at all times. The best way to stay in-the-know is by subscribing to weekly newsletters or e-mails from your favorite equipment brands.
3. When Local Gyms Close Down
Unfortunately for gym owners, upholding a large-scale facility is tough. That means gyms close pretty often. But that also means they have a ton of equipment to get rid of. Often, when gyms go under, they sell off used machines at a discounted rate.
A clever way to score your favorite exercise machines at a low price: If you find out that a local gym is going out of business, stop in and ask what the gym is doing with its used equipment.
Look Out for Sales on Our Favorite Fitness Machines and Equipment
‌Treadmill: ‌Echelon Stride Auto-Fold Connected Treadmill ($1,299.99, Echelon.com)
‌Bike: ‌Peloton ($1,445, Onepeloton.com)
‌Elliptical: ‌Precor Elliptical Fitness Crosstrainer EFX 885 ($5,499.99, Amazon.com)
‌Rower: ‌NordicTrack RW900 ($1,999, NordicTrack.com)
‌Dumbbell: ‌Bowflex SelectTech Adjustable Weights ($429, Amazon.com)
‌Band: ‌RitFit Pull-Up Assist Band ($13.99, Amazon.com)
‌Power Cage:‌ Fitness Reality Squat Rack Power Cage ($236.27, Amazon.com)
‌Smart Home Gym: ‌Mirror ($995, Mirror.co)
Tips for Buying Home Gym Equipment
1. Think About Your Fitness Goals
The most important thing to think about before investing in a piece of (potentially expensive) exercise equipment is whether or not you'll actually use it. Sure, you may see tons of ads for exercise bikes and know many people who have their own and love it. But if you've tried your fair share of spin classes and hated them all,
In addition, it's important to think about if you have any specific fitness goals you want to achieve, according to Alberta Health Services. For example, you may want to improve your cardio endurance to be able to run a marathon or build more muscle to make it easier to bring in all your groceries. If the marathon is your goal, you may want to opt for a treadmill. If gaining strength is your goal, you may want dumbbells or resistance bands.
2. Take Stock of How Much Space You Have
While this may seem obvious, you want to make sure the fitness equipment you buy is the right size for your house or apartment, according to Alberta Health Services. If you only have a corner of your bedroom, you might be better served with a few smaller pieces of equipment like weights or bands. On the other hand, if you have an entire basement, larger pieces of equipment like a rower or squat rack are likely to fit.
Last, it's important to know how much money you have to spend on your fitness equipment, per Alberta Health Services. Gym equipment can range from $10 for a small pair of hand weights to thousands of dollars for something like an elliptical machine.
If you're just starting to exercise at home and/or don't have a ton of money to spend, start with a few small pieces like medicine balls, resistance bands, weights or workout videos, according to Alberta Health Services.
Tip
Before buying any piece of exercise equipment, make sure you know its return policy in case it doesn't work for you or your space.
Make the Most of Your At-Home Gym