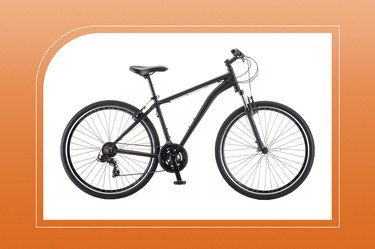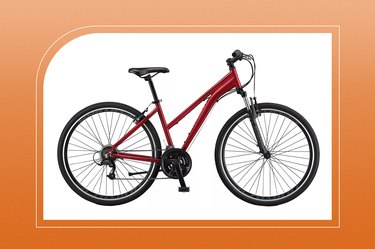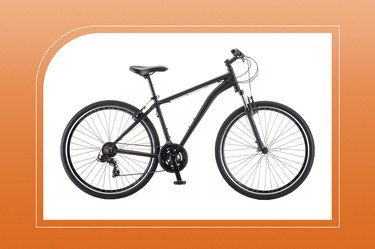 Some compliments just stick in your mind long after they're spoken. And when one of my best friends told me that my bicycle was me in "bike form," I was as flattered as you can get. It might sound a little odd, but anyone who's seen my bike in person would ‌totally‌ understand the weight of this remark.
We make deliberate choices about the language we use when it comes to gender. While more brands now produce gender-neutral workout equipment, bikes are still often marketed to men or women.
The main difference between most women's and men's bicycles is the size: Men's versions tend to be available in taller heights. However, quality and materials should be the same between gender-labeled versions. We encourage everyone to read the size chart and purchase the bike that's best for them.
Introducing, My Beloved Bike
With his (yes, my bike, Emmett, is a he) matte black frame, electric blue accents and slim tires, my bike is quite the looker. Beyond just appearance, he's ‌so‌ reliable. Since I don't have a car at the moment (and LA is not a walker-friendly city), I use my bike ‌every‌ day, usually multiple times a day and I haven't had a single issue yet.
As a hybrid bike (meaning it can conquer both mountains and roads), it's the best of both worlds. Like a mountain bike, my Schwinn GTX 3 — I use a men's bike because I'm pretty tall — has straight handles, so I can sit upright and comfortably without needing to bend over the handlebars.
But, like a road bike, it has an aluminum frame and thin tires that are so incredibly light. I can zip to beach volleyball and carry my bike in the sand, no problem.
And don't think I haven't put Emmett through some pretty intense tests. There's a monstrous hill at the end of my street (about 100 feet in elevation) that I have to cross every day to get to the gym. As a non-cardio fan, going uphill is definitely the hardest for ‌me —‌ the seven-speed gear shifts definitely help, though. But the descent is where my bike shines.
Drivers in LA aren't always the most courteous and every so often an unconcerned Range Rover will whip out of a side street. Now, imagine screeching to a halt while going down a 100-foot decline at top speed. It's daunting. But it's nothing my bike's trustworthy brakes (one on each handlebar) can't tackle and for that, I'm eternally grateful.
I love that you can get it in smaller sizes, too. My bike is pretty tall, which works great from my five-foot, eight-inch frame. But my long-time best friend, who's a little shorter, has the maroon women's version (she's named Rose and yes, we named our bikes after ‌Twilight)‌. Rose looks just as sleek and professional.
We're so obsessed with our bikes that our friends call us the 'biker girls.'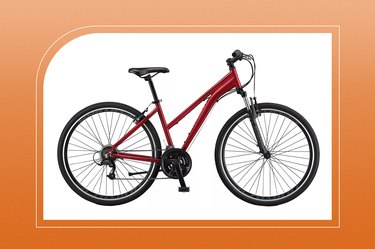 One thing you should know about me: I love to shop and I love accessories. So, naturally, I had to trick out my bike ASAP. A bike lock and helmet were an immediate must, so I bought those as soon as I brought Emmett home.
My Saturdays usually involve a ride to the gym, followed by beach volleyball and finally a friend's house for dinner. So, I like to take snacks, skin-care products and several changes of clothing with me. But instead of carrying all this on my back, I bought a bike pannier to save strength for my many activities.
As much as I love shopping for accessories, I love an outfit. And as someone who never biked much growing up, I quickly learned that 3-inch inseam gym shorts are ‌not‌ optimal for biking. Luckily, bike shorts are so in right now. I was able to snag quite a few pairs that are both functional and fashionable — score!
The Bike Accessories I Bought (and Loved)
The Love Connection Runs Deep
Currently, my bike sits in the corner of my kitchen. As I type, I can't help but look over at it and smile. How silly is that? I'm smiling at an inanimate object. But if you knew the full story, it wouldn't seem so laughable.
Only a month after moving to LA, my beautiful, fast and flashy sports car was totaled. And after that accident, I couldn't get through an evening without cold sweats and nightmares — it crumpled like tin foil and the airbags didn't even go off. The black eye and neck pain weren't lovely, either.
The thought of sitting behind the wheel of a car sent my pulse racing and hands shaking. So, I decided to go with a bike. A bike is safe, cheap, doesn't require gas and can only go so fast.
After about three months of owning my bike — I can say, without a fraction of a doubt — that I love my bike infinitely more than I ever loved my car. I feel safe, I feel secure and I still feel like a badass on my modern matte black bike (I didn't even pay hundreds of dollars for a tacky matte wrap — here's looking at you, rude Range Rover). In a way, my bike helped me get over a lot of the trauma I faced after my crash.
So, when my best friend told me that Emmett was me in bicycle form, I couldn't help but blush. Because that bike is beautiful, powerful, fast and reliable. And if that's how my friends see me, too, I'm definitely doing something right.
‌Ready to fall in love with a bike of your own? Jump online and snatch your Schwinn GTX 3.‌