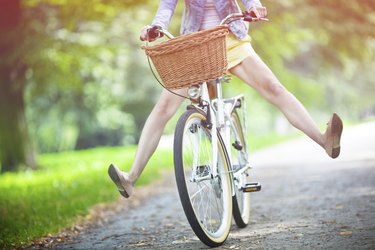 What to Look For
The best bicycle for short ladies depends on desired style and intended purpose. Bicycle shops typically stock sizes small enough for most short people. Bicycle frame top tubes must remain low enough for the woman to stand over while the handlebars remain comfortably within reach.
Many bicycle manufacturers provide small frames and wheels to accommodate shorter people. Women often possess shorter torsos than comparably sized men, and several companies design bicycles to address this.
Common Pitfalls
Not every woman fits the average long legs and short torso body type for whom women-specific bicycles are designed.
Some manufacturers only change stem lengths, saddle widths and handlebar widths then declare a traditional bicycle fit for the female form. Other manufacturers design bicycles from the ground up for female riders. Often road bicycles use fairly uncommon 650c tire sizes for short female riders. Tubes and tires for such machines rarely sell outside of specialty bicycle stores.
Where to Buy
Bricks-and-mortar bicycle shops and online bicycle retailers typically carry bicycles designed for women. Big box stores often only feature step-through frames with sloping top tubes. Sloping top tube designs generally work best for elderly and disabled persons regardless of sex. Independent bike retailers typically offer bicycle fitting services.
Ensure that the frame does not contact your body when you stand over the bicycle with your feet flat on the ground and that the handlebars remain nearly level with the saddles to prevent excessive lean.
Cost
Inexpensive bicycles designed for short ladies often cost under $200 and feature few true female specific designs. Quality entry-level mountain bicycles designed specifically for female riders cost between $300 and $500. Bicycles for serious mountain cyclists and amateur racers cost from $500 to $1,500.
Pro mountain cyclists and extreme riders often ride machines selling for $1,500 to $5,000.
Entry level road bicycles often cost $600 to $1,000. High-end bicycles for enthusiasts and amateur racers cost $1,000 to $2,500. Professional racers and avid cyclists may spend as much as $10,000 on high-tech, lightweight machines.