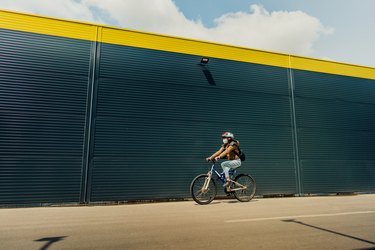 If you relied on your car or public transportation to get to work in the past, you might be considering biking to work instead to save money and squeeze in some exercise.
Cycling in general is a gentle-on-your-joints workout that just about anyone can try. But there are unique benefits of becoming a bike commuter: Biking to work was linked to a lower risk of heart disease, cancer and death from any cause in an April 2017 study in the ​BMJ​.
If weight loss is your goal, there's even more good news: In the first year of commuting by bike, the average cyclist loses 13 pounds, according to the Department of General Services. And in a small October 2017 study in the ​Journal of Obesity​, sedentary adults who were overweight and started commuting by bike lost more fat than others who added moderate or vigorous exercise to their routines over a period of six months.
In fact, about 870,000 people in the U.S. and counting commute to work by bicycle, according to cycling statistics.
If you're curious about giving bike commuting a try, these tips will help you stay safe and enjoy the ride.
Step 1: Get (or Gear Up) Your Bike
Most bicycles — even the ancient one you dusted off from the garage — will work just fine for commuting. But you have options.
"Many bike commuters use urban or city bikes," says Rich Conroy, a certified cycling coach and education director at Bike New York. Urban and city bikes are typically hybrid or comfort bikes, although commuters sometimes opt for folding bikes, which you can — what else? — fold up and carry with you.
Here's what to know about each type of bike, according to Conroy:
​Hybrid bikes​ share features of road and mountain bikes for a more commute-friendly ride. They generally have wider tires and higher handlebars than road bikes and slimmer, lighter frames than mountain bikes. (Mountain bikes are built for off-road cycling, with thick tires and strong wheels. They are not as fast as other types of bikes.)
​Comfort bikes​ were created for easy, short rides on flat terrain. Similar to mountain bikes, they have large, wide tires, but with higher air volume to provide a smoother ride, as well as other features for more cushion.
​Folding bikes​ are bikes with fewer features that can be folded up to carry with you into your office, a perk in densely populated areas.
​Electric bikes​ offer a traditional bike experience with the added benefit of an electric motor for when you could use a little help up that super steep hill.
You'll need to make sure your bike fits you properly, or you risk an uncomfortable or even painful ride (looking at you, saddle sores). Experts at your local bike shop can help with this a bit better than employees at big box retailers can (and they offer a more personalized experience than reading product descriptions online).
Your commuting bike should also have the following features and equipment, Conroy says:
If you keep your bike in a public place, you'll also need a bike lock. While cable locks are popular, they are easily cut, Conroy says. Most experts recommend using a hardened steel U-lock paired with a cable, like this one from Kryptonite ($77.95, Amazon).
Tip
The League of American Bicyclists hosts a national Bike to Work Day, which typically takes place on the third Friday in May.
Step 2: Dress for the Occassion
Once your bike is set up, it's time to focus on you — and your top priority is a helmet. (Bell and Bern are trusted brands.) While many areas don't require you to wear one, "it's a good idea," Conroy says. "It's like putting on a seat belt in a car. it's an injury-prevention tool. However, it's not a substitute for riding your bike safely." (More on safety later!)
If your commute is short enough, you might be able to wear your work clothes while biking to the office, especially if your dress code is casual. You can use a backpack to carry your laptop, lunch and other essential belongings.
But for longer rides, or on particularly sweaty days, you may need to commute in clothes other than your office attire and bring a change with you. Conroy, who has a seven-mile commute, keeps his work clothes in waterproof panniers on the rear rack of his bike.
Your regular workout clothes should be just fine, he adds. "There's no need to wear bicycling-specific athletic clothing, since you're not racing or riding for long distances."
Tip
Consider adding a reflective vest in colors easy to see in darkness to your commuting wardrobe — like this affordable version from Flectson ($10.99, Amazon) — for overcast days or dark evening rides.
If you have a shower available where you work or at a nearby gym that's open, you can bring your toiletries and towel. If not, keep a small toiletry kit at the office or bring one with you. Stock it with deodorant, wipes, hair products, makeup and whatever else you might need to freshen up after your ride.
Step 3: Prioritize Safety
When you're commuting by bike, you should follow the essential rules of the road that apply on any outdoor ride. Conroy shares these tips:
Always ride in the same direction as traffic.
Ride defensively, remaining alert for pedestrians, runners, other riders and drivers, as well as for intersections and driveways.
Ride at least four feet away from parked vehicles to avoid being hit by a door or cars pulling out of spaces quickly.
Use hand signals for turns and to slow and stop.

Avoid passing vehicles on the right if you are going straight. Instead of letting you by, the driver might turn right and trap or hit you.

Alert slower riders when passing by saying loudly, "On your left."
Tip
Hand signals have probably changed since you learned them as a kid; to make sure you are up-to-date, check out this video from Bike New York.
But there are also commuting-specific tips to keep in mind:
​Choose the smartest route and practice using it.​ The most direct route may not be the safest. Plan your route using the bike lane feature on Google Maps or check with a local bike shop, where print maps may be available, says Eliana Marcus-Tyler, program coordinator of the San Francisco Bicycle Coalition. Before your first bike commute, do a practice ride on a slower weekend day, she says.
​Allow for extra time.​ Even after you've planned and practiced your route, traffic, the weather, an accident or other hiccups might still make you late for work. Trying to make up time by riding at breakneck speed could lead to injury. Prepare for these possibilities by giving yourself more time than you need for your ride.
​Have a back-up plan.​ It's not as fun to bike in the rain, snow, extreme heat or cold. It can also be dangerous. If you know the weather will be iffy, plan on driving, taking a taxi or ride-share or using public transportation instead.
Visit the websites of your local public transportation to learn about the rules for bringing your bike onboard. Each city has different regulations about allowing bikes on various modes of transit, and you want to know what you're facing should unexpected bad weather mess up your return trip.