You can't go wrong with chicken — it's nutritious, lean and high in protein. It also happens to be super versatile: It can take on almost any international flavor, from Asian to South American.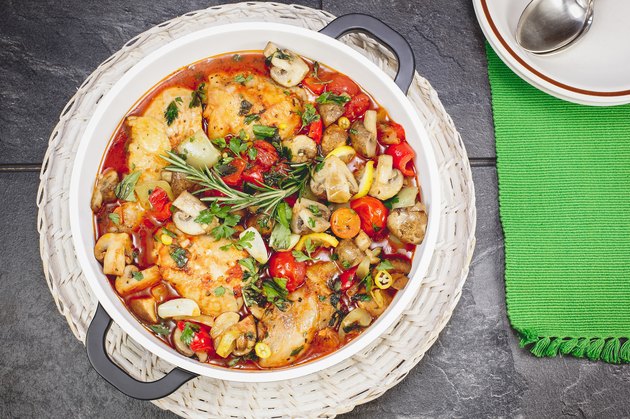 While there's nothing wrong with a simple poultry dish, such as grilled or baked chicken breast with some fresh herbs and lemon, you can easily make the bird the star with recipes that feature different spices and sauces from around the world.
Try these creative recipes to learn new skills in the kitchen, avoid getting bored with eating the same dish night after night and give your taste buds quite the adventure.
1. Barbecue Chicken Pita Pizzas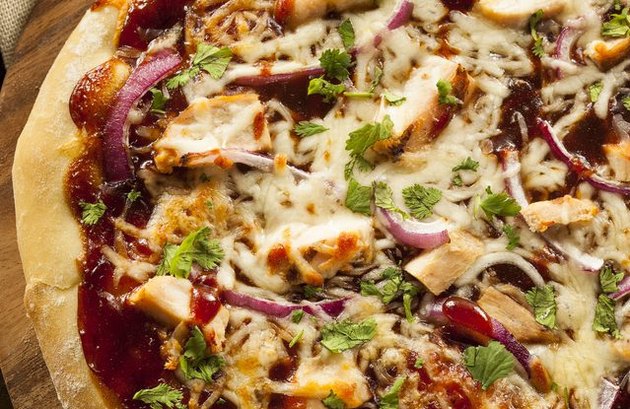 "This is not only a fun way to eat pizza, but it's also an exciting way to eat chicken," says Maggie Michalczyk, RD. This recipe combines the best of both worlds: protein from the chicken, veggies for key nutrients and healthy carbs from pita bread. Plus, the Kansas City-style barbecue sauce gives it some heat.
2. Ginger Chicken Poke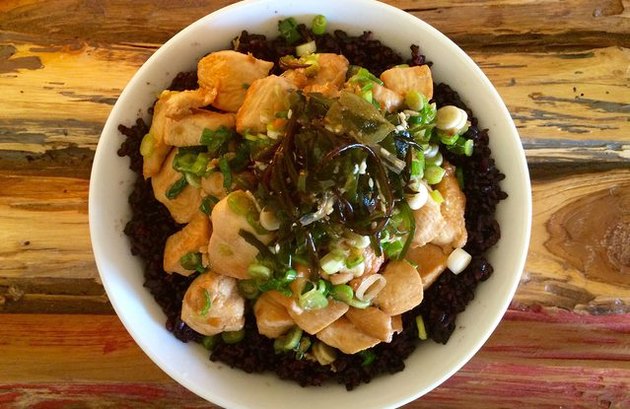 This chicken version of the traditional Hawaiian dish is a winner because the chicken's marinade is low in sugar and is made from just spices and fresh ginger, says Brigitte Zeitlin, MPH, RD.
"Many restaurant and store-bought marinades are quite high in sugar," she says. But this entire recipe packs in just 4 grams of sugar, deeming it a winner in our book. And thanks to the white meat from the chicken breast, there's satiating protein, too.
3. Spicy Turmeric Chicken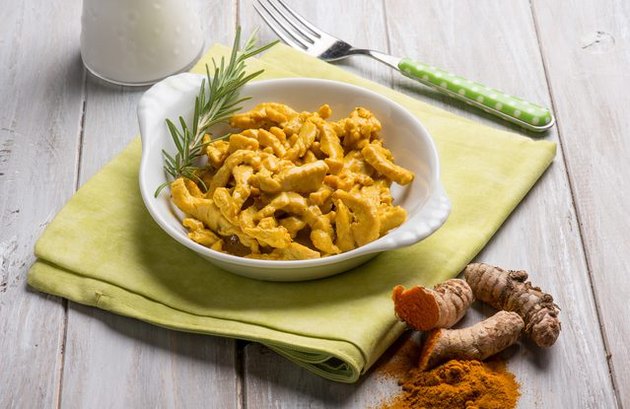 Enjoy Indian spices in this warm, grounding chicken dish. "This recipe is great because it offers up some anti-inflammatory benefits thanks to turmeric," Zeitlin says. It's also good for heart health because it's very low in sodium, she says. Feel free to add in more or less spice to adjust the heat according to your preferences.
4. Chicken and Waffle Kebabs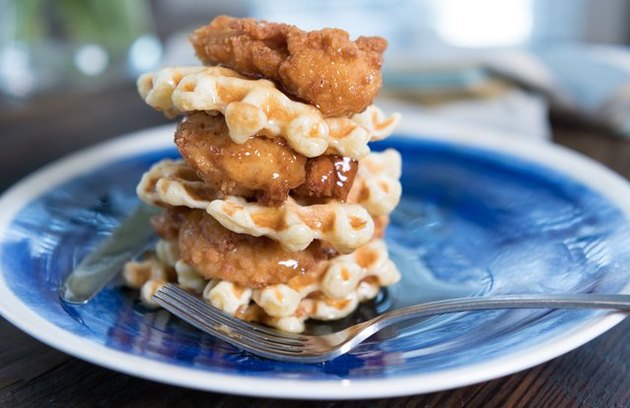 This chicken and waffles kebab recipe makes for the perfect comfort meal, which we all need from time to time. The whole-grain waffles offer up some good energy-boosting B vitamins as well as fiber that keeps you full and satiated, Zeitlin says. Drizzle with coconut nectar for a bit of sweet richness on top.
5. Paleo Chimichurri Chicken
6. Keto Chicken Enchiladas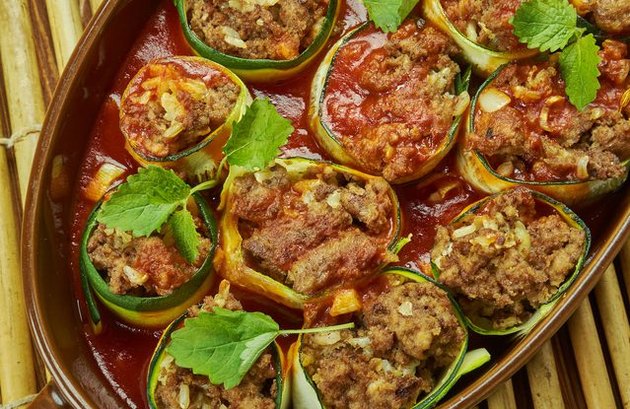 Who says you can't enjoy Mexican food on keto? This recipe packs in loads of flavor from a variety of spices, and it has extra fiber and vitamins from swapping zucchini in for traditional tortillas, says Zeitlin. Feel free to trade cheddar for another cheese and add in more green veggies.
7. Sesame Chicken Nori Burrito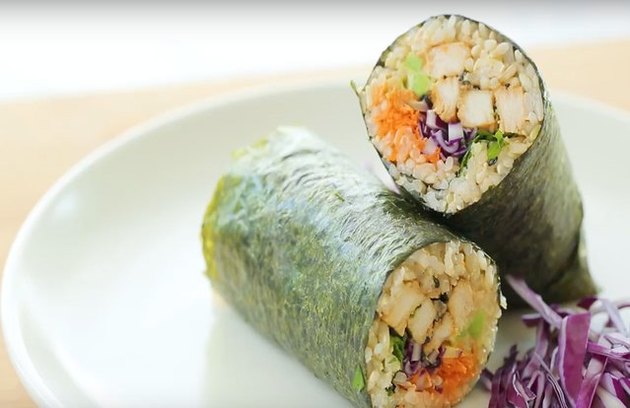 Bookmark this chicken nori burrito recipe for the next time you're in the mood for Asian takeout. By making this at home, you'll save both calories and extra cash. Michalczyk says she loves this DIY version of a sushi burrito because it packs more veggies than traditional ones. It also has healthy fat from the avocado and protein from the chicken.
8. Chicken Pad Thai Zoodles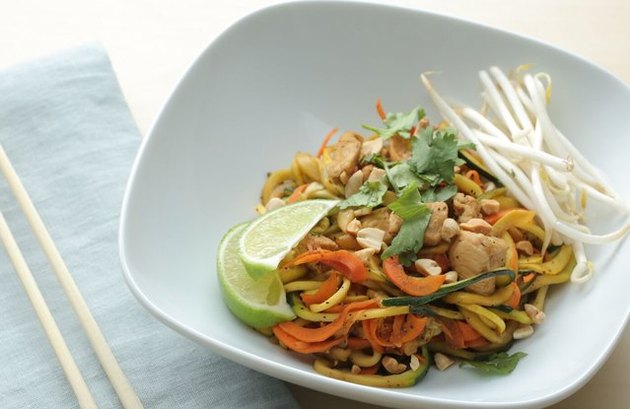 While Pad Thai is a clear winner on restaurant menus, this dish is usually starchy and high in calories. Try this home-made version using zoodles, or noodles made of zucchini, that boasts under 300 calories instead.
"This is a great well-balanced meal that packs protein and fiber for satiety," Michalczyk says. Regular noodles are replaced with zoodles, as well as squash and carrot noodles, and this recipe makes use of chicken you already have on hand. It's super flavorful and full of nutrition from all the veggies — and has a high water content, which can help banish bloat.
9. Slow Cooker Chicken Cacciatore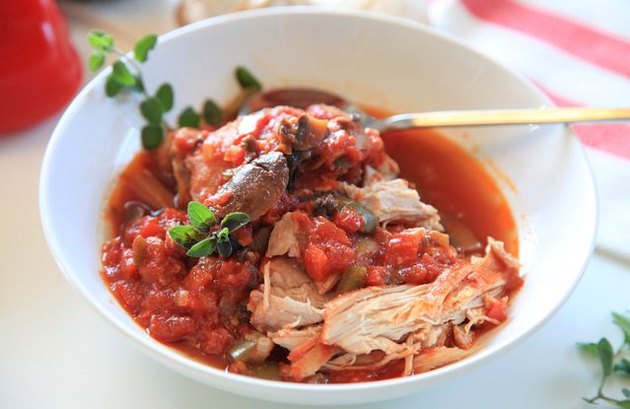 Hearty Italian chicken cacciatore is easy to make in a slow cooker, and super juicy to boot. "This smart recipe will ensure that you'll never have dry chicken again," says Michalczyk.
Packed with flavor, this chicken cacciatore is a nutritious meal that's perfect for busy weeknights. Simply prep it in the morning, toss it in the slow cooker and it'll be ready when you get home from work. Feel free to add in green veggies for some bulk and extra fiber.