Sometimes you don't want to turn the oven on and get to work in the kitchen. After long, draining days or on warm evenings when the idea of a hot meal seems not-so-appealing, it's great to have some no-cook recipes on hand to whip something up in a matter of minutes.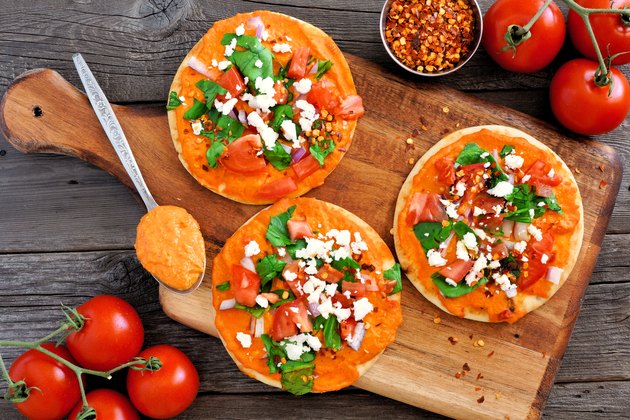 "No-cook recipes should be in everyone's back pocket," Maggie Michalczyk, RD, tells LIVESTRONG.com. "They're so great because they take less time than traditionally cooked meals would usually take yet are still full of flavor and nutrition," she says. From zoodles and cold soups to lettuce wraps, these easy, no-cook recipes are quick to make and super satisfying to eat.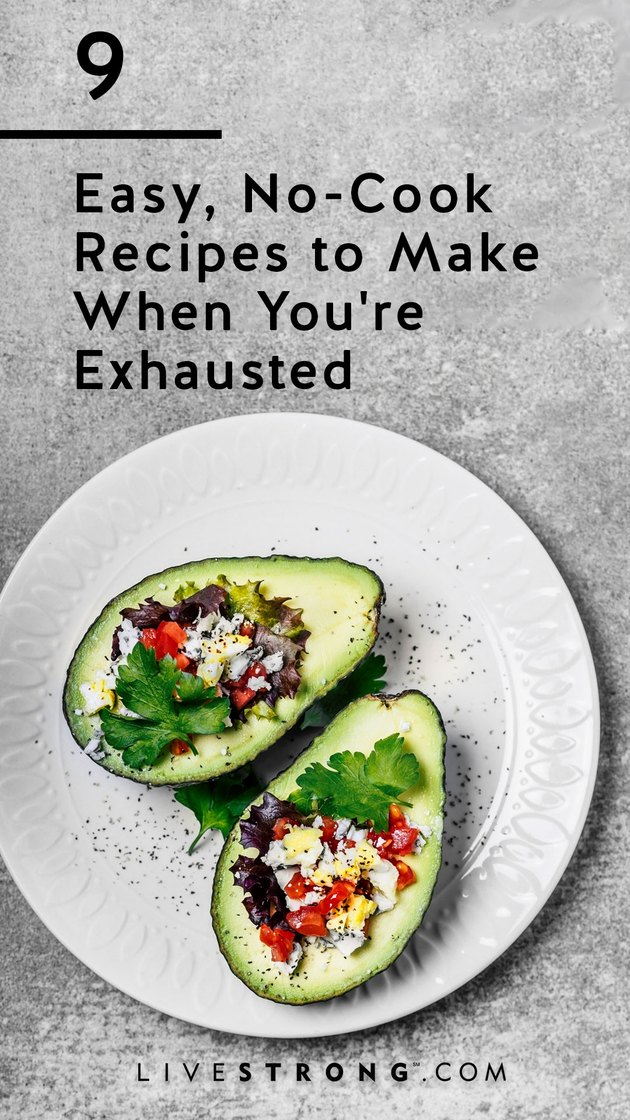 So next time you're low on time and energy and want something fast but super nutritious, try these easy recipes. Whether you assemble on the spot or meal prep them a day or two before, you'll have dinner on the table in no time.
1. Stuffed Avocado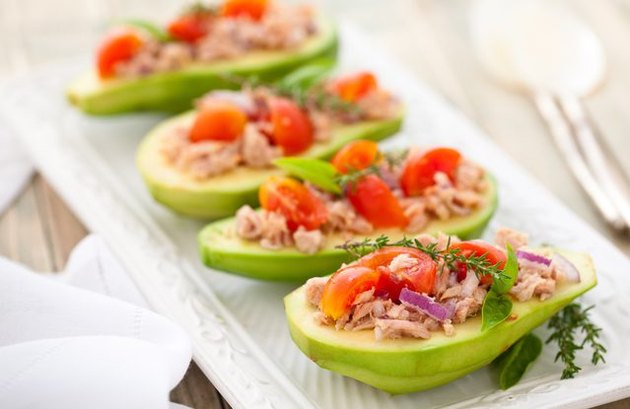 "This recipe is packed with healthy fat and protein that will fill you up," Michalczyk says. "If I don't have canned tuna, I use canned salmon instead," she says. So, it's super versatile, and it's cheap. Make sure avocados are always on your grocery list for easy no-cook recipes, as you can use them in several ways.
2. Pistachio Crunch Salad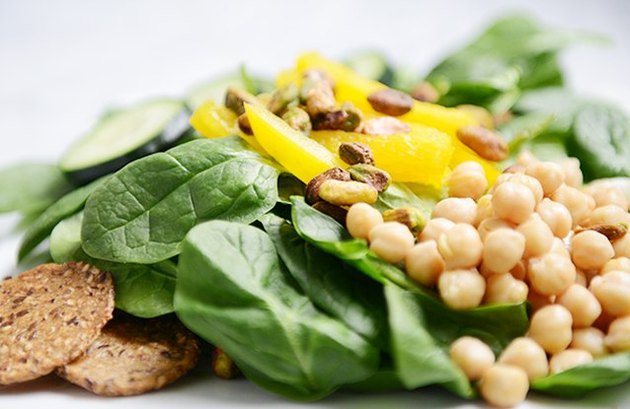 This is an easy salad that you can swap in different veggies for if you don't have the ones called for on hand, so feel free to play around based on what's in your fridge. "Chickpeas, an inexpensive source of protein and fiber, should always be in your pantry," Michalczyk says. You can swap for other beans, like black beans, too.
3. Chopped Tofu Salad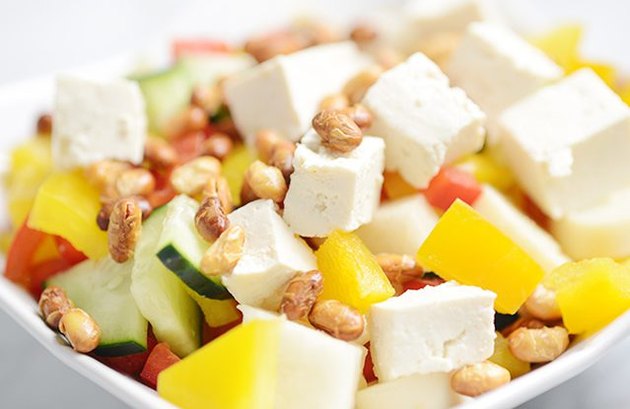 Tofu is high in protein and simple to use last minute. "This is an easy, plant-based meal that takes no time at all to put together. It's refreshing, and filled with protein and fiber — two things that should be part of every meal to keep you fueled," says Michalczyk. Plus, you can play around with different dressings to flavor the tofu, as it absorbs seasonings super well.
4. Mediterranean Zoodles With Creamy Feta Dressing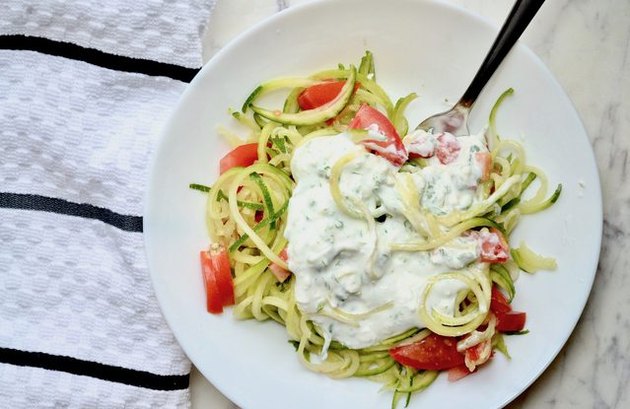 We know the Mediterranean diet is one of the healthiest eating patterns out there, so why not eat that way at home? "Zucchini noodles are packed with nutrition and super versatile. And, the Greek yogurt packs in a good protein punch," says Michalczyk. And it's super creamy, so it tastes indulgent. You can always add in more veggies for extra fiber.
5. Avocado and Cucumber Gazpacho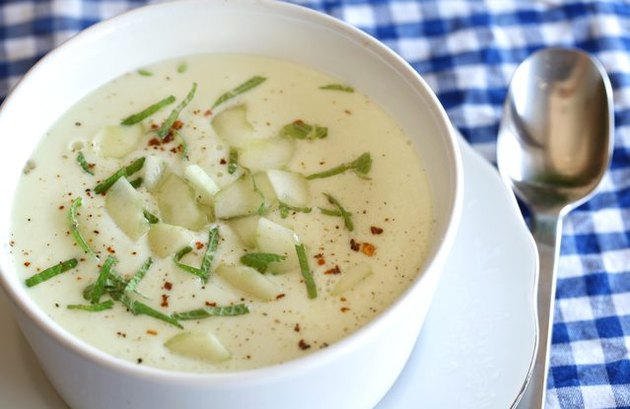 "Avocado is the hero here, lending this recipe a great texture and added nutrition," says Michalczyk. Soup can seem super time consuming and overwhelming to make, so whipping up this cold version is a great, no-cook way to enjoy a bowl without all the hassle. And it's rich in texture to fill you up faster.
6. Italian Roast Beef Roll-Ups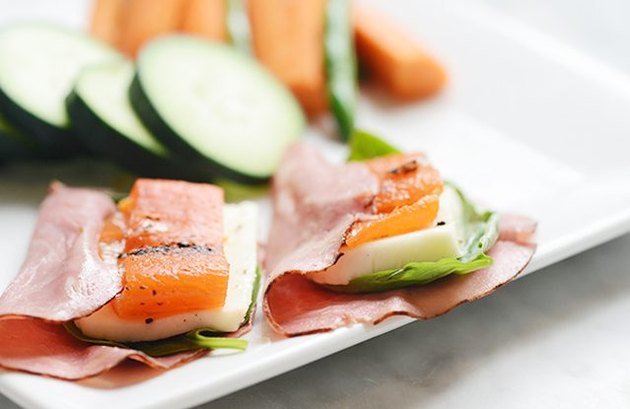 Using protein to surround some veggies is a super simple way to get a balanced meal on the table. "This recipe uses carrots, cucumbers and string beans for a variety of high-fiber vegetables," says Ginger Hultin, RD, and spokesperson for the Academy of Nutrition and Dietetics. "Fresh basil as a natural flavoring to help minimize the need for extra salt." If you're using deli meat, go for low-sodium options to cut back on salt.
7. Rainbow Collard Wrap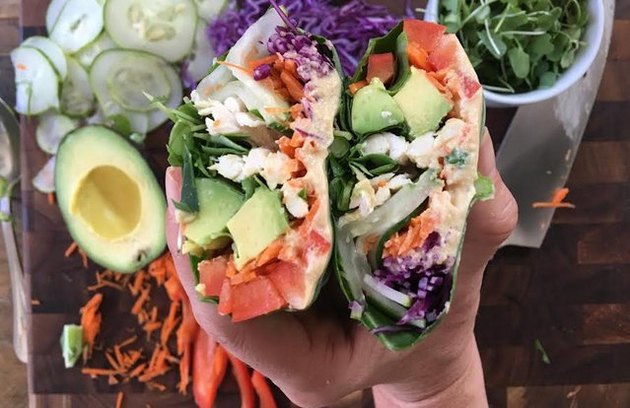 Collard greens are such an underutilized veggie. "Using them fresh to make a wrap is a very nutrient-dense way to hold other ingredients together. Plus, it's way lower in carbs than a traditional wrap," says Hultin. Add in some creamy dips like hummus for that smooth texture, and swap in other veggies or protein, if you like.
8. Spiced Hummus Flatbread 'Pizza'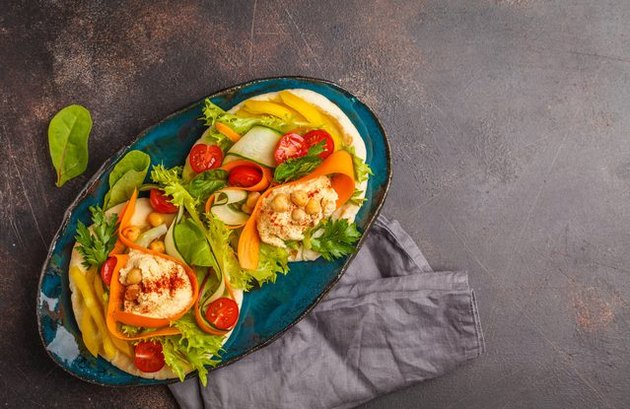 Whole-grain flatbread makes a great "pizza" base here, and you can play around with delicious toppings. "Topped with flavorful, fiber-rich hummus and a variety of veggies, this dish is filling and also provides a lot of vitamins, minerals and antioxidants," says Hultin.
9. Caprese-Style Ciabatta (No-Cook!)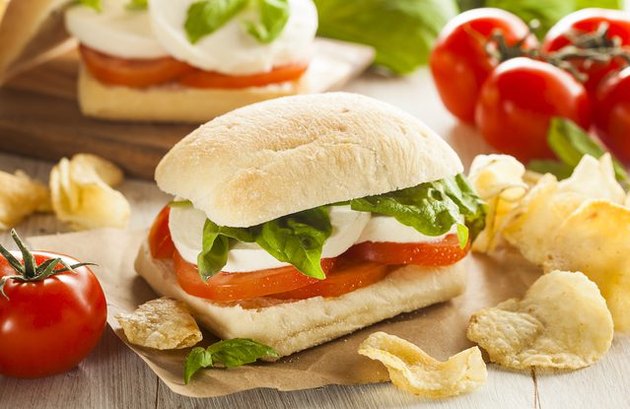 A sandwich is a great vehicle for a no-cook lunch or dinner that's packed with protein and good flavor. "Definitely make the roll here whole wheat if you can to maximize fiber and nutrients," says Hultin. "Tomatoes take the main stage here, and the flavor will pop with a drizzle of balsamic vinegar," she adds.