You can always wash one and take a bite as is, but why not add an apple or two to recipes for a delicious and nutritious twist? While there's no denying apples taste great sweet, like in a warm pie or cinnamon oatmeal, they also work amazingly in savory dishes, lending your aromatic dish major crunch and health benefits.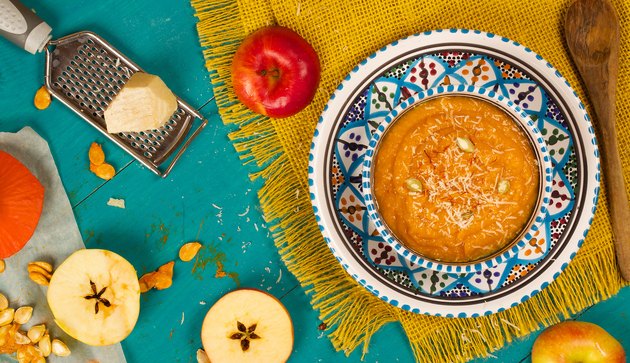 "Savory recipes are a great way to take in-season apples beyond just a snack," Maggie Michalczyk, RD, tells LIVESTRONG.com. "Using the apples you just picked in savory ways adds more nutrition to different meals and capitalizes on apples' different flavor profiles like sweet, tart, crisp and bright — elevating any autumn dish."
You can pair apples with cheese, nuts, dips and spreads and even meats for a savory recipe that has nice acidity and crunch. And there's no better time to enjoy apples than during peak season when they're ripe and extra affordable.
1. Breakfast Turkey-Apple Sausage Mini Patties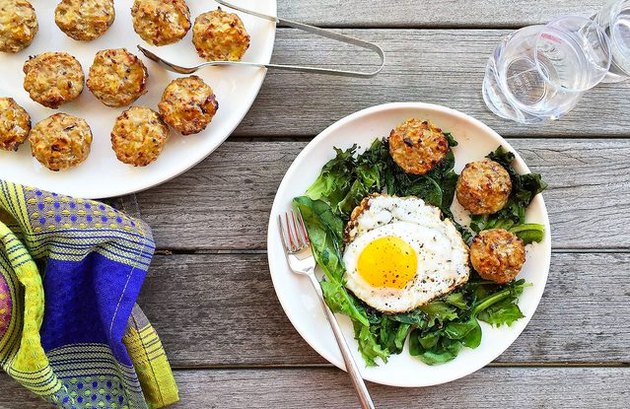 Get a solid dose of protein in bright and early with this easy breakfast dish. "l like this savory apple recipe because it adds flavor and nutrition to turkey sausages," says Michalczyk. "The tart apple taste gives them a little bit of sweetness plus more fiber and vitamin C per bite." Not to mention, the egg and greens add more protein and brain-boosting choline.
2. Apple and Swiss Quesadilla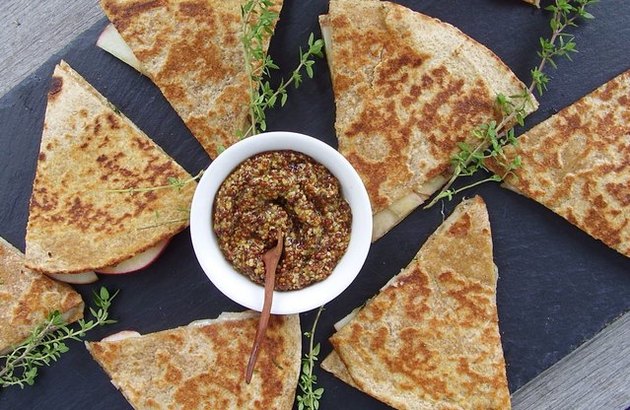 Cook these quesadillas for Mexican night at home. "This makes for a great, quick meal, and the apple goes together perfectly with the Swiss cheese," says Michalczyk. "I like that this recipe provides whole grains, protein and a serving of fruit." You can always use a different cheese if you're not too keen on Swiss, so feel free to experiment.
3. Autumn Apple and Avocado Guacamole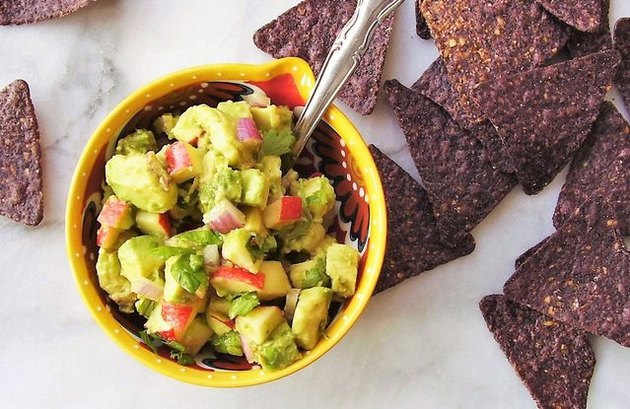 Who can refuse a bowl of guacamole and chips? Apples are the secret ingredient in this savory dip, which will complement your Taco Tuesdays so well. "Apple guacamole is such a fun fall spin on everyone's favorite dip. This recipe is the perfect appetizer for fall get-togethers and packs healthy fat from the avocado, and fiber and vitamin C from the apple," says Michalczyk.
4. Chicken, Apple and Cashew Salad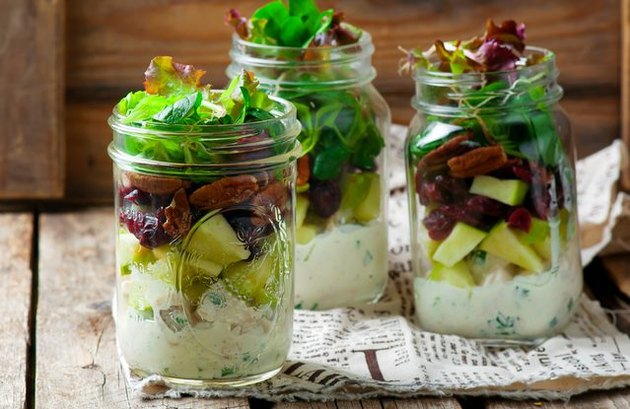 Ditch the croutons and get some healthy crunch in your salad with chopped apples! "This perfectly balanced salad with apples, cashews and chicken will fill you up in a fun and delicious way," says Michalczyk. Chicken and cashews are two savory ingredients that pair well with apples for a high-protein meal that's also packed with healthy fats for extra satiating power.
5. Fall Kale Apple Walnut Salad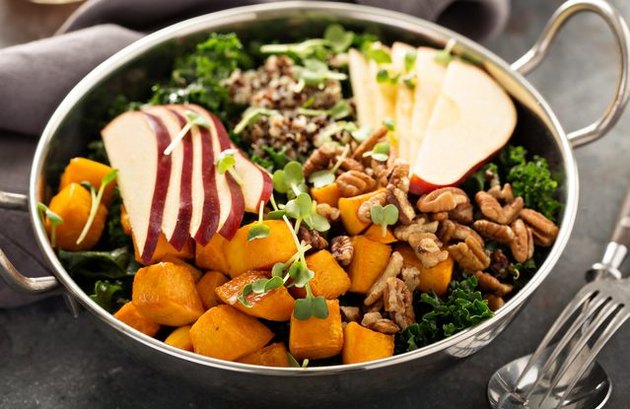 Another nutty salad, this pick is perfect for a seasonal lunch or light dinner. "This filling salad provides the textural elements you crave along with the balance of flavor to keep you satisfied," says Kelly Jones, RD. "The healthy fats from the nuts and antioxidants in each ingredient support a healthy body for the cooler months, and the fiber supports good gut health," she adds.
6. Turkey Green Apple and Grilled Cheese Sandwiches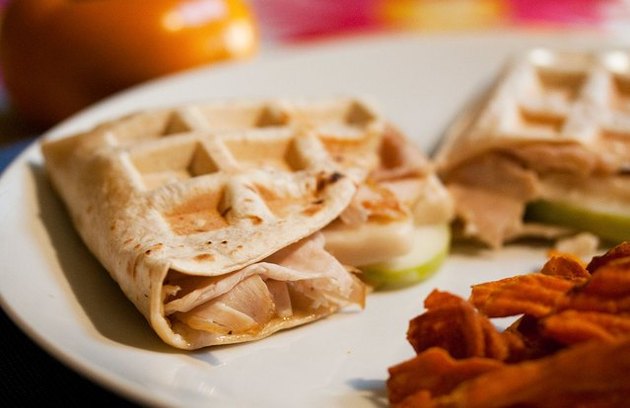 Build a better grilled cheese sandwich by using whole-grain tortillas for extra fiber. "These tortillas keep your grilled cheese feeling a bit lighter, and the apples add a fun crunch and sweetness. They're the ultimate lunch to warm you up and energize your afternoon," says Jones. Plus, the Granny Smith lends this meal a tart punch.
7. Acorn Squash Soup With Green Apple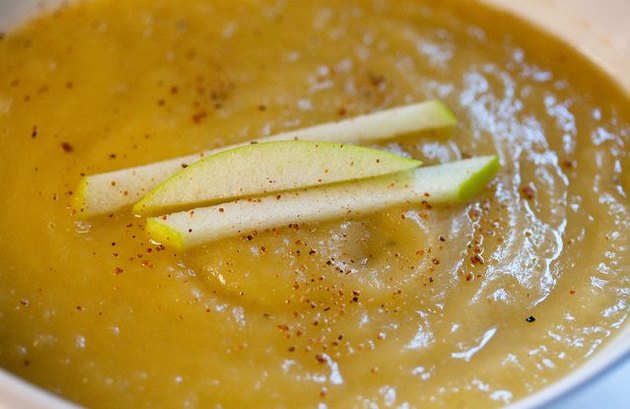 Stay warm on a chilly autumn evening with a hearty bowl of soup. "Everyone loves squash soup, but the tart apple flavor adds another dimension while the onion ensures it's still a savory dish," says Jones. "The carotenoids from the squash and phytonutrients in the apples are great for skin and gut health, too," she adds.
8. Creamy Avocado, Apple and Asparagus Smoothie
There's nothing like a green power smoothie to wake you up in the morning or give you that immediate pre-workout fuel. This sweet-and-savory smoothie packs in healthy, filling fat from the avocado as well as fiber and antioxidants from the asparagus and apple, says Jones. "The apple balances the flavor well for a nutrient-dense snack or light breakfast under 300 calories," she says.