Now that it's fall, the temperatures are dropping and nights become windier and colder — so why not warm up with some spicy recipes? Not only do they bring that kick, but jalapeños also contain a plant compound called capsaicin that's responsible for the peppers' spice and many of its associated health benefits.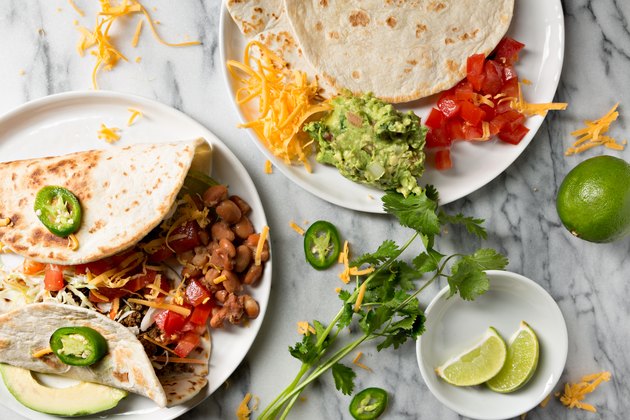 "Jalapeños contain the antioxidant group capsaicinoids, which are found in many hot peppers. Capsaicin has been shown in studies to decrease inflammation, being particularly helpful to those who have joint pain," says Kelly Jones, RD. "Additionally, capsaicin has been linked to anti-cancer properties and immune system benefits," she says.
Jalapeños can range in their heat, but you usually won't know until you cut one open and smell or taste it. "They can be thinly sliced and added to a pickled dish or minced and used in everything from Mexican recipes to soups and stews. Fresh jalapeños retain the most health benefits, but you'll still reap some if you purchase them sliced or diced and jarred as well," Jones says.
Be sure to pair jalapeños with cooling flavors, such as those that come from natural sugars, fresh herbs like cilantro or basil, and dairy or nut-based dairy alternatives, Jones recommends. Have some fun adding them to different recipes this fall for flavorful, spicy dishes.
1. Cajun Fish Sticks With Party Mango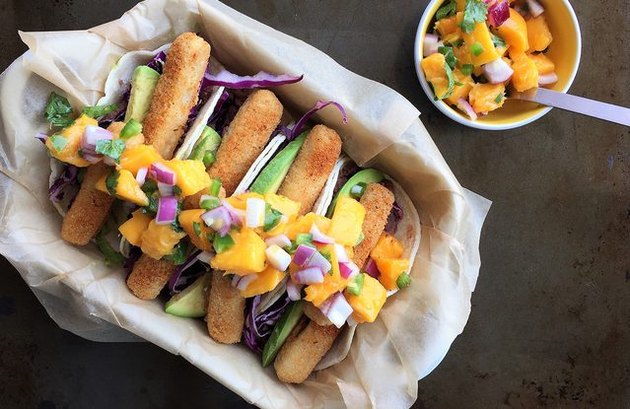 Fish is great for weekday dinners, as it's high in healthy fats like omega-3s that have been linked to boosting heart health and lower inflammation. "The spicy jalapeños in this recipe complement the sweet mango perfectly, giving this fish dish a nice balance of flavors," says Maggie Michalczyk, RD. These fish tacos are fresh, easy to make and ready in 40 minutes.
2. Mexican Tomato, Black Bean and Corn Pasta Soup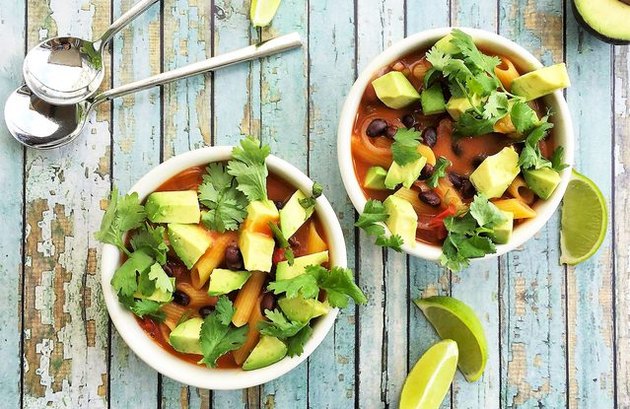 "The warm and hearty soup gets a nice, well-balanced flavor from the addition of jalapeños. The avocado pieces help cool down the flavor and the two together make for the quintessential Mexican-inspired flavor that makes this soup flavorful and delicious," Michalczyk says. Plus, soup is super filling, so you'll be less tempted to overeat later on.
3. Spicy Tempeh, Sweet Potato and Red Pepper Hash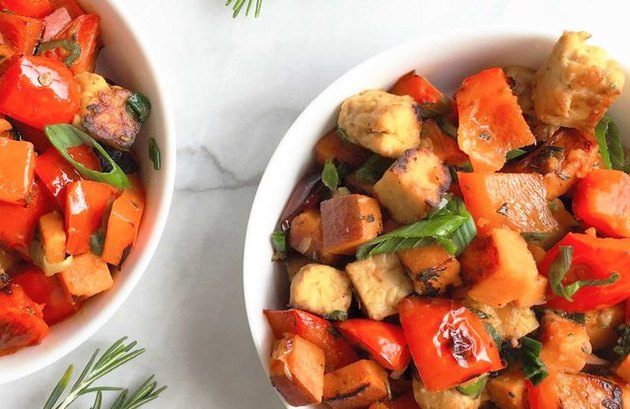 Tempeh is a great source of plant-based protein to improve satiety and muscle repair. "Jalapeño livens up this plant-based dish and gives it a little kick. This is a well-rounded and nutritious recipe where jalapeños bring heat and a healthy dose of antioxidants, too," Michalczyk says. Try adding garlic and rosemary for extra flavor.
4. Mexican Turkey Soup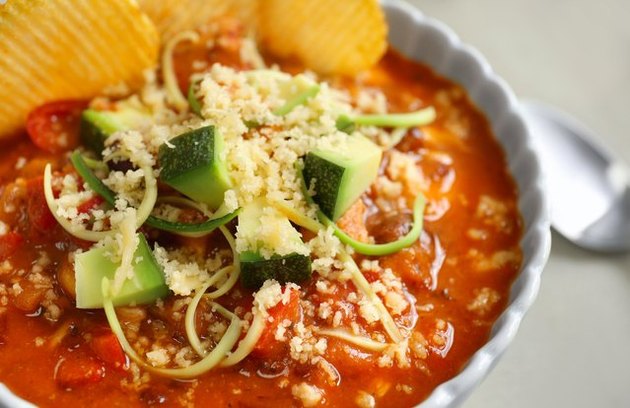 Another soup to warm up on a chilly evening, this turkey-based bowls features — you guessed it — jalapeños. The best part? It's ready in just 25 minutes! "This soup meal is a great one to have in your back pocket for busy weeknights. It's easy to make and packed with flavor plus immune-boosting vitamin C from the jalapeños and healthy fat from the avocado on top," Michalczyk says. Meal prep a big batch this Sunday to save for leftovers that you can enjoy all week!
5. Sweet-n-Spicy Chicken Tacos with Avocado Peach Pico de Gallo
Tacos are super easy to whip up for lazy weeknight meals or to meal prep earlier in the week and stuff in a taco shell. "This Mexican-inspired dish is made with simple, nutrient-dense ingredients and has a good balance of sweet and spice from the peach and jalapeños," Michalczyk says. Both peaches and jalapeños are solid sources of vitamin C and antioxidants, too, she adds.
6. Sweet Potato Hash Tacos With Feta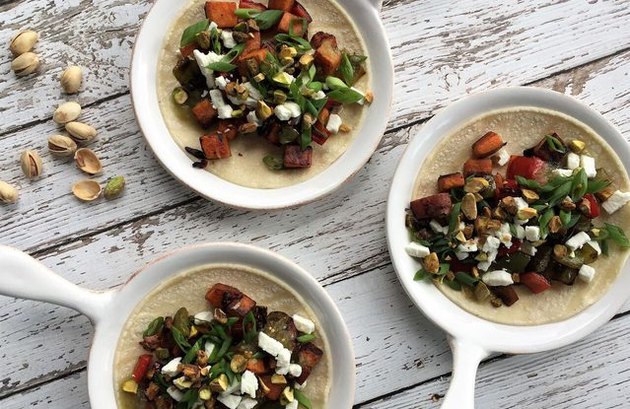 Wake up with breakfast tacos or enjoy these for an easy lunch or dinner that's hassle-free. "These hash tacos are a great way to pack nutrients and antioxidants into a tasty package. And the sweet potato and feta in this recipe act as cooling agents to balance the heat of the jalapeños," says Jones. You'll get plenty of texture with the depth of flavors, too, like the crunch from the pistachios.
7. Red Lentil Coconut Soup
This lentil-based coconut soup is super comforting, especially when the weather is frightful. "The jalapeño, ginger and curry in this soup pack in plenty of antioxidants for immune health and the coconut helps balance the flavor," says Jones. Between the flavors and filling lentils, this soup is sure to satisfy. And it's done in 40 minutes.
8. Healthy Vegetarian Quinoa Chili
9. Fajita Frittata With Avocado Salsa
"Jalapeños in an avocado salsa help you grasp the flavor of fajitas in this protein-packed frittata. The poblano in the frittata is loaded with flavor and some of the same nutrients as the jalapeño," says Jones. It's a great breakfast that's packed with enough protein to fill you up until lunch.
10. Vegan Miso Sweet Potato Bake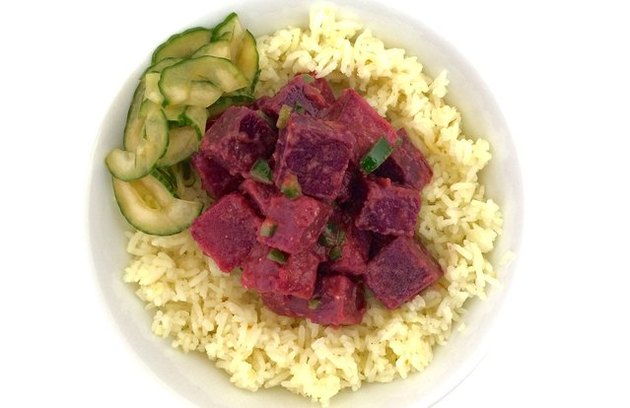 "This vegan poke bowl uses jalapeño to provide a little heat that pairs well with the sweet flavors. The miso and vinegar benefit gut health, which may play a role in limiting inflammation, as does the capsaicin in jalapeños," says Jones. This dish is ready in just 25 minutes and boasts a good amount of protein for a quick yet filling lunch.