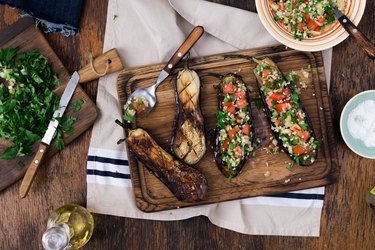 Do you cook up a dish of eggplant parmesan every time you buy an eggplant? Snore! Don't get us wrong: With all its cheesy goodness, eggplant parm is the ultimate savory comfort food. But this versatile veggie — packed with fiber, vitamins and minerals — can offer way more to your plate (and your palate) than simply coating it with cheese and sauce.
Expand your culinary skills and cook out of your comfort zone with these five effortlessly enjoyable and healthy eggplant recipes.
1. Curry-Roasted Graffiti Eggplant With Chickpeas and Grape Tomatoes
This Jamaican-style, coconut-curried eggplant dish brings the flavors of the Caribbean to your dinner plate. Since the recipe includes the whole eggplant, skin and all, you'll get the added health benefit of anthocyanin, an antioxidant that's found in the peel, Isabel Smith, RD, tells LIVESTRONG.com.
And that could spell seriously good news for your health. Eating foods rich in anthocyanins (like eggplant and blueberries) is linked to helping reduce your risk of heart disease and cancer and is even associated with reducing inflammation and boosting your immune function, per the Mayo Clinic.
2. Slow Cooker Vegetarian Moussaka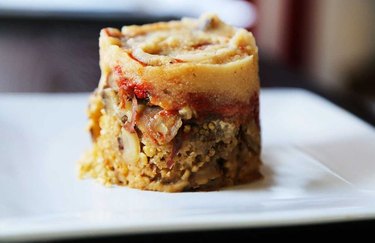 A classic Greek dish, moussaka is a comforting casserole layered with eggplant and lamb. This healthier, plant-based version swaps the meat for hearty bulgur wheat and substitutes the fatty bechamel sauce for a low-carb cauliflower purée. The result is a satiating, low-sodium dish that packs in 8 grams of fiber and 6 grams of protein.
The best part: A slow cooker makes this recipe a breeze. Simply toss the ingredients in the cooker in the morning, and your dinner's ready when you walk in the door after work.
3. Sriracha Avocado Toast With Eggplant 'Bacon' and Egg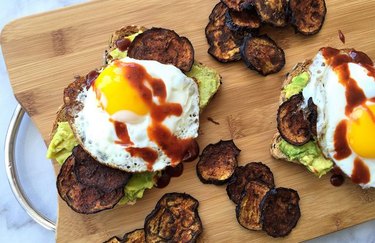 Looking to spice up your average avocado toast? Try topping it with some meaty eggplant, which makes for a healthier alternative to bacon. Since eggplant is a rich source of immune-boosting vitamin C and energizing vitamin B6, thiamin and folic acid, adding it to your breakfast is the perfect way to start your mornings, according to Smith.
4. Grilled Vegetable 'Burgers'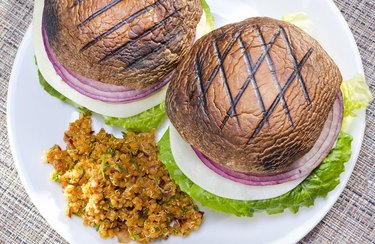 Not every veggie is meaty enough to pull off being the "beef" in a plant-based patty. With its sturdy texture, eggplant is the perfect burger substitute.
And one cup of eggplant packs in an impressive 10 percent of your daily recommended value of fiber, according to the USDA, so you know that this filling eggplant burger will keep your appetite in check for hours.
5. Eggplant Parm Pizza Chips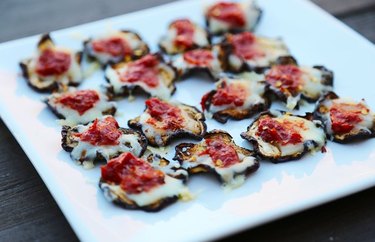 OK, we know we said no eggplant parm recipes, but this scrumptious snack resembles pizza-flavored chips way more than the recipe you're trying to give a break! Smith loves baking eggplant into crunchy chips, which can serve as a healthy replacement for fatty, fried potato chips. Plus, these bite-sized bits pack some heat — and metabolism-boosting benefits — thanks to spicy red pepper flakes.
Indeed, eating chili peppers is linked to a reduced risk of dying from a heart attack, according to a December 2019 study published in the Journal of the American College of Cardiology. So feel free to pile on the chili flakes!