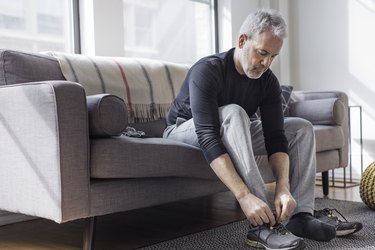 Rule number one to beginning a workout routine: Don't overthink it. You don't need a gym or even any special equipment to get a good full-body workout. As long as you prioritize good form and safety, even beginners can benefit from a whole-body workout routine that hits all the major muscle groups.
Is a Full-Body Workout Good for Beginners?
"Full-body workouts are fantastic for beginners because, unless you are a bodybuilder, you don't need to obsessively focus on building up specific body parts in full sessions," Rachel MacPherson, CPT, tells LIVESTRONG.com. "Working your whole body helps to burn more calories and increase metabolism and is more efficient."
Plus, as long as you're using your own body weight, you don't need anything else except the time, she says. "You get to pick up and go, anytime, anywhere, eliminating excuses or time spent gathering equipment."
A complete workout that incorporates exercises for all the major muscle groups may also help beginners avoid one major deterrent to exercise: soreness.
"Many beginners complain about being sore or in pain after a workout, especially if they focus the entire training session on just one area," says fitness coach Mike Kneuer, NFPT. When fitness newbies get sore from working out, it makes them less likely to continue working out in the future, he says. By spreading the effort over your entire body, he says, you'll be less likely to feel debilitating soreness in any one muscle.
Can You Do a Full-Body Workout Every Day?
"When you exercise you are creating minor tears in the muscle and during rest is when they repair and grow stronger," Kneuer explains.
For that reason, he recommends beginners perform full-body workouts three to four times per week with two full days of rest (which gives you a day or two for cardio workouts like walking, cycling or other cross-training).
How Should a Beginner Get Started?
Erin Motz is a certified personal trainer and yoga teacher who believes in keeping exercise uncomplicated and accessible. Her biggest piece of advice to those just starting out with full-body workouts is simple: "Start slow."
Even if you're not brand-new to exercise but are getting back into it after a break, don't try to do too much, too soon. Starting at the same intensity and frequency where you left off can result in soreness at best and injury at worst, according to the Office of Disease Prevention and Health Promotion.
Aim to do a full-body workout three times per week for 30 to 45 minutes. Pick four to six exercises and focus on moderate reps and intensity, like 1 to 3 sets of 10 to 15 reps per move, Motz says. You can always add on to your routine as you progress, she adds.
Before you get started, spend five to 10 minutes getting warmed up. A dynamic warm-up gets your blood circulating and your muscles and joints prepared to work, which can help lower your risk of injury. Exercises like jumping jacks and marching in place while swinging your arms will get your heart rate up and your muscles primed.
Try This Beginner Full-Body Workout — No Equipment Needed
Ready to sweat? You'll get "a little of everything" with Motz's favorite full-body workout below, she says. You can do this four-move routine just about anywhere with no extra gear.
"As a beginner to working out, you don't need to worry about focusing on biceps or glutes for a day, you just need to work on total-body coordination, balance and overall strength," she says. "Total-body workouts will do that!"
Start with one round through this workout and build up to completing 3 to 4 sets total.
Move 1: Squat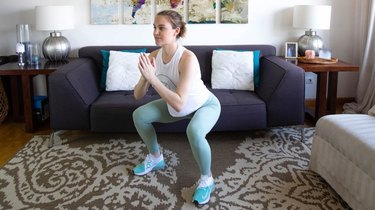 Start standing, feet a bit wider than shoulder-distance apart.
With your core engaged, bring your hands in front of your chest as you lower your body into a squat. Your chest should stay lifted and your back should stay neutral. Make sure your knees are over your ankles and in line with your toes.
When your thighs are parallel with the ground (or as low as you can comfortably go while maintaining good form), press through your heels to return to standing.
Make It Harder
Once you've perfected your body-weight squat form, advance to adding a jump: When your thighs are parallel with the ground, press through your heels to jump straight up as you extend your arms down by your sides. Land gently and immediately lower into your next squat.
Move 2: Lunge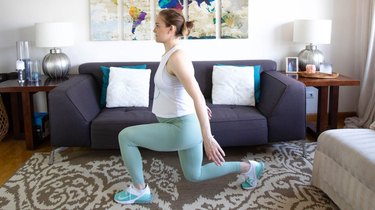 Start standing with your feet hip-width apart.
Keep your upper body straight with your shoulders back and core engaged.
Step forward with one foot, shifting your weight so your heel hits the floor first.
Bend your knees to 90 degrees as you lower into a lunge. Make sure your front knee stays behind your front toes.
Complete 5 lunges on one side before switching to the other.
Make It Harder
Challenge yourself with a jump lunge when you're ready: From your lunge position, explosively jump straight up and switch feet in mid-air. Land gently with the opposite foot in front and immediately lower into your next lunge.
Move 3: Mountain Climbers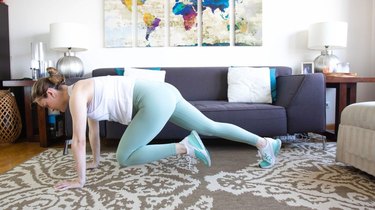 Start in a high plank position on your hands and toes, with your shoulders over your wrists and your body making a straight line from your head to hips to heels.
Engage your abs as you drive your right knee in toward your chest.
Return your right knee to the starting position.
Drive your left knee into your chest, and continue alternating legs as fast as you comfortably can.
Keep alternating like you're running in place while maintaining the plank position for 30 seconds.
Scale It Back
If needed, keep your pace slow and controlled instead of speeding up. Hold the high plank position and alternate marching your knees toward your chest.
Move 4: Donkey Kick Jump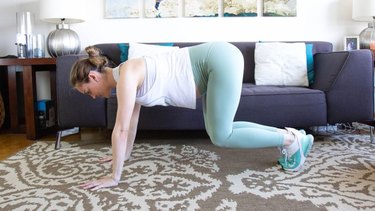 Start on all fours.
Engage your core as you lift your knees slightly off the ground.
Keep your knees bent as you kick both feet up behind you, aiming for your heels to touch your butt, before kicking them slightly out to one side.
Land gently, then jump to the other side, making a rainbow shape with your legs.
Scale It Back
Build up to this jumping exercise by starting with a more traditional donkey kick: Keep your knees on the ground and lift one bent leg at a time, pressing your foot toward the ceiling.