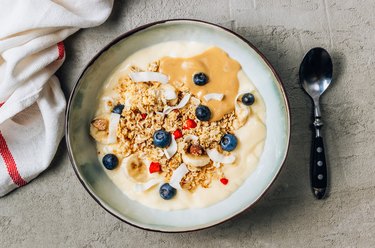 Fruit comes with so many nutrients — vitamins, minerals, fiber — that it outweighs the fact that, yes, nature's candy also contains sugar.
The sugar in fruit shouldn't be a turnoff — but knowing just how much sugar is in the foods you eat (even the healthy ones) can help make you more mindful of your intake.
No one is saying to replace your daily servings of fruit with granola, but for comparison's sake, a large honeycrisp apple contains as many as 25 grams of sugar, according to the USDA, which is about how much you'll find in three mini Snickers or a cup of the average store-bought granola cereal.
But swapping packaged, sugar-laden granola with a healthier homemade recipe can dramatically lower your daily sugar intake. Next time you want to add some crunch to your yogurt or fruit salad, prep one of these low-sugar granola recipes.
1. Vanilla Almond High-Protein Granola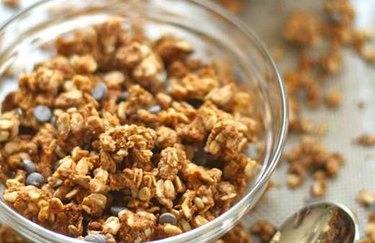 ‌Calories:‌ 221
‌Sugar:‌ 15 grams
Made with a scoop of your favorite vanilla-flavored protein powder (chocolate will do just fine, too), this high-protein recipe also provides about 5 grams of unsaturated fat. These two macronutrients are slow to digest, which will keep you feeling full for longer, according to the Mayo Clinic.
2. Homemade Chunky Healthy Granola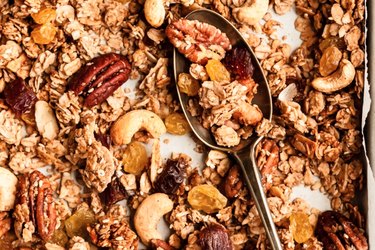 ‌Calories:‌ 210
‌Sugar:‌ 10.5 grams
This granola recipe takes only about 50 minutes to prepare and makes 18 servings, so you'll have enough granola for days (or weeks) to come.
Thanks to the mix of nuts and seeds in the recipe, a serving packs about 9 grams of unsaturated fats, which are linked to healthier cholesterol levels and lower odds of developing diabetes, according to the Mayo Clinic.
‌Get the Homemade Chunky Healthy Granola recipe and nutrition info at Ambitious Kitchen.‌
3. Lolita's Low-Sugar Granola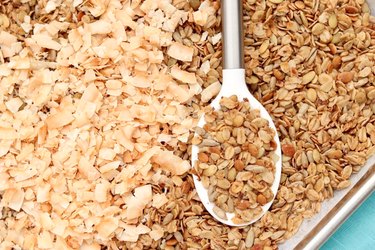 ‌Calories:‌ 125
‌Sugar:‌ 2.8 grams
At only 2.8 grams of sugar per serving, Lolita's Low-Sugar Granola really delivers on its promise. It's also free of artificial sweeteners and boasts a pretty low overall carb count, with only 11.7 grams total.
Made of a mix of sunflower and pumpkin seeds, it delivers filling, unsaturated fat and vitamin E, according to the National Institutes of Health (NIH).
4. Healthy Superfood Coconut Oil Granola With Chia and Flax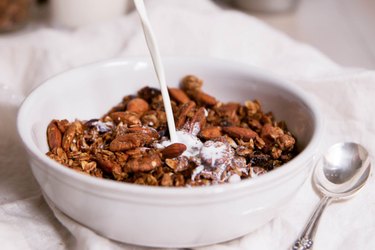 ‌Calories:‌ 278
‌Sugar:‌ 9.7 grams
Loaded with high-fiber ingredients, like seeds, nuts and rolled oats, this granola will keep hunger at bay, according to the Harvard T.H. Chan School of Public Health. A diet high in fiber is also linked to a lower risk of serious health conditions, like heart disease and diabetes. Pair your granola with some whole fruit to start your day off on a fiber-full note.
‌Get the Healthy Superfood Coconut Oil Granola With Chia and Flax recipe and nutrition info at Ambitious Kitchen.‌
5. Cinnamon Raisin Granola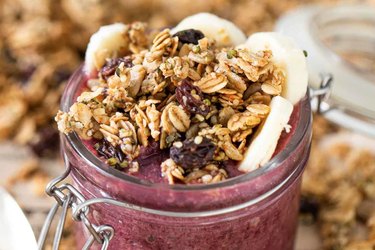 ‌Calories:‌ 243
‌Sugar:‌ 7 grams
After only 20 minutes of cook time, this cinnamon raisin granola will have you excited for breakfast. Naturally sweetened, this recipe has only 7 grams of sugar, and the addition of hemp seeds delivers magnesium, crucial to delivering energy and other nutrients, like calcium and potassium, around the body, according to the NIH.