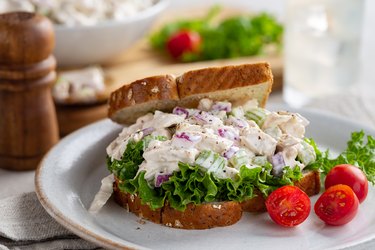 We get it — after an exhausting day, the act of preparing a healthy, edible dinner is beyond the realm of reality.
But before you whip out the takeout menu, consider these no-cook meals high in protein. With at least 15 grams of protein, these minimal-effort dishes are sure to keep your stomach satiated and keep your wallet untouched.
Plus, they'll provide the nutrients you need to stay healthy. Meal prep a batch of your favorite recipes below to tackle the rest of the week with ease.
​Calories:​ 352
​Protein:​ 28 grams
This no-cook tuna salad takes only about 16 minutes to prepare and will keep you full well past your dinner time, thanks to its high protein count.
As it's made with avocado, this salad is also high in healthy, unsaturated fat, which is great for your heart health. Plus, fats are a macronutrient that your body digests slowly, which means they'll keep you satiated longer, according to Harvard Health Publishing.
2. Cold Tofu With Spicy Chili Sauce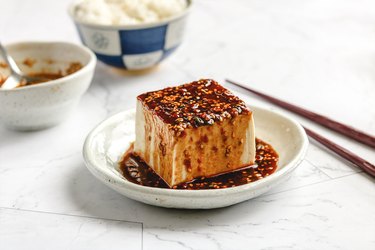 ​Calories:​ 185

​Protein:​ 15.9 grams

All you need is five minutes and a handful of ingredients to prepare this spicy tofu dish. Considering this recipe is so low-calorie (and the recipe makes several servings), second (or third) helpings are a must.
While it looks more like a cousin of feta cheese, tofu is actually made of soy, which is why it's so high in protein. Unlike most plant-based foods, tofu is actually a complete protein, which means it contains all nine essential amino acids that your body can't produce on its own.
3. Tarragon Chicken Salad Sandwiches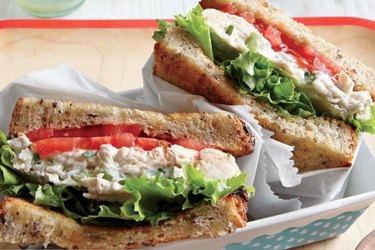 ​Calories:​ 356
​Protein:​ 31 grams
This sandwich recipe combines lean chicken breast and Greek yogurt for the ultimate high-protein no-cook dinner (or lunch).
Although meat may be your go-to protein, Greek yogurt makes an excellent protein source, too. Yogurt is also rich in nutrients like calcium, phosphorous and B vitamins, according to the Harvard T.H. Chan School of Public Health.
Yogurt can be high in fat, though. So, if you want to keep your overall calories on the lower side, you can opt for a low-fat variety instead.
4. Open Cottage Cheese and Pepper Sandwich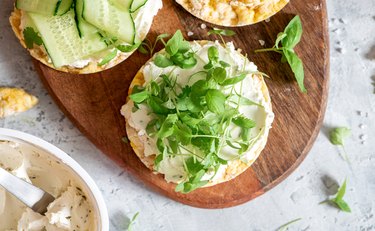 ​Calories:​ 316
​Protein:​ 23 grams
The last thing you want to do is take a hike to the grocery store after an exhausting day. Chances are, the ingredients needed for this minimal-effort dinner are already in your fridge.
Although it may not get as much attention as cream cheese, cottage cheese makes for an excellent high-protein, low-fat spread. Cottage cheese is also high in vitamin B12, providing about 28 percent of your daily recommended value per cup, according to the USDA.
Your body uses vitamin B12 for a variety of systems, including your brain health, red blood cell formation and even DNA synthesis, according to the National Institutes of Health (NIH).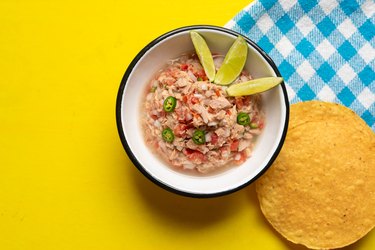 ​Calories:​ 153
​Protein:​ 15 grams
Although ceviche may sound elaborate and time-consuming, it's actually really simple to prepare, especially with this recipe. Note that you will need to refrigerate this dish before you dig in. So, prep the food before you get into your PJs and by the time you're ready for bed, your ceviche will be perfectly cool.
Avocado is high in healthy, unsaturated fat (read above) but it's also a great source of fiber, packing about 13 grams per fruit (yes, avocado is a fruit), according to the USDA.
Fiber is a crucial nutrient that your body needs to help regulate blood sugar and keep your digestion regular, according to the Mayo Clinic. Men should aim to get about 38 grams of fiber per day and women should get 25 grams.
6. Avocado Toast With Smoked Salmon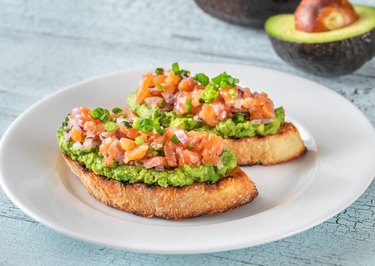 ​Calories:​ 279
​Protein:​ 28 grams
While toast ​technically​ involves a bit of cooking, this avocado and smoked salmon toast is well worth the minimal effort — after all, using the toaster is about as simple as cooking gets. And if you're super committed to keeping your dinner cook-free, you can skip the toaster altogether.
Salmon is high in omega-3 fatty acids, a type of polyunsaturated fat, according to the NIH. Eating a diet rich in omega-3s may promote heart health and is linked to a lower risk of heart disease.