You probably already know that weak knees or tight hips can hinder you from achieving a perfect squat. But stiff ankles can sabotage your squat goals too.
If your heels lift off the ground while doing a squat, or you feel like you're falling backward as you get close to the bottom, you likely lack ankle mobility, says Matt Cheng, CSCS, co-creator of Beyond the Movements.
Luckily, there's a simple solution to your squat setbacks. "Ankle mobility [exercises] can improve the range of motion of your squat, help you get lower and give you a stronger base for support to put less pressure on your knees," Cheng says.
Try This 10-Minute Ankle Mobility Routine
Designed by Cheng, this mobility routine requires a foam roller and resistance band to help stretch and strengthen your stiff ankles and raise your squat game to the next level.
1. Calf Massage 1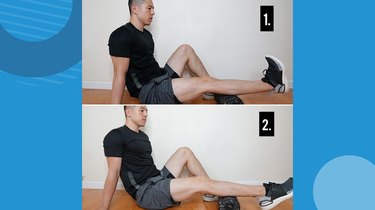 Activity
Mobility Workout
Sit on the floor and rest one calf on top of a foam roller.
Flex your toes toward your chin, then point them away.
You should feel some pressure in the calf or tendon as you go through the movement.
Repeat for 1 minute on each side to release tight calf muscles, which affects ankle mobility.
2. Calf Massage 2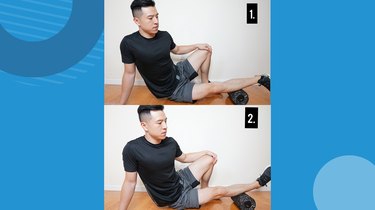 Activity
Mobility Workout
Sit on the side of your hip, extending the lower leg out and bending the top leg for support.
Place the roller on the outer side of your lower leg's calf (called your peroneal muscle).
Move your ankle side to side to release this muscle.
Repeat 1 minute on each leg.
3. Dosiflexion Drill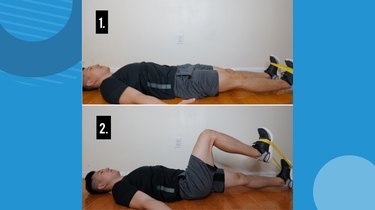 Activity
Mobility Workout
Lie down on your back and loop a mini resistance band around the arches of your shoes.
Flex your toes toward your chin and drive one knee toward your chest.
Alternate legs for 1 minute.
4. Wall Stretch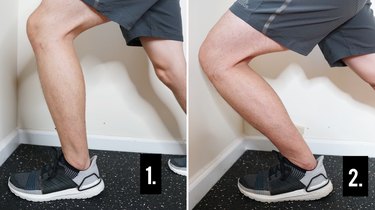 Activity
Mobility Workout
Stand facing a wall and place your front foot about a fist-size distance away.
While bracing yourself against the wall, shift your body weight forward to allow your knee to get close to the wall and keep your heel touching the floor.
As you get more range of motion, you can challenge yourself by stepping further back.
Hold for 1 minute, then repeat on the opposite leg.
5. Heels-Elevated Squat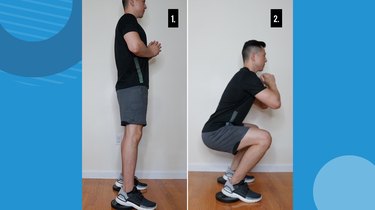 Activity
Mobility Workout
Set your heels on two 5-pound weight plates (or a book or other object of similar height), keeping your toes on the ground.
Stand with your feet slightly wider than hip-width apart, toes pointing slightly out.
Push your hips back and bend your knees, keeping your back flat and chest out.
Lower down, trying to get your thighs parallel to the ground.
Pause for a moment, then press into your heels and push your hips forward to return to standing.
Repeat for 8 to 12 reps.
Was this article helpful?
Thank you for your feedback!