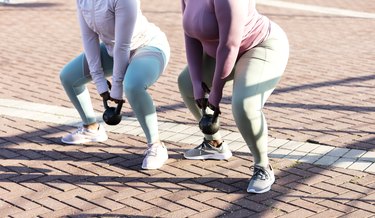 The pandemic-fueled shortage of kettlebells proves these strength-training tools are still in high demand — and for good reason. Kettlebells allow you to turn basic strength-training exercises into more ballistic movements that get your heart rate up and target multiple muscle groups at once, making them the perfect tools for full-body workouts.
"When designing a total-body kettlebell workout, I look to cover both power/ballistic movements and strength/grind movements, while focusing on compound, or multi-joint, movements, as these are functional and the most time-effective," says Renee Peel, a National Strength and Conditioning Association (NSCA)-certified personal trainer at the Fhitting Room with StrongFirst kettlebell level 1 and 2 certifications.
These full-body kettlebell exercises below target everything from your hips and butt to your arms, shoulders and core. The kettlebell goblet clean to thruster, for example, is a combo of upper-body and knee-dominant movements that blend a clean (pull), squat (push) and press (upper-body push).
"Your grind movements, like the squat and press, focus on more tension and muscle recruitment, so these are great for building muscle and getting strong," Peel says.
And while the kettlebell swing is focused on hip power, it also trains your core. "The swing is low impact and hits both strength and conditioning, so it builds muscle and works your heart," Peel says. "Lastly, core stiffness and anti-rotation are crucial for injury prevention. The plank pull-through hits both of these as you need to stiffen your body and fight any rotation on the pull through."
To get the most out of your kettlebell workout, incorporate these four full-body exercises.
Need a Kettlebell?
Kettlebells are usually sold in kilograms. To convert the weight into pounds, multiply the number by 2.2. For example, a 16-kilogram kettlebell is 35.2 pounds.
Ideally, you want to own two different kettlebells, so you can use the heavier kettlebell for lower-body exercises and the lighter one for upper-body movements.
1. Kettlebell Swing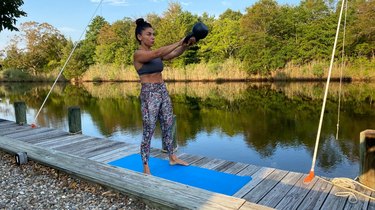 Activity
Kettlebell Workout
Stand with your feet shoulder-width apart with a kettlebell a few inches in front of you, so you form a triangle with the kettlebell and your feet on the ground.
Hinge your hips back and hold the kettlebell with both hands using a loose grip.
Pushing your butt back and keeping your back flat, hike the kettlebell between your legs.
As you straighten your legs to stand, use power from your hips to pull the kettlebell up to chest height.
Using the bell's momentum, swing the weight back between your legs and under your hips as you simultaneously sink into your hips and bend your knees.
2. Goblet Clean to Thruster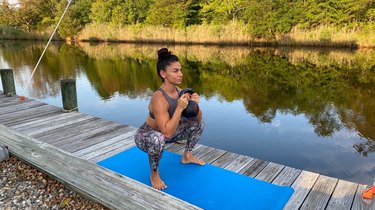 Activity
Kettlebell Workout
Stand with your feet shoulder-width apart with the kettlebell between the arches of your feet. Bending your knees, hinge your hips back and grip the kettlebell handle with both hands, making sure your shoulders are above your hips and your hips are above your knees.
Engaging your core and keeping your back flat, use your legs to aggressively zip the kettlebell up in a straight line in front of your chest with your elbows pointing down and close to your sides. Hold the kettlebell at its horns.
Keeping your chest up and core tight, hinge your hips back and down as if you're sitting onto a chair.
Make sure your chest isn't caving forward and your knees aren't moving inward.
As you stand back up, push off of your heels and press the kettlebell overhead, finishing with your biceps by your ears.
Slowly lower the kettlebell back down to the ground with a flat back.
3. Half-Kneeling Strict Press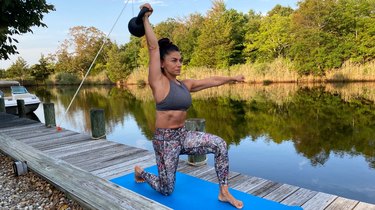 Activity
Kettlebell Workout
Hold a kettlebell with your left hand in a rack position with the handle stacked over your wrist and elbow pointing down. Make a fist with your right hand and extend it out in front of you or to the side to keep your shoulders square throughout the movement.
Take a big step back with your left leg and rest your knee on the floor with your toes tucked. Your right thigh should be parallel to the ground with your knee stacked directly over your ankle.
Keeping your hips square and bracing your core, press the kettlebell overhead on an exhale, finishing with your biceps by your ears. Avoid shrugging your left shoulder as you press the weight overhead by pressing it down and back.
Slowly lower the kettlebell back to the rack position.
Complete all your reps on the left side before switching to the right.
Move 4: Plank Pull-Through
Activity
Kettlebell Workout
Start in a high plank position with your shoulders stacked directly over your wrists and your pelvis tucked, quads and glutes tight. Place a kettlebell behind your right hand on the ground.
Keeping your hips square and your back flat, brace your core to lift your left hand off the ground and drag the kettlebell to the left side of your body behind your hand.
Place your left hand back on the ground and then lift your right hand off the ground and drag the kettlebell to the right side of your body.
Tip
Combine the above kettlebell exercises for a total-body EMOM (every minute on the minute) workout. At the top of every minute, aim to complete 8 to 10 reps per exercise. This should give you enough time to recover between movements. If you find that you're not resting at least 15 seconds before the next minute begins, scale the reps back. Repeat for 4 to 5 rounds.