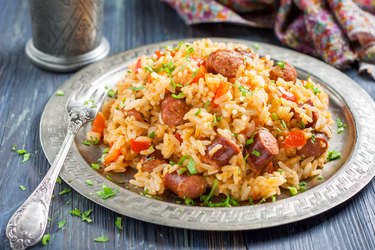 There's nothing like a hearty, warm broth to make you feel cozy on a crisp, fall day. But if sipping soup is the only time you eat broth, you're missing out.
Flavorful and versatile, this brilliant bouillon shouldn't be limited to a bowl of bisque or cup of chicken noodle.
For one thing, broth boasts a boatload of health benefits. Bone-based broths made with beef or poultry especially provide nutrients that are hard to find from foods including collagen, gelatin, amino acids, iron, zinc and other trace minerals, Leslie Langevin, RD, author of ​The Anti-Inflammatory Kitchen Cookbook​ and co-owner of Whole Health Nutrition, tells LIVESTRONG.com.
Bone broth also provides chondroitin and glucosamine, which are linked to helping with joint damage and inflammation, Langevin says.
What's more, bone broth is an easily digestible source of protein that's good for the gut with necessary nutrients like gelatin and glutamine, which are helpful for healing the intestinal mucosa, Langevin adds.
While vegetable-based broths don't pack as powerful a nutrient punch, they can still supply a solid source of vitamin A (depending on what veggies simmered in the savory liquid), Langevin says.
But before you buy your broth, beware that some brands are stuffed with sodium. Always check the nutrition label for the percent Daily Value (DV) of sodium.
If the DV is 20 percent or more, there's too much sodium in the broth, says Langevin, who explains limiting each meal to 500 milligrams would keep you within the range of the recommended 2,300 milligrams a day, per the Office of Disease Prevention and Health Promotion.
Expand your repertoire of broth-based recipes with these six salivating dishes that don't involve slurping soup.
1. Rotisserie Chicken Lasagna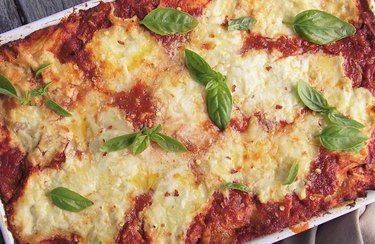 Organic chicken broth serves to smooth out the marinara sauce in this lip-smacking lasagna dish with a beautiful balance of macros, Langevin says.
Rotisserie chicken ramps up the protein factor (with a jaw-dropping 30 grams per serving) to keep you full while whole-grain noodles deliver a dose of dietary fiber for a healthy gut.
Try subbing a can of pureed tomatoes for some of the marinara sauce to keep the sodium levels low, Langevin recommends, and serve alongside a big bowl of greens.
For a little extra flavor, sprinkle with dried hot pepper flakes or fresh basil leaves.
2. Curry Coconut Chicken, Cilantro and Almond Oatmeal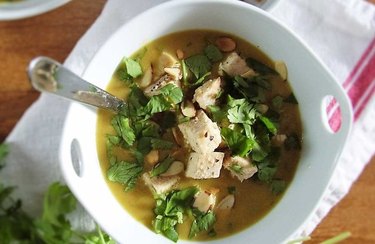 Rich in protein (43 grams) and fiber (6 grams), this savory oatmeal bowl also has a nice macro balance thanks to complex carbs from old-fashioned rolled oats that will keep your blood sugar steady and your tummy satisfied, Langevin says.
Warm spices like curry and ginger lend fragrant flavors and even might help to reduce inflammation in the body, she adds.
While this recipe calls for vegetable broth, Langevin recommends using a no-salt-added chicken bone broth to reap the health benefits of collagen, gelatin and amino acids.
Need a sprinkle more seasoning? Coconut aminos can boost the umami flavor without additional sodium, Langevin says.
3. Sticky Chia Fried Rice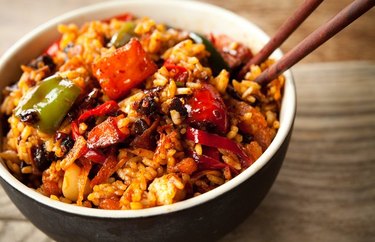 Using mushroom broth as the backbone for its sticky sauce, this vegan rice recipe provides an ample amount of protein (16 grams) and healthy omega 3s from tasty tofu and chia seeds, Langevin says.
In fact, chia seeds and tofu rank among the top five foods highest in these powerful polyunsaturated fats, which are linked to lowering your risk of heart disease, protecting your brain and alleviating inflammation, according to the USDA.
Not to mention, this delicious rice-based dish is loaded with high-fiber, inflammation-reducing ingredients and vitamin C thanks to colorful bell peppers and juicy oranges, Langevin says.
To reduce sodium, Langevin suggests subbing out some soy sauce for coconut aminos.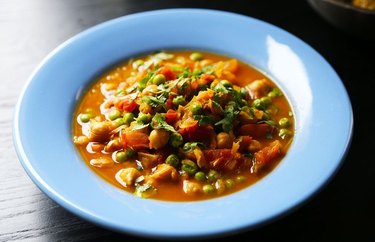 From hot chilis to spicy turmeric and peppery paprika, this healthy chana masala with protein-packed chickpeas will make your mouth water and fill you with gut-friendly fiber (8 grams per serving).
Plus, this Indian-inspired curry recipe already uses a low-sodium vegetable broth to keep sodium content in a more reasonable range of 400 milligrams per serving, Langevin says.
For a more satiating meal, Langevin recommends serving with brown rice and topping with crushed cashews or pepitas to add a boost of protein and healthy fats.
If you're not vegan or vegetarian, you could also sub in a bone broth to increase protein and collagen and enhance the nutrient profile, she adds.
With chicken breast and bratwurst, this high-protein (26 grams per serving), juicy jambalaya is a meat lover's paradise that won't break the calorie bank at less than 300 calories per portion.
While easy and convenient, this mixed meat dish is a bit high in sodium, so consider using a low-sodium or no-salt-added chicken broth to cut the sodium in half.
"One of my other favorite ways to reduce sodium is to add twice as many veggies," Langevin says. This increases the volume of the dish, which decreases the amount of sodium per portion. In other words, double the onions, tomatoes and peppers, and while you're at it, substitute a can of diced tomatoes for a cup of broth.
6. Butternut Squash 'Risotto' With Sage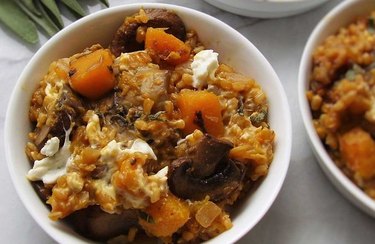 This healthier twist on traditional risotto replaces white rice for the brown variety. This simple swap not only adds ample fiber, but also other essential nutrients such as B vitamins for a healthy nervous system and iron for proper circulation of oxygen in the blood, according to the USDA.
Rounding out the nutritional all-stars, meaty mushrooms and buttery butternut squash also supply a great deal of good-for-you vitamins, minerals and filling fiber, Langevin says.
While this healthier risotto, which uses low-sodium vegetable broth, serves as a scrumptious side dish, Langevin recommends pairing it with a lean protein like chicken or tofu to make it a more balanced, satisfying main meal.