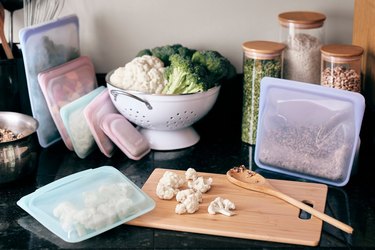 If you're a fan of meal prepping for its convenience, then you're probably already BFFs with your freezer.
Freezers can store your food safely for a very long time. They make it possible to extend the edibility of fruits, veggies, proteins and so much more. As for what kind of food can be frozen, the sky's the limit. Aside from canned food and eggs in their shell, you can freeze almost anything, according to the USDA.
As long as you maintain your freezer temperature at 0 degrees Fahrenheit or below, the food is considered safe to eat — it's just the quality that begins to break down over time. For example, casseroles, soups and stews taste best if enjoyed before three months, whereas raw poultry typically stays freshest between nine and 12 months.
The wonders of freezing food are vast, but here's one really worth highlighting: A food's nutrients won't decrease when kept in the freezer — it's literally frozen in time.
There are tons of options available when it comes to ​how​ you store items in the freezer, but not all containers are created equal. Some vessels are better suited for certain types of foods, while others stand out for their ability to store in small spaces.
Here are the best freezer containers I recommend as a dietitian (plus, these are all top-rated on Amazon).
1. Collapse It Storage Containers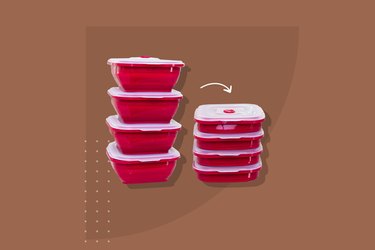 If real estate is at a premium in your kitchen, then Collapse It containers could be the solution for you. They come in round and rectangular shapes and are available in a variety of sizes but their true calling card is they collapse to half their size for easy storage.
The containers are able to shrink in size is because they're made of silicone, a pliable, food-safe material. Silicone makes it easy to remove or "pop" any food out from the container that may have otherwise been stuck.
The Collapse It containers are oven-, freezer-, microwave- and dishwasher safe. Each piece is a one-dish wonder that's particularly great for anyone who hates doing the dishes. You can use a container to bake something in the oven, then store it in the freezer (once it's cooled), pull it from the freezer and pop it in the microwave (or oven) to heat it up before eating.
After all that, you can toss the empty container in the dishwasher for easy clean-up when you're done.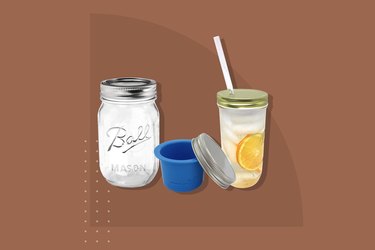 Mason Jars just might be the original freezer storage container. They were initially created in the 1800s for home canning, another method of food preservation, but have long been used for freezing foods like soups, jams and jellies.
Mason jars made a comeback over the past decade or so, serving as meal prep and to-go containers for salads, dressings, smoothies, soups and grain bowls. They're optimal for freezing because the jars come in a variety of sizes, and they're relatively inexpensive to replace if you happen to lose or break one.
The mason jar has been given some modern bells and whistles that make it even more versatile. There's a cup separator that fits inside the jar, making it easy to keep items like berries or dressing separate from the rest of your food. There's also a nifty smoothie cup top that includes a straw, which turns the mason jar into the perfect to-go cup.
3. Stasher Reusable Storage Bags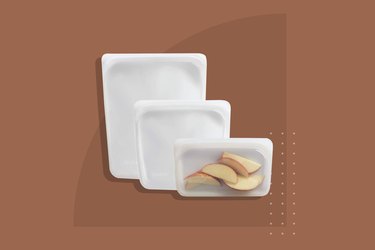 Forget flimsy plastic freezer bags and try these reusable, more durable silicone Stasher bags instead. Sure, you may be able to reuse single-use plastic freezer bags once or twice, but they'll eventually tear and end up in the landfill... forever.
Stasher bags are made of platinum silicone, which, according to the company, won't degrade over time.
These bags are available in many sizes ranging from a tiny, pocket-size piece ideal for marinades and snacks to a half-gallon bag perfect for storing soups. Some bags lay flat, while others stand up, alleviating any spillage concerns.
The bags feature a "pinch-lock" seal that is easy to open and close, and they're safe for use in the microwave, dishwasher and even the sous vide.
​Buy it​: Amazon.com; ​Price​: $45.99 for 4-piece bundle set
4. Rubbermaid Brilliance Food Storage Container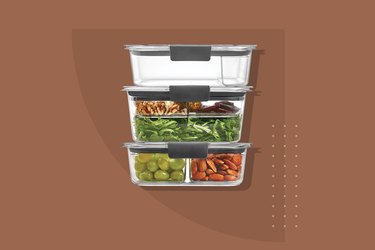 These plastic food containers are made of BPA-free Tritan plastic, which looks like glass, but is more lightweight and less likely to shatter.
The clear lids make it easy to peek at what's inside, and their two large clasps connect the lid to the container seamlessly, making these containers air-tight and leak-proof when closed. The containers also come equipped with drop-in trays, which allow you to separate different foods in the same container.
There are small vents under the locking clasps, which allow heat to escape as you reheat your food. Every container in this line is microwave-, dishwasher- and freezer-safe.
​Buy it​: Amazon.com; ​Price​: $24.99 for a 12-piece set
5. Souper Cubes Freezing Tray With Lid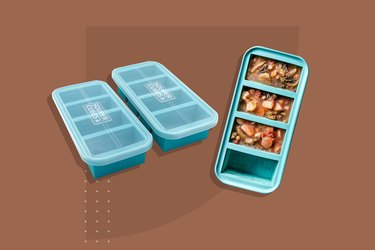 These unique containers are perfect for freezing liquid-based foods like soup, pudding, hummus, stew and sauces. They come in half-, one- and two-cup sizes and have marked fill lines for smaller portions if needed.
The cubes are ideal for those times when you make a big batch of homemade marinara or chicken noodle soup, and they allow the food to be stored in smaller portions so you can remove from the freezer only what you need and can leave the rest in the freezer for a later date.
Souper Cubes are made of food-grade, BPA-free silicone, which makes your life easier when trying to remove food from the container. They also include a clear, tight-fitted lid, so no strange freezer smells can weasel their way in.
​Buy it​: Amazon.com; ​Price​: $36.99 for a 2-pack
6. Pyrex Simply Store Containers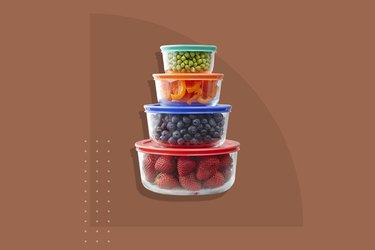 These are one of the more popular glass container brands and for good reason — they last a lifetime. They're durable and can be reheated (without the lid) in the oven or microwave and are dishwasher and freezer safe, too.
The lids don't lock in place, which makes them easy to open and close, but also means they're not leak-proof. Pyrex containers are not for throwing in your work bag or storing vertically. Instead, they're meant to lay flat, which will prevent spills.
Pyrex containers are available in rectangle and round shapes and in a variety of sizes to meet your needs.
​Buy it​: Amazon.com; ​Price​: $31.22 for an 18-piece set