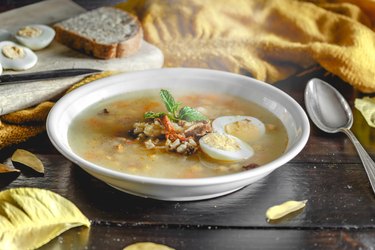 When it comes to getting in a healthy breakfast, you may find yourself on a hamster wheel cooking and eating the same foods over and over again. And this can be especially true if you aim for a protein-packed morning meal that goes beyond scrambled eggs.
We've got a not-so-traditional meal that may just become your favorite breakfast during the cold weather seasons. Enter: breakfast soups.
Yes, you read that right — you can, in fact, have a warm bowl of soup for breakfast and it can be protein-rich, too. We tapped a registered dietitian to share the nutrition benefits to switching that warm bowl of comforting ingredients from lunch and dinner to breakfast and brunch.
1. Bone Broth Breakfast Soup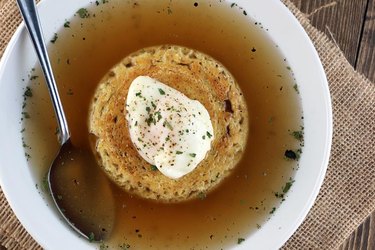 Enjoying bone broth can help boost your gut health and get more collagen in your diet. If you use the suggested brand of grass-fed beef bone broth, you'll get 10 grams of protein per one-cup serving. And when you factor in the addition of flaxseed, egg and almond flour, you can expect to get 28 grams of protein per bowl.
While this breakfast soup is rich in protein, you'll want to add your favorite veggies like zucchini, mushrooms or kale.
‌Get the Bone Broth Breakfast Soup recipe and nutrition info at Keto Delivered.‌
2. Changua Colombian Milk and Egg Soup
This Colombian favorite is a great alternative for those who love having cereal and milk in the morning.
Enjoying two cups of this soup for breakfast will get your day started with 23 grams of protein, which is plenty to keep you satisfied until lunchtime.
‌Get the Changua Colombian Milk and Egg Soup recipe and nutrition info at Skinnytaste.‌
3. Healing Breakfast Soup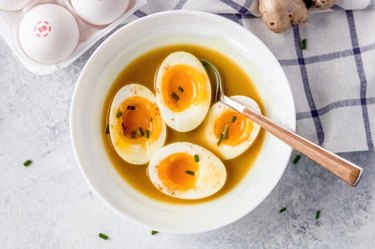 There's nothing like a hot bowl of soup to cure any seasonal sickness or tummy ache. And that's exactly what this simple breakfast soup is supposed to do. "This soup's healing potential comes from protein and anti-inflammatory spices like turmeric and ginger," Blatner says. It's also paleo- and Whole-30-compliant and takes less than 10 minutes to make.
To make this breakfast well-rounded, Blatner suggests adding vegetables like riced cauliflower, broccoli or carrots.
4. Spicy Tomato Ginger Soup With Poached Eggs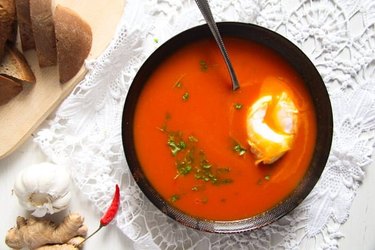 Traditional tomato soup gets a health upgrade thanks to the protein-rich poached eggs and anti-inflammatory ginger and chili pepper, says Blatner. But don't assume the base is just there for flavor. Tomatoes are high in lycopene, the antioxidant that's associated with helping protect against certain chronic diseases like heart disease and cancer, Blatner says. In just one bowl, you'll get 23 grams of protein and 4 grams of fiber.
‌Get the Spicy Tomato Ginger Soup With Poached Eggs recipe and nutrition info at Where Is My Spoon.‌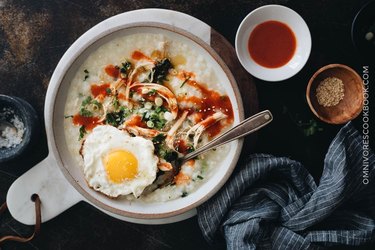 Congee is a Chinese comfort food, similar to a porridge, and this version has nearly 24 grams of protein per serving. It consists of rice and chicken and can be topped with anything from hot sauce for added spice or eggs for satiating protein. Blatner suggests substituting the white rice for brown to get in more healthy whole grains and even adding veggies like purple cabbage, pea pods or peppers for added color and vitamins and minerals.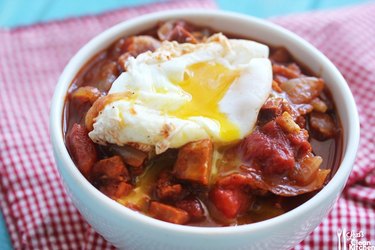 This breakfast stew is like a bowl full of comfort food favorites. "This is a great way to make a usual egg breakfast feel more special," Blatner says. "Choosing chicken chorizo and uncured bacon give you the flavors you crave, but in a better-for-you version."
To increase the nutrients in this hearty stew, make the optional spinach suggestion a must-have and even double it if you can. Spinach is low in calories, but will amp up the fiber, vitamin A, C and K, iron and folic acid.
‌Get the Spicy Breakfast Stew recipe and nutrition info at PaleOmg.‌