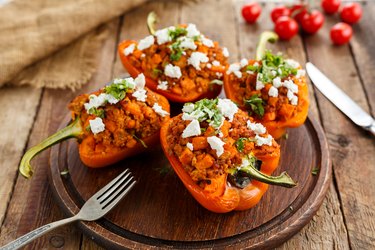 Cottage cheese has reputation as one of those old-school, bland diet foods; but the truth is, this dairy ingredient is both underrated and utterly delicious in many different recipes.
"Cottage cheese is a dense source of protein with nearly 13 grams in a half cup-serving," says Cara Harbstreet, RD of Street Smart Nutrition. "It also provides the same nutrients found in milk like calcium, phosphorus, selenium, vitamin B12 and riboflavin." And while you can enjoy it on its own, it's a low-calorie, protein-rich way to add creaminess to any dish.
That's why we're here to give a new perspective on the fresh cheese. With that much protein and a mild flavor profile, adding it into your favorite recipes can make them more filling, creamy and even decadent.
Try these six cottage cheese recipes for a well-balanced dinner with over 15 grams of protein.
Are You Getting Enough Protein?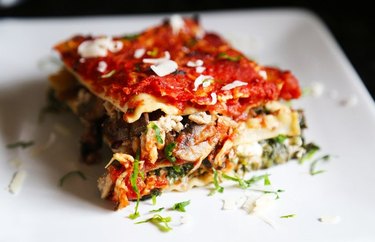 ​Calories:​ 274 calories
​Protein:​ 26 grams
Lightening up lasagna is a lot easier than you think. With whole-wheat pasta, hidden veggies and low-fat or fat-free cheeses, you can enjoy this comforting favorite without splurging on calories. "The whole-grain pasta provides fiber," Harbstreet says, adding that cooked tomatoes offer better bioavailability of lycopene, an antioxidant linked to lower rates of heart disease and cancer.
To make this a well-balanced meal, try pairing with a green salad or vegetable. You can also add other diced vegetables into the lasagna layers like zucchini, spinach, broccoli or squash.
2. Cottage Cheese Crab Bowl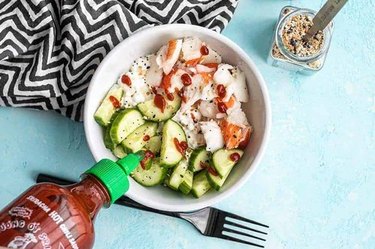 ​Calories:​ 149.2 calories
​Protein:​ 15.7 grams
This budget-friendly, DIY sushi bowl is the perfect way to eat cottage cheese. "Even though cottage cheese serves as the base of this bowl, don't be afraid to include rice if you like a chewier texture," Harbstreet says. You can also add additional produce like avocado for healthy fats and shredded carrots for a pop of color and crunch.
​Get the Cottage Cheese Crab Bowl recipe and nutrition info at Budget Bytes.​
3. Green Power Protein Salad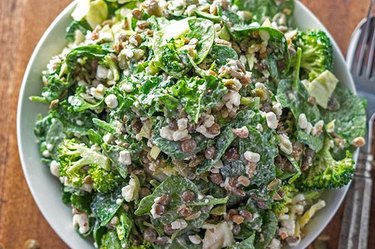 ​Calories:​ 446 calories
​Protein:​ 37.6 grams
They key to enjoying salads without growing weary of them is switching up your ingredients and flavors. "This combination of ingredients including nuts, seeds, cottage cheese and lentils covers the major foods groups and provides a variety of nutrients, tastes and textures," Harbstreet says. If you don't have lentils, she says that you can swap for other dense grains like wheat berries, farro or brown rice.
​Get the Green Power Protein Salad recipe and nutrition info at Bound by Food.​
4. Pita Flatbread With Asparagus and Herbed Cottage Cheese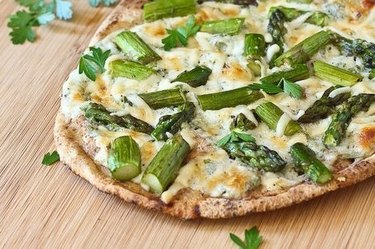 ​Calories:​ 329 calories
​Protein:​ 27 grams
When you're cooking plant-based meals, you want to make sure to use an ingredient or two that gives you a boost of protein so you stay fuller for longer. In this meal, cottage cheese adds protein without relying on meat, Harbstreet says. Plus, asparagus is a healthy vegetable choice since it's a source of prebiotics, which supports gut health.
​Get the Pita Flatbread With Asparagus and Herbed Cottage Cheese recipe and nutrition info at Rachel Cooks.​
5. Cottage Cheese Protein Pancakes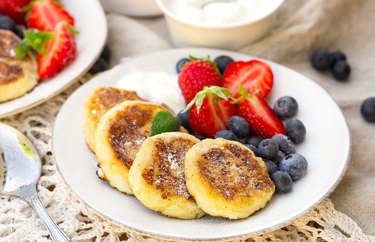 ​Calories:​ 306
​Protein:​ 25 grams
Breakfast for dinner? Count us in — especially when these flapjacks pack 25 grams of protein per serving and an ultra-fluffy texture thanks to the cottage cheese. You'll also get 4 grams of fiber, which is about 10 to 16 percent of your daily recommended value, from the oats.
6. Lasagna Stuffed Peppers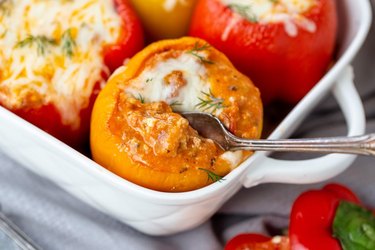 ​Calories:​ 275 calories
​Protein:​ 32 grams
Most of us don't eat enough fruits and vegetables, so incorporating them into the main element of your meal, like these stuffed peppers do, can help you get more produce, Harbstret says. Stuffing your favorite flavors into a pepper dome is easy and works for a variety of diets including gluten-free, low-carb and Whole30.
This recipe uses cottage cheese to bump up the creaminess of these Italian-inspired peppers and lean ground turkey as the meat. In just one pepper, you can expect a whopping 32 grams of protein, so you know you'll be satisfied for hours to come.
​Get the Low-Carb Lasagna Stuffed Peppers recipe and nutrition info at MomsDish.​