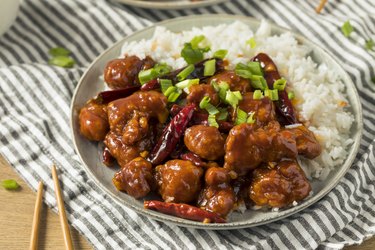 It's no secret — air fryers have won our hearts. The easy-to-use gadget allows us to enjoy our favorite comfort foods without all the caloric oil traditionally required to prepare them.
Thanks to the handy tool, transforming our favorite comfort foods into better-for-you versions is as easy as a click of a button — and they taste just as good! Plus, making recipes at home instead of ordering them at restaurants allows you to control the seasonings, oils and sauces that might affect the overall nutrient density of a recipe, says May Zhu, RD, LDN of Nutrition Happens.
Not to mention, you can customize the recipes to your preferred taste and save a whole lot of money, too. We asked Zhu to share some air-fryer comfort food recipes that you can enjoy for under 500 calories. We're sure you'll want make each and every one of them.
Still Don't Own an Air Fryer?
1. Air Fryer Chicken Parmesan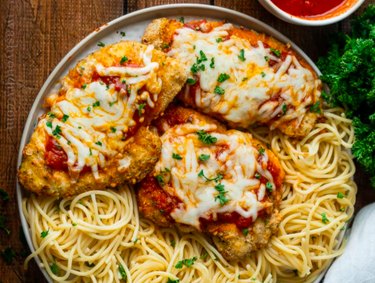 ​Calories:​ 216 calories
​Protein:​ 22 grams
Chicken Parmesan gets a lighter twist thanks to the practically oil-less air fryer cooking method. "This recipe provides 22 grams of protein per serving and is a great protein option to include in a balanced meal," Zhu says. You can pair this with your favorite whole-grain pasta or a side salad full of colorful veggies.
To boost the fiber content in this dish, Zhu recommends using whole-wheat breadcrumbs or high-fiber crackers as the breading of your chicken cutlets.
​Get the Air Fryer Chicken Parmesan recipe and nutrition info at I Wash You Dry.​
2. Air Fryer French Fries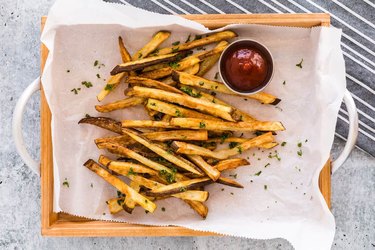 ​Calories:​ 94 calories
​Protein:​ 2 grams
French fries typically don't have much nutrition value, but they sure are delicious. This air-fried recipe reduces the caloric value of french fries thanks to the small amount of oil required. "White potatoes provide potassium and vitamins C and B," Zhu says. She also notes that one medium potato provides around 4 grams of fiber to help support a healthy digestion.
3. Air Fryer General Tso's Chicken
​Calories:​ 397 calories
​Protein:​ 46 grams
It's no surprise that this Chinese-American favorite made our comfort food list. But Zhu does warn that the sodium in this dish is a lot higher than the recommended amount in one meal. "Swapping coconut aminos, which provides a little less sodium compared to soy sauce, can help reduce the total sodium," Zhu suggests.
She does note that making this takeout dish at home is a smart way to control all the ingredients in the meal. Try serving it with a side of broccoli, brown rice or cauliflower rice for a balanced meal.
4. Air Fryer Margherita Pizza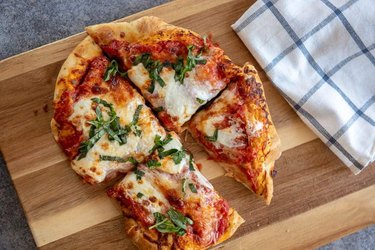 ​Calories:​ 481 calories
​Protein:​ 19 grams
The best part about this air-fried pizza is it's totally customizable. You can swap in whole-wheat, gluten-free of cauliflower crust to fit your dietary needs. "A great way to add more nutrients to this pizza is to pair with a side salad," Zhu says. "You'll still be enjoying the flavors of your pizza, but you're getting an additional boost of vitamins from the vegetables in your salad."
​Get the Air Fryer Margherita Pizza recipe and nutrition info at Garnished Plate.​
5. Air Fryer Buffalo Wings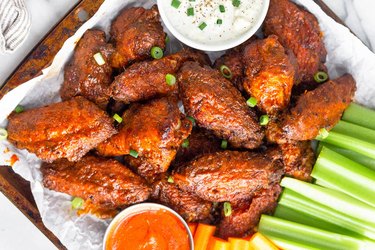 ​Calories:​ 374 calories
​Protein:​ 30 grams
Zhu says that chicken wings aren't the best cut of chicken when it comes to getting in your protein, "but they do provide an excellent source of vitamin B6, zinc, niacin and iron," she adds. If you want to keep the flavor but reduce that fat, Zhu recommends swapping in chicken breast. You can cut them into bite sized pieces and make your own boneless buffalo wings.
​Get the Air Fryer Buffalo Wings recipe and nutrition info at Eat the Gains.​
6. Air Fryer Spinach and Artichoke Dip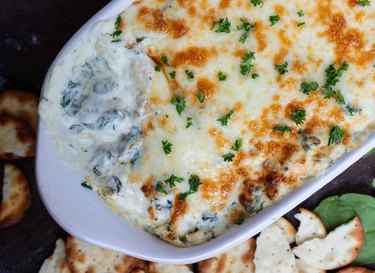 ​Calories:​ 297 calories
​Protein:​ 10 grams
"Artichokes are low in fat yet rich in fiber and packed with nutrients like vitamin C, A and iron," Zhu says. She also mentions that artichokes contain inulin, a fiber that works as a prebiotic and feeds the good bacteria in our gut to support a healthy digestion. If you want to lower the fat and increase the protein of this dish, substitute plain Greek yogurt for the cream cheese in this recipe. We promise, it will still be super creamy.
7. Air Fryer Cheeseburgers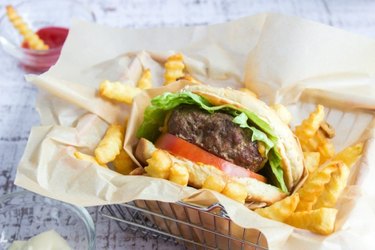 ​Calories:​ 325 calories
​Protein:​ 31 grams
Making your own cheeseburgers at home can help to reduce the overall calories, fats and sodium levels in your meal. In addition to being a great source of protein, Zhu says that beef is an excellent source of iron and B vitamins, which help us produce the energy we need for daily activities. "For those looking for a low-carb option, try swapping your burger bun for lettuce wraps or placing the burger patty on top of a salad," Zhu suggests.