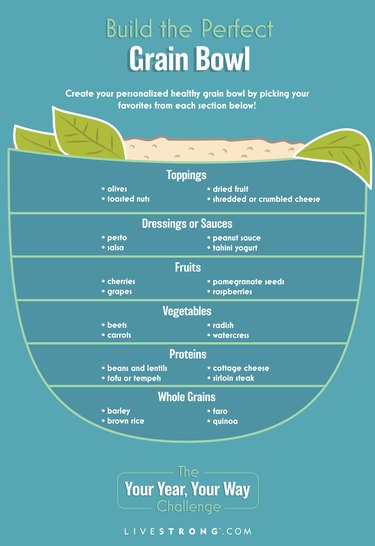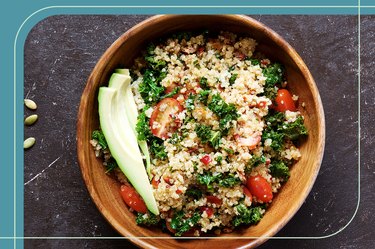 Salads are ​fine —​ but they aren't exactly cozy. Which is why we love grain bowls: They're just as customizable and nutritious as salads, but offer a whole lot more comfort and satisfaction.
"Some people want a more hearty dish," Maya Feller, RD, CDN, owner of Brooklyn-based Maya Feller Nutrition, tells LIVESTRONG.com. "When you build a grain bowl with some whole or ancient grains and you add nuts, legumes, seeds, fish, tofu, chicken, you name it, that can be quite nourishing and warming, especially in the winter months."
Plus, grain bowl ideas allow for more creativity when it comes to preparing your ingredients. In the categories below, you'll find opportunities to boil, braise, pickle, roast, sauté and more.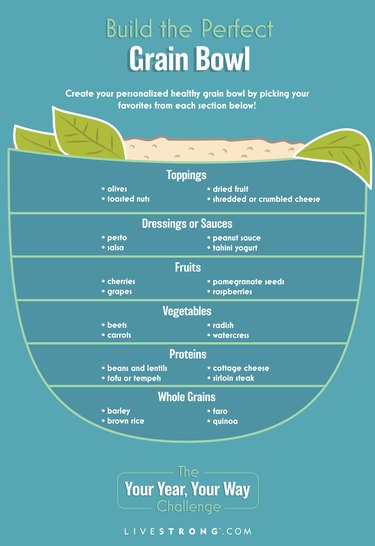 Step 1: Start With Whole Grains
The base of your grain bowl is — no surprise here — whole grains. These nutrition superstars are packed with nutrients, such as B vitamins, magnesium, vitamin E and iron, according to the American Heart Association.
Feller loves black rice, which cooks quickly and has a mild taste and good fiber content. Its dark color offers a different mix of antioxidants and plant compounds than other lighter-hued options.
Choose 1/2 cup of these grains:
Step 2: Add a High-Quality Protein
We'd be nothing without protein, an essential macronutrient most notably known for helping to build and maintain muscle.
Pick a lean, cooked protein for your healthy grain bowl (also sometimes called a protein bowl, and not without reason!). Your protein of choice can be animal-based, plant-based or a mixture of both.
Aim for 3 to 4 ounces of the following:
​Beans and lentils​

Adzuki beans
Black beans
Garbanzo beans
Great northern beans
Lima beans
Kidney beans
Pinto beans
Lentils

​Dairy​

Cottage cheese
Yogurt
Cheese

​Seafood​

Canned or fresh tuna
Salmon
Scallops

​Pork​

Pork loin
Pork tenderloin
Center loin

​Poultry​

Chicken (skinless)
Eggs
Turkey (skinless)

​Steak​

Bottom round
Eye round roast
Sirloin tip side steak
Top round
Top sirloin steak

​Tofu or tempeh​
Step 3: Pile on Nutrient-Rich Vegetables
Veggies deliver a variety of vitamins and minerals, plus fiber, which is crucial for healthy digestion and weight management, according to the Mayo Clinic.
Fill your bowl with a mixture of 2 cups of leafy greens or 1 cup of other vegetables per serving. Try one (or several) of these ideas:
Beets

Beet greens
Broccoli
Brussels sprouts
Carrots
Celery
Collard greens
Cucumber
Dandelion greens
Fennel
Kale
Radish
Spinach
Swiss chard
Tomato
Watercress
Step 4: Sweeten With Fresh Fruits
Fruits fancy up your grain bowl a notch, adding a touch of sweet and a bit of crunch — not to mention additional vitamins, antioxidants and other health-promoting plant compounds.
Pick from any of these fruits:
Apples
Cherries
Blackberries
Grapes
Mango
Peaches
Pineapple
Pomegranate seeds
Raspberries
Strawberries
Step 5: Decide on a Dressing
Have fun with flavorful dressings, but don't forget to read the labels. Avoid pre-made drizzles with more than 4 grams of added sugar per serving.
"Depending on the direction I want to go with my grain bowl, I'll top it with either a tahini-lemon dressing, a bit of olive oil with feta and lemon juice or, for something more on the creamy side, I'll go with yogurt and avocado mashed together with red pepper flakes," Feller says.
If you're packing lunch ahead, keep the dressing separate until it's time to eat.
Add 1 to 2 tablespoons per bowl of one of the these options:
Pesto
Hummus
Salsa
Vinaigrette
Peanut sauce
Hot sauce
Miso
Vegan Caesar
Tahini yogurt
Tip
Making homemade dressing is easier than you might think — plus, you can make a big batch and use it all week. To make a simple vinaigrette dressing, mix 1 part oil, 1 part acid, plus spices.
For example, you could try 1 cup of olive oil, 1 cup of balsamic vinegar, 1 tablespoon of Dijon mustard and some salt and pepper. Store your dressing in an airtight container in the fridge for up to two weeks.
Step 6: Sprinkle on Toppings
Grain bowl toppings offer texture, flavor and nutrients, too — but they're often higher in calories, so a little goes a long way.
Check ingredient labels on your toppings, too: Look for unsalted nuts and seeds and dried fruit without added sugar.
Stick to 1 or 2 tablespoons of any of the below:
Shredded or crumbled cheese
Olives
Toasted nuts or seeds
Dried fruit
Put It All Together in These Recipes