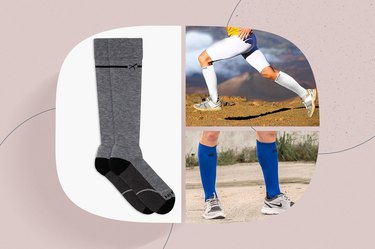 Compression socks are useful for a number of conditions, including varicose veins and leg swelling from injuries or blood clots. But they also offer relief to anyone who might be on their feet a lot because they generally promote better blood flow.
While compression socks started out as medical devices you could only get by prescription, nowadays you can find them at your local pharmacy or online in a variety of styles, prints and colors.
That said, here are our picks for the best compression socks, according to experts.
The Best Compression Socks
By doing some research and speaking to Margot Savoy, MD, chair of the Department of Family and Community Medicine at the Lewis Katz School of Medicine at Temple University in Philadelphia, Pennsylvania, we've found the best compression socks available right now.
For more information on how we choose and cover products, click here. And read on to find the pair that's right for you.
1. Zensah Tech+ Compression Socks
2. Best on a Budget: SB SOX Compression Socks
3. Physix Gear Sport Compression Socks
4. NxTSTOP Ultra-Soft and McDavid Rebound Compression Socks
5. Paplus Ankle Compression Socks
6. EvoShield Recovery DNA Compression Tights
What to Look for in Compression Socks
Here, Dr. Savoy breaks down what to keep in mind when buying compression stockings or socks:
Compression socks should fit snugly, but it's important that they're not too tight — you shouldn't feel any numbness or tingling when you wear them.
"If you are having pain, the socks may not be the right size or the amount of compression may be too high," Dr. Savoy says.
If you have overweight or have wide calves, she notes, you might need to be fitted for a special size.
Tip
Knee- and ankle-high socks are typically more comfortable to wear and easier to put on than thigh-high compression socks.
Compression socks you can buy without a prescription offer a moderate level of pressure, which works well for most people.
But if you think you may need a higher level of compression based on your medical condition, Dr. Savoy suggests asking your doctor at your next visit.
"I often will Google the brand they are considering and take a look along with my patients in the office to see if what they are about to buy makes sense for their medical conditions," she says.
"In some cases, we may decide to skip the cute prints and styles online and go for the prescription socks because they are covered by their insurance and offer a different level of compression than they could get over the counter," Dr. Savoy adds.
Warning
Remember to give your legs a break! Dr. Savoy says you shouldn't wear compression socks for more than 12 hours a day, and it's best to take them off at night when you're in bed.
This is when your legs are least likely to swell, and it gives your legs a chance to breathe and prevents the likelihood of developing a skin infection.
Is this an emergency? If you are experiencing serious medical symptoms, please see the National Library of Medicine's list of signs you need emergency medical attention or call 911.