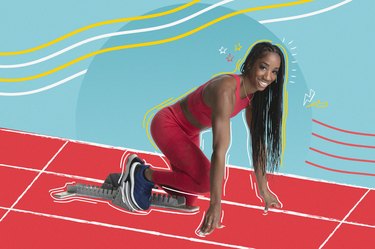 Athletes in the Olympic and Paralympic Games share their top tips so you can fuel your body and rock your workouts Like an Olympian.
Olympian Kendra "Keni" Harrison might make the 100-meter hurdles look easy, but as the world record-holder in the event (12.20 seconds!), she knows a lot goes into producing smooth strides and strong leaps.
Hurdles have been a big part of Harrison's life since high school, where she won two state championships. She went on to run for the University of Kentucky, winning both indoor and outdoor NCAA championships, according to USA Track and Field.
But Harrison hit a bump when she didn't qualify for the 2016 Rio Olympics, she tells LIVESTRONG.com. Relying on the support of her big family (she has 10 siblings!) and her faith, she was determined to qualify for the 2020 Tokyo Olympics.
Refusing to leave anything to chance at the 2020 trials, Harrison zeroed in on her training schedule, mental strength and nutrition. After years of hard work, she qualified for the 100-meter hurdles in the 2020 Olympics with a time of 12.47 seconds, according to Team USA.
But what exactly does it take to win a spot on the Olympic team? Aside from the many hours on the track and in the gym, nutrition is crucial. And considering her training schedule is pretty packed, she likes to keep her diet simple.
The Food That Fuels Harrison's Hurdles
Although hurdling demands long-lasting energy, Harrison doesn't carb-load with heaping pasta dishes like many runners. She actually limits refined, processed grains.
Instead, she prefers to get her energy from protein and healthy fats. Enter: salmon.
"[Salmon and vegetables] make a light and filling meal that helps me perform well at training or in competition," Harrison says. "[It] makes me feel energized without feeling too heavy in my stomach."
She says she loves to eat whole-food meals with a balanced ratio of protein, carbohydrates and healthy fats. Getting the most nutritional value out of her food is key, and she prioritizes whole ingredients over processed ones, which is exactly why this combo works so well for her. But that doesn't mean she always prepares an elaborate meal.
"I like any combination of protein and veggie," she says. "You can use whatever you have available."
Above all, Harrison tries to stay consistent with her eating. This is especially vital when she competes (because an upset stomach is the last thing she needs right before a race).
And while she sticks to her routine most of the time, even Olympians love a treat every now and again. For Harrison, that's a red velvet cupcake.
Why Salmon and Veggies Is a Great Pre-Workout Meal
Not only is Harrison's favorite meal easy to prepare, but it also boasts major health benefits for elite and recreational athletes alike.
The balance of protein, carbs and healthy fat is essential for overall health and athletic performance, Taub-Dix says. Plus, the fiber in the veggies and the protein in the salmon will help you feel fuller longer and keep cravings at bay.
Eat Like an Olympian Before Your Next Workout
You don't need to be an Olympic athlete to eat like one. And considering there's no shortage of vegetable and salmon recipes, there are plenty of ways to personalize this dish. Just keep these tips in mind:
​Choose veggies you like that won't cause bloating or gas.​ Taub-Dix recommends a light side salad. Leafy greens are usually easier on the stomach than root vegetables or cruciferous veggies and are simple to prepare.
​Opt for canned proteins if you can't get fresh.​ You don't necessarily need a fresh cut of fish. Canned salmon is cost-effective, shelf-stable and offers all the same health perks as fresh fish, Taub-Dix says.
Try These Canned Salmon Brands
That said, while athletes can offer some excellent nutrition inspiration, always prioritize your personal dietary needs, Taub-Dix adds. Listen to how your body responds while you're exercising (you don't want to feel gassy or sluggish) and adjust your meals as needed.
​​To learn more about all the Team USA athletes, visit TeamUSA.org. Watch the Tokyo Olympics beginning July 23 and the Tokyo Paralympics beginning August 24 on NBC.​​