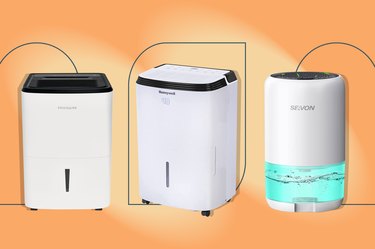 Cold, dark places — like a basement — are breeding grounds for mold, primarily due to excess moisture in the air. That's why many people invest in dehumidifiers for their homes to combat mold, mildew and other allergens.
When it comes to humidity in your home, you want to maintain a Goldilocks-like level. The ideal humidity level inside should be between 30 and 50 percent, says Shawn Nasseri, MD, a Mayo Clinic-trained ENT specializing in allergies. When the humidity levels fall too low, you'll find yourself with chapped lips, dry skin and a need for a humidifier. And, when the levels rise too high in your home — or if you live in a zip code with frequent high humidity — a dehumidifier can help.
"Dehumidifiers can decrease mold, mildew and dust by keeping humidity within this range. Dust is one of the most common allergens, and dehumidifiers will help decrease this," Dr. Nasseri says.
With the help of Dr. Nasseri, we have found the top-rated dehumidifiers for basements, bedrooms and more.
Where you place your humidifier, the size of the space and the overall price are the most important factors when you're shopping for a humidifier, Dr. Nasseri says. Using his advice, we considered these criteria in our selections:
Pint capacity
The size of the intended space
Built-in features
Noise level
Ease of use
Overall rating and reviews
1. Best for Basements: Honeywell Large SqFt Design, TP70WKN, 70 Pint Energy Star
In most homes with unfinished or high-moisture basements, the space is large enough to warrant a higher capacity dehumidifier.
Here's how to think about what size dehumidifier your space needs: A 50-pint dehumidifier is adequate for a room that's between 2,000 and 2,500 square feet, while a 10-pint dehumidifier is ideal for a 500-square foot room, Dr. Nasseri says. "A good rule of thumb is to add four pints for every 500 square feet," he says.
This top-rated option from Honeywell can cover an oversized space, but with an Energy Star qualification, it uses less energy than comparable models to remove moisture. It also has a five-year warranty and access to in-house customer support for any questions you may have with set-up and continued use.
Part of caring for a dehumidifier is cleaning out the tank and air filter — that's an easy task with this dehumidifier for basements. It has a reusable air filter, so you simply just run it under water when the Filter Clean Alert lights up. You can also detach the water tank to empty the water quickly.
Plus, there's a 24-hour energy-saving timer that allows you to put this device in sleep mode along with other smart settings.
Pros
Requires less energy
Has 5-year warranty
Comes with reusable filter
Cons
May be tricky to empty tank
2. Best for Bedrooms: Frigidaire FFAD3533W1 Dehumidifier
While you might want to purchase just one dehumidifier for your home, Dr. Nasseri says that's not the best approach to removing moisture and reducing allergens. Instead, every room needs a dehumidifier made for the space.
For your bedroom, you likely need a smaller capacity dehumidifier, like this highly rated option from Frigidaire. This dehumidifier gives you control over the humidity level in your room, so if you can turn it down in the morning and up at night.
Plus, this dehumidifier has an automatic shut-off that prevents your water tank from overflowing. Three fan speed options are also ideal for setting your comfort level with sleep and daytime use.
Pros
Automatic shut-off option
Several fan speeds
Cons
Can be hard to empty without a floor drain
3. Best for Small Spaces: SEAVON 35oz Dehumidifiers for Home
Since dehumidifiers aren't meant to cover your entire home, you'll need a different one for each room you frequent. However, if you have a three-story, 5,000-square foot house, you may feel like eight dehumidifiers are overkill. Similarly, if you have a two-bedroom apartment, storing two dehumidifiers when they're not in use may feel burdensome.
Instead, you can purchase a small, portable version like this one from SEAVON, and take it with you throughout the day. Working in your home office? Plug it in. Spending more time in your living room today? Take it with you. The built-in handle makes lifting and toting the machine simple.
This high-efficient, small-capacity dehumidifier can remove up to 16 ounces of water daily (or anytime you empty the tank). If you are placing it in your child's room, they'll also appreciate the colorful night lights that will let you know when it's time to dump the tank, or when it goes into sleep mode. This dehumidifier is also quiet, making it a good choice if you're a light sleeper.
‌Buy it: ‌Amazon; ‌Price:‌ $39.98
4. Best With Pump: hOmeLabs 4,500 Sq. Ft Energy Star Dehumidifier with Pump for Extra Large Rooms and Basements
Though it does require a little more time with installation, a dehumidifier with a pump takes most of the stress out of removing excess moisture in your home — the machine automatically pulls water from the air and dumps it right away.
Many people connect their pump-included dehumidifier to a sink or out the window. This top pick from hOmeLabs has a digital control panel, making it straightforward to use and set different modes, from turbo (high-speed) and comfort (normal) to continuous, with timer settings from 30 minutes to 10 hours.
What we really like about this dehumidifier is the curb appeal: it's sleek, with a minimalist design, blending seamlessly into any space. You can set your goal humidity level, and once that's reached, the dehumidifier will turn off. It'll turn back on when water builds up again, so it's truly a set-it and forget-it approach.
Pros
Attractive appearance
Empties through pump
Easy to use
Cons
Some users find the pump doesn't always function properly
5. Best With Smart Technology: Midea Cube 35 Pint Dehumidifier for Basement and Rooms at Home
Try this small- to medium-capacity option from Midea Cube if you're looking for a smart technology dehumidifier. It has WiFi connectivity that allows you to use the company's app for alerts and notifications.
Plus, this dehumidifier works for up to three times longer than other smart dehumidifiers.
You set the water and humidity level, and it'll let you know via the app when it reaches capacity. Then, you can position the drain hose out the window, in a sink or wherever you'd like to dump the water. It's also versatile, allowing you to chose from extended or nested design. With nested, you can store it only to turn on when the water in the air reaches a specific level, and with extended, it can pump H20 out fast and on-demand.
Pros
Offers an app
Space-saving design
6. Best Quiet Option: TOSOT 20 Pint 1,500 Sq Ft Dehumidifier Energy Star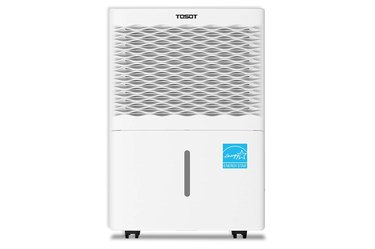 If you are someone who is easily woken up from a nap or you need a dehumidifier in your baby's nursery, you will prioritize noise control. This model is quiet, but still capable of removing water for up to 1,500 square feet.
Like other models, this dehumidifier will stop running once the water bucket is full, so you don't have to worry about leakage. To get started with this one, you choose a goal humidity level, and the display screen will notify you when it's been achieved.
This dehumidifier is Energy Star rated and UL certified, so it works smarter and saves on your monthly utility bill. It's doing all of this while also making way less noise than comparable models. Win-win!
Cons
Tank is small, so needs to be emptied frequently
What to Look for in a Dehumidifier
The number one shopping consideration to make when picking out a dehumidifier is the pint capacity and the size of the space, Dr. Nasseri says. Generally speaking, dehumidifiers will advertise the amount of water they can remove in a 24-hour period. Bigger spaces need larger tanks.
Noise is another important factor, Dr. Nasseri says — that's especially true if the dehumidifier is being run in your bedroom while you sleep. While some are high-powered and do an excellent job at removing moisture, they may be too loud for your preferences.
3. Water Tank and Removal
Part of the maintenance of a dehumidifier is emptying the water tank when it becomes full. Most modern units will alert you when you're at capacity (or reach your intended humidity level), and shut off automatically.
However, if you're using a large dehumidifier in a big space and it's continuously running, you may need to empty the tank several times throughout the day. If this is the case for your home, investing in a dehumidifier with a pump could be worthwhile, so it automatically and continuously drains.
Some dehumidifiers are WiFi-enabled and come with apps and smart home features. This makes it easy to control dehumidifier settings and monitor the humidity levels from your phone. That said, many basic dehumidifiers also exist, if you aren't concerned about these types of features.
When investing in any home appliance, take note of the warranty. While most dehumidifiers will include replacement and repair of parts for up to one year, other brands offer up to five years. Read the fine print to see what's covered and what's not.
Is this an emergency? If you are experiencing serious medical symptoms, please see the National Library of Medicine's list of signs you need emergency medical attention or call 911.