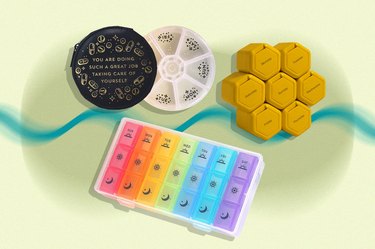 Around half of all people in the United States use at least one prescription medicine every day, according to the Centers for Disease Control and Prevention. Older adults (over age 65) tend to take the most medicine, while younger children take the least, says Laura Purdy, MD, MBA, a board-certified family medicine physician.
Whether you take vitamins or supplements routinely, or are prescribed medications, having bottles strewn around your home, from vitamins in the refrigerator to prescriptions in the bathroom cabinet, can lead to chaos and make it difficult to remember if you've taken the pills you need.
To the rescue? Pill organizers, which help simplify this daily ritual.
"A pill organizer is a highly effective way to ensure vitamin and or supplement compliance," says Kien Vuu, MD. "I find them highly time-saving when I have my supplements organized and I don't expend additional time or brain power each time I need to take a vitamin or supplement."
And of course, pill organizers are also helpful if you have a short- or long-term prescription for a medication that you need to take each day. Here, a look at the best options.
We spoke with doctors and other experts to understand what to look for in a pill organizer, and organized our picks around the following factors:
Size
Storage
Appearance
Lifestyle
Reviews
1. Best Weekly Pill Organizer: ​​SE7EN-DAY Weekly Pill Organizer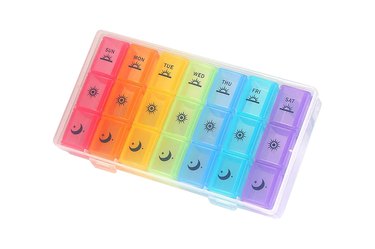 Pros
Easy to use
Budget-friendly
Many daily medications are taken multiple times a day. Or, you might take one supplement to help you wake up and focus on work and another to improve your rest at night. Our top pick has three compartments for each day, which makes it easy to stay organized.
Plus, it has more than 26K positive reviews on Amazon — it's inexpensive, along with being easy to clean, store and use.
2. Best Pill Organizer for Work: AIXPI Dose Weekly (7-Day) Pill Organizer, Vitamin and Medicine Box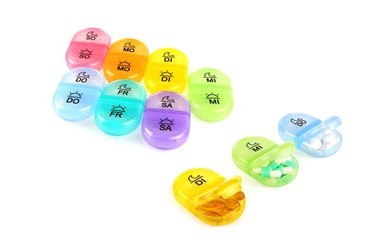 Pros
Budget-friendly
Ideal for travel
Cons
Individual pill sections could get lost
Many doctors recommend taking prescription pills and supplements with meals since they can make some people feel nauseous or dizzy. If you don't chow down until you get into the office or pick up a bagel on your commute, you need a pill organizer that can go with you. This brand allows the various sections to pop out and store in your purse or bag.
It's also simple to use and isn't expensive.
3. Best Cute Pill Organizer: Pantastic 7-Day Pill Case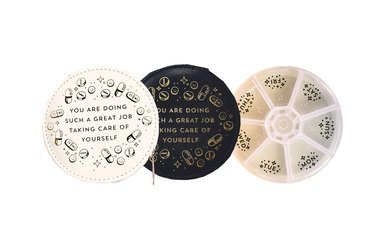 Cons
Small compartments for pills
A pick-me-up can be helpful if your medications cause side effects or you can use a little encouraging nudge to stay on track with daily vitamins and supplements.
This case for this plastic pill box is stamped with the text "You are doing great at taking care of yourself." But it's more than inspirational: This pill organizer fulfills practical needs, too. The daily containers are large enough to fit several supplements or pills, and the container can be stashed in a zip-up case made from vegan leather.
4. Best Pill Organizer for Travel: Ban.do Getaway Pill Case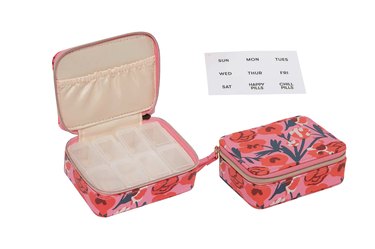 Cons
Small compartments for pills
While your out-of-office might be up during your trip, your health needs never take a vacation. Remembering to swallow meds can be tough for those who take a daily prescription. And, if you're taking them to the beach or into a city center, you may worry they will spill in your bag. Cut out the stress with this zippered case that features an interior pill separator. It's small, compact, and easy to throw in a purse, beach bag or backpack.
5. Best Smart Pill Organizer: Hero Health Smart Pill Dispenser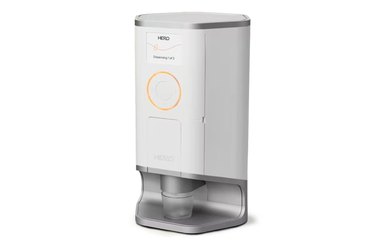 Pros
Great for caregivers or anyone taking many medications
If you take several medications, it can be tricky to keep up with how many pills you need to take, and when. Or, it can be stressful if you have loved ones who struggle to take their medicine consistently — particularly if they do not live nearby.
This smart pill dispenser removes the guesswork out of daily medicine management, Dr. Purdy says. "This is fully automatic, holds 90 days of medications at a time and is controlled by an app," she says. "This is great for someone who wants to automate as much of the process as possible and loves integrating technology into their daily routines."
Here's how it works: You talk to your physician or pharmacist about using the product (Hero Health says most insurance companies will work with them and it's covered by Medicare). Then, you load prescriptions into the app, including usage, time of day and so on. Next, you pour in your medication (up to a 90-day supply). When it's time to refill, you are mailed your next 90-days of medication.
There are settings so you can control the medication from afar as a caregiver, too.
6. Best Oversized Pill Organizer: Cadence Capsules A Capsule A Day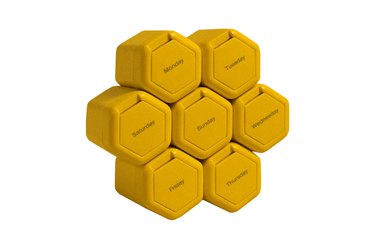 Pros
Oversized compartments
Travel friendly
Some folks take one vitamin and call it a day. Or have their birth control — and that's it. Others, especially those with chronic illness, take mouthfuls of tablets once or twice a day. Many pill organizers can fit a few pills, but this one can be optimized for your specific needs. This type of organizer allows you the room you need to maintain your health.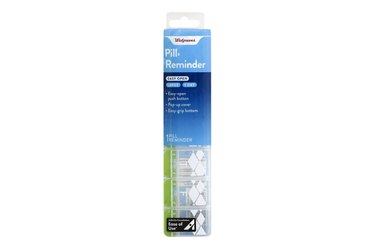 Pros
Easy to open tabs
Larger compartments
Cons
Not as aesthetically pleasing
If you have limited dexterity in your hands, you'll benefit from a pill organizer that has easier to open tabs, says Danielle Hambrick, PharmD, the manager of Diagnostic Testing at Walgreens. This one has bigger compartments with a button, so shaking or lack of strength doesn't prevent someone from taking their medicine.
8. Best Pill Organizer With Lock: 7-Day Pill Reminder with Lock Large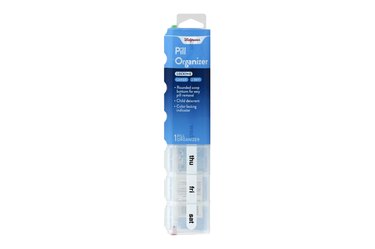 Pros
Child-proof
Easy to store
Cons
Not as aesthetically pleasing
If you have small children in the home — or maybe grandchildren who visit frequently — Hambrick says it's vital to have a child-proof pill organizer. Ideally, one with a lock, like this top pick. "Always keep all pills on a high shelf away from children... locking the medication can help serve as an extra layer of protection from children gaining access to the medication," Hambrick adds.
What to Look for in a Pill Organizer
The goal of a pill organizer is to make it easier to swallow your daily pills. That's why anything you choose should be straightforward and guess-free.
"If someone only takes a couple of medications per day that are not time specific, a very simple pill organizer may be the best choice," Dr. Purdy says. "There are some more complex options that have several doses per day, and even a couple of weeks at a time, which can be used for more involved medication regimens."
Skipping a day or two of vitamins won't significantly impact your health in most cases. However, forgetting a prescribed medication can have ramifications. That's why it's important to keep your specific protocol in mind when buying a pill organizer.
Those who need to follow a strict regimen or are caring for someone who is on one, you may want to invest in a smart dispenser. If you're taking vitamin C or a probiotic because you want to — but it's not essential — you may be just fine with a standard pill organizer.
Make sure to opt for a pill organizer that suits your needs. That may mean selecting one with easy-to-open buttons or a large font (so you can easily see the day of the week). Other features, like the ability to lock the pill organizer, may or may not be important.
If you take medications twice a day, look for an organizer that has a.m. and p.m. compartments, suggests Jamie McManus, MD, chair of medical affairs, Shaklee Corporation. "If you want to take your meds when you are out and about, look for an organizer that has pull-out compartments that you can take in your purse or backpack," she says.
Is this an emergency? If you are experiencing serious medical symptoms, please see the National Library of Medicine's list of signs you need emergency medical attention or call 911.