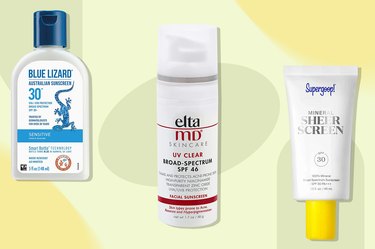 If you have sensitive skin, you're probably very cautious when it comes to what type of skin care products and ingredients you use. After all, sensitive skin tends to be more prone to redness, inflammation and irritation overall than other skin types, says Marisa Garshick, MD, dermatologist at Medical Dermatology & Cosmetic Surgery in New York City.
As with any skin-care product, sunscreen contains a bevy of ingredients that can cause irritation in someone with sensitive skin.
"Certain ingredients in sunscreens, be it active ingredients, fragrances, dyes or preservatives, may be more commonly associated with skin reactions," explains Brendan Camp, MD, a Manhattan-based dermatologist at MDCS Dermatology. "Familiarizing yourself with these before making purchases — and becoming comfortable reading ingredient lists — may help avoid skin reactions."
We chatted with dermatologists, who broke down the most important features of sunscreen for sensitive skin. Our top picks are based on their criteria, including:
SPF
Ingredients
Consistency
Reapplication
Cost
Find more information on how we choose and cover products here.
The Best Sunscreens for Sensitive Skin
​1. EltaMD UV Clear Broad-Spectrum SPF 46
Pros
Rubs in clear
Free of irritating ingredients
Good for acne-prone skin
Moisturizing
Cons
Pricey
May pill under makeup
This physical mineral sunscreen has an SPF of 46 and helps shield your skin from both UVA and UVB rays. It's free of fragrance, which makes it an ideal buy for someone with sensitive skin, and it's also moisturizing, thanks to sodium hyaluronate.
For those prone to acne, the lactic acid it contains helps clear pores and prevent breakouts.
​2. CeraVe Hydrating Mineral Sunscreen SPF 50
Pros
High SPF
Supports a healthy skin barrier
Cons
Leaves a white cast
Thicker than some other products
CeraVe is a popular skin care brand for sensitive skin types because most of the brand's products are gentle and fragrance-free, including this mineral sunscreen, which contains an SPF of 50.
"In addition to containing zinc oxide and titanium dioxide to provide broad-spectrum coverage, it also contains hyaluronic acid to help provide moisture, ceramides to help support the skin's natural barrier as well as niacinamide, which can soothe the skin," Dr. Garshick says.
3. Supergoop Mineral Sheerscreen
Pros
Blends well under makeup
Lightweight
Doesn't leave a white cast on fairer skin
Cons
Some reviewers say it makes skin shiny
May leave a white cast on darker skin
Dr. Camp likes to recommend this SPF 30, zinc-based facial sunscreen for his patients looking for one to use on their face.
Even though it is a mineral sunscreen, it doesn't leave a white cast like most other mineral-based sunscreens. Instead, it offers a sheer application that's not greasy and won't cause breakouts.
It also contains hydrating ingredients such as squalane and aloe leaf juice.
4. Cetaphil Sheer Mineral Sunstick
Pros
Affordable
Good for travel
High SPF
Easy to apply
Cons
Small container
May leave a white cast on darker skin
Sunscreen sticks are a more convenient option for certain areas, especially your face, as they can easily get into small and sensitive areas, such as your under-eye and the creases near your nose and mouth. They are also a great solution for treating areas more prone to burning, such as the lips, nose, earlobes and around the eyes, notes Dr. Camp.
This mineral sunscreen offers SPF 50 protection and is conveniently sized for travel.
5. bareMinerals Complexion Rescue Tinted Hydrating Gel Cream SPF 30
Pros
Comes in several shades
Lightweight
Natural-looking
If you're looking for a tinted SPF moisturizer that blends well into your skin and offers a wide range of tones to choose from, look no further than this one by bareMinerals.
It comes in more than 20 different shades to match every skin tone and contains moisturizing hyaluronic acid to help plump and hydrate the skin.
What it does not contain is potentially harmful ingredients that could cause irritation, especially for those with sensitive skin.
6. Bliss Block Star Invisible Daily Sunscreen
Pros
No white cast
Lightweight
Blends well
Cons
Has a fragrance that some reviewers don't like
Will stain clothes
As a mineral sunscreen, Dr. Garshick likes to recommend this option both for those with sensitive skin and those who work out frequently.
"It incorporates a universal tint that blends in easily, leaving behind a sheer finish that won't leave the skin feeling greasy," she says. "It also incorporates an antioxidant blend to protect against free radical damage and is free of parabens, phthalates, artificial fragrance and formaldehyde."
7. Blue Lizard Australian Sunscreen
Pros
Affordable
Water-resistant up to 40 minutes
High SPF
Good for people with sensitive eyes
Cons
Goes on thick
Leaves a white cast
Like most mineral sunscreens, this one contains zinc oxide, which blocks out UV rays without having to be absorbed into the skin.
"This sunscreen is free of chemical active ingredients and is both paraben-free and fragrance-free, making it a great option for sensitive skin," says Dr. Garshick.
It's ideal for pool and beach days because it's a water-resistant sunscreen (for up to 40 minutes) and the cap actually turns blue when exposed to UV light, which can help remind you when to apply and reapply.
What to Look for in a Sunscreen for Sensitive Skin
Here are some features dermatologists recommend looking for when shopping for a sunscreen for sensitive skin.
The American Academy of Dermatology recommends the use of sunscreens that have an SPF of at least 30. It's worth mentioning, however, that a higher SPF doesn't mean you can reapply less often. Most sunscreens require you to reapply every two hours minimum, although you should reapply more often if you're swimming or sweating a lot.
Richard Torbeck, MD, New York City-based dermatologist, recommends a cream or lotion consistency over spray to allow for better coverage.
"Coverage needs to be on the thicker side, or the actual SPF may not be what is stated on the bottle," he says.
Mineral sunscreens, such as those with active ingredients like titanium and zinc oxide, sit on top of the skin and reflect UV radiation off the skin instead of being absorbed, explains Dr. Camp.
"Mineral sunscreens are thought to be less likely to cause skin irritation in those with sensitive skin than chemical sunscreens," he says.
Chemical sunscreens include ingredients such as avobenzone, homosalate, octinoxate, octisalate, octocrylene and oxybenzone. If any of these are on the label, it's probably best to avoid that sunscreen if you have sensitive skin.
4. Other Ingredients to Look Out For
Some sunscreens include other skin care ingredients like hyaluronic acid, shea butter, vitamin E and niacinamide, which can provide benefits for those with sensitive skin.
"Hyaluronic acid is a humectant, meaning it helps moisturize skin by helping it retain water molecules, shea butter helps hydrate skin by preventing it from drying out, vitamin E is an antioxidant that can help protect skin from the damaging effects of prolonged sun exposure and niacinamide is a calming agent that reduces redness, swelling and inflammation," Dr. Camp says.
On the other hand, avoid sunscreens with chemical ingredients (as we mentioned above) and added fragrances, as these can be irritating to the skin.
Is this an emergency? If you are experiencing serious medical symptoms, please see the National Library of Medicine's list of signs you need emergency medical attention or call 911.