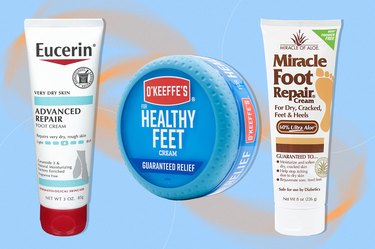 For the amount of stress (and confinement within shoes) our feet receive on a daily basis, it's no wonder that the skin on them can grow tired and more irritated than the skin on other parts of our bodies. But as Marisa Garshick, MD, board-certified dermatologist in New York City, tells LIVESTRONG.com, our feet are also anatomically disposed to dryness.
"The skin on our feet has fewer oil glands, so it is naturally drier," she explains. "The skin barrier on the feet is naturally thicker and the skin cells turnover at a slower rate. Because of these unique features, and the everyday stress our feet are under, it's important to take care of them with medicated foot creams tailored to their specific concerns."
From eczema to athlete's foot, we asked dermatologists and podiatrists to spotlight their favorite moisturizing foot creams based on those unique health needs.
LIVESTRONG.com interviewed dermatologists and podiatrists to gather their recommendations for soothing, moisturizing foot creams. In addition, the following criteria was used to form the list below:
Special formulation for conditions (i.e. eczema, athlete's foot, diabetes)
Lack of irritating chemicals or ingredients, such as heavy fragrances or dyes
Soothing formulas that contain humectants like glycerin
1. Eucerin Intensive Repair Foot Cream
Pros
Relatively inexpensive price point (and available at most pharmacies and drugstores)
Free from fragrances, dyes and parabens
Formulated with ceramides
"This deeply hydrating foot cream is formulated with natural oils, ceramides and other ingredients that help to restore the skin's moisture barrier," he tells LIVESTRONG.com. "The cream also contains urea and other natural humectants to draw moisture into the skin and keep it hydrated."
Mara C. Weinstein Velez, MD, a board-certified dermatologist at the University of Rochester Medical Center, adds that this foot cream is particularly useful in treating dry, cracked heels as well.
2. O'Keeffe's Healthy Feet Foot Cream
Pros
Creates a thick, protective barrier to help lock in moisture
Abundant in glycerin, which studies have shown effectively boosts hydration on the top layer of the skin
Available in both jar and tube varieties
Cons
O'Keeffe's website notes users could experience mild stinging with the product, so it might not be suitable for folks with severely cracked heels
Dr. Pledger is also a fan, adding that it has a particularly glycerin-rich formula that's especially soothing. "This moisturizing cream is formulated to help restore and protect dry, cracked feet and heels with its unique blend of ingredients." He adds that this includes shea butter and other natural emollients.
3. Terbinafine Hydrochloride Cream 1%
Pros
Contains terbinafine, which is an ingredient known to treat infections caused by fungus, per the Mayo Clinic
Experts say you're likely to see effects quickly
Cons
Slightly higher price point than other foot creams on this list
Not designed for toenail fungus
Board-certified dermatologist Tiffany Libby, MD, recommends folks with irritation on their feet due to a fungus reach for Terbinafine Hydrochloride Cream 1%. "It's an antifungal cream that is fast-acting in treating fungus and relieving the itch associated with athlete's foot," she tells LIVESTRONG.com, adding that the cream is suitable for any type of foot fungus.
Importantly, in treating athlete's foot, Dr. Libby says it's critical to switch out socks and insoles regularly as well as using antifungal spray within shoes to prevent getting reinfected.
4. Miracle Foot Repair Cream
Pros
Safe for people with diabetes
Made with 60 percent pure aloe, which contains skin-soothing qualities
Contains odor-combatting ingredients
Cons
Has a peppermint scent, which some people may not like
For folks with diabetes, reaching for a cream specially formulated for diabetic use is crucial. Dr. Pledger notes that the Miracle Foot Repair Cream contains a bevy of natural ingredients (including pure aloe and tea tree oil), which are designed to soothe the skin. "This cream also provides antifungal and anti-inflammatory benefits," he adds.
5. Vanicream Moisturizing Ointment
Pros
Ideal for conditions like eczema and psoriasis
Free from fragrances, parabens and dyes
Capable of soothing blisters and irritation caused by rubbing, according to the Vanicream website
Cons
Texture is salve-like instead of cream-like
When looking for a foot cream for eczema, it's important to steer clear of scented or fragrance-heavy creams, Dr. Garshick stresses. She prefers Vanicream Moisturizing Ointment, as it contains a soothing, long-lasting formula designed to help the skin retain its moisture without being irritating.
It's great for feet, but you can also use this ointment anywhere on the body, making it an ideal skin-soother when dealing with eczema symptoms.
6. ISDIN Hydrating Gel Oil
Pros
Rich in glycerin, a powerful humectant
Contains shea butter
Hydrating "gel oil" formula quickly absorbs into the skin
Cons
Higher price point than other foot creams on this list
"It includes ingredients that exfoliate, soften and hydrate, but it's also lightweight enough to absorb before sliding into sandals or stilettos," she notes.
3 Things to Look for in a Moisturizing Foot Cream
1. Humectants, Emollients and Occlusives
As Dr. Libby tells LIVESTRONG.com, a moisturizing, soothing foot cream will almost always contain some humectants. "Glycerin and hyaluronic acid are humectants that help draw water content to the skin's surface to keep skin moisturized," she notes.
Emollients, on the other hand, are responsible for regulating hydration, according to Dr. Garshick — and they're other important ingredients to prioritize in a foot cream. "Emollients commonly found in foot creams include lipids, oils and shea butter," she says.
In order to seal in the foot cream's moisture, Dr. Garshick adds that the foot cream you're purchasing should also contain some combination of silicone, dimethicone, lanolin, mineral oil or petrolatum — also known as occlusives.
Dry, tired, stressed-out feet will most likely be peeling, says Dr. Garshick. That can make an exfoliating quality within a foot cream helpful.
On the ingredient label, look for exfoliating acids such as lactic, glycolic and salicylic acids to remove dead skin cells and soften calluses, she recommends.
3. Unscented and Dye-Free
A heavily scented, brightly colored foot cream might look (and initially feel) luxe, but all of the experts on this list advise against purchasing a foot cream that contains heavy fragrances or dyes. This is because, as our experts agree, those dyes and fragrances tend to contain irritants — which could undo any benefits the soothing ingredients might supply.
Is this an emergency? If you are experiencing serious medical symptoms, please see the National Library of Medicine's list of signs you need emergency medical attention or call 911.