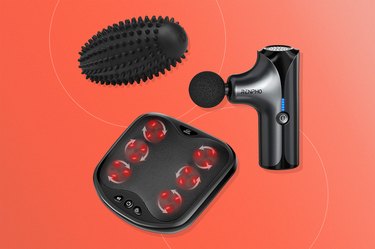 Anyone who's come home with a pair of tired, aching feet knows how good it feels to finally get relief, either by putting them up on the couch, slipping into a pair of fluffy socks or getting a massage. But when no one is around (or willing) to rub your feet, trying one of the best foot massagers can help.
It may seem like a luxurious appliance to have at home, but a foot massager can provide your feet with some much-needed relief — and that's anything but superfluous.
A good foot massager can help encourage blood flow, break up knots and loosen tightened muscles along the sole of your foot, according to the Mayo Clinic.
Through vibrating, rolling or pounding sensations, massagers create a "minor trauma" within your feet's muscles, which leads to a healing response, says James McGuire, DPM, PT, professor at the Temple University School of Podiatric Medicine.
As a result, massagers can help alleviate your foot pain and potentially support faster recovery.
So whether you're seeking relief after a grueling hike or a long day at work, a massaging device may be just the thing you need to add to your self-care routine. Here, we've highlighted some of the best foot massagers currently on the market.
We took Dr. McGuire's advice into account and also used the following criteria to select the best foot massagers:
Type of massage
Variety of settings
Easy to control
Extras, such as heat or water
1. Snailax Shiatsu Foot Massager
Pros
Fits most feet
Easy to clean
Customizable
Can be used as a back massager, too
Cons
May be too hard or vigorous for sensitive feet
This affordable, mat-style foot massage machine fits most feet, is easy to clean and has highly customizable features, allowing you to get the right relief for your feet.
There are three different levels of massage intensity and two optional heat settings, and its surface can adjust in height, depending on how tall you are or how you're seated.
An unexpected bonus: When used vertically, the Snailax Shiatsu Foot Massager also works as a lovely back massager.
2. Gaiam Restore Vibrating Foot Roller
Pros
Budget-friendly
Travel-friendly
Can be used anywhere on your body
Cons
Not rechargeable
Doesn't provide a kneading sensation
An even more wallet-friendly option is the Gaiam Restore Vibrating Foot Roller, which employs both vibration and a textured, nubby surface to massage the soles of your feet vigorously and deeply.
Battery-powered and small enough to carry in one hand, this vibrating foot massager is also a good option for anyone looking to give their feet some TLC on-the-go or while they're traveling.
3. Cloud Massage Shiatsu Foot Massager Machine
Pros
Five different massage modes
Has heat
Massages ankles and calves, too
On the other end of the price spectrum, you'll find the Cloud Massage Shiatsu Foot Massager Machine, a luxe machine that acts as a foot, ankle and calf massager.
The design allows it to create a more immersive environment, in which it can circulate soothing heat while kneading and vibrating in five different massage modes.
If you're seeking all-around relief that you can feel up to your calves (and you're willing to pay for it), this is a great option.
4. RENPHO Mini Massage Gun
Pros
Provides deeper massage through pounding
Can target specific pain points
Travel-friendly
Cons
May be too intense for sensitive feet
This is another portable option that provides intense, targeted relief. Handheld models, like the RENPHO Mini Massage Gun, deliver a deeper massage than those that massage the entire foot. They're also more likely to work by pounding, as opposed to vibrating, which in itself will feel more intense.
If only certain parts of your foot are bothering you, consider opting for a handheld massager.
5. TheraFlow Foot Massager
Pros
Budget-friendly
Provides kneading sensation
This foot massager doesn't rely on batteries or electricity to get the job done. Instead, it features rows of textured rollers that rotate and knead when you run your feet across them.
With a slight arc to its design, this device is molded to fit the soles of your feet, which is what makes it one of the best foot massagers for high arches.
6. HoMedics Shiatsu Bliss Foot Spa
Pros
Foot bath and massager in one
Targets foot pain with kneading, bubbles and heat
Can be used with or without water
Cons
Using it with water may not be ideal if you have dry skin
For an at-home spa experience, fill this foot bath with water then let its kneading, bubbling and heat settings go to work. The vibrating nodes built into the bottom of the HoMedics Shiatsu Bliss Foot Spa are soothing enough on their own, but they can be even better when submerged in water. Essentially, the water helps transmit the sonic energy from those vibrators around and into your feet, Dr. McGuire says.
It should be noted that while a salt soak always feels good, the manufacturer warns against putting anything other than water into this particular foot bath. So just add water, slide your feet into the tub and let this best shiatsu foot massager go to work.
What to Look for in a Foot Massager
Though all of these picks rank among the best foot massagers on the market, several factors will determine which product is right for you. Here's what to keep in mind before you make your purchase:
Although a machine may be marketed as a foot "massager," it's possible that it actually employs vibration to generate any sort of sensation, Dr. McGuire says.
This isn't to say that vibration alone won't make your feet feel good, but it's something to remember if you're looking for a model that can recreate the feeling of someone kneading away at the soles of your feet. If that's closer to what you have in mind, look for massagers that explicitly offer kneading, rolling or, for those looking for an especially deep massage, pounding.
Some foot massagers are designed with a "one-size-fits-most" caveat. If you're looking for a foot massager for big feet, for instance, make sure your model of choice will suit you or choose one that doesn't need to cover your whole foot to be effective, like a handheld massage gun.
What to Avoid in a Foot Massager
Use these tips to help you narrow down your list:
1. Water, if You Have Chronically Dry Skin
Foot spas that use a combination of water and vibration or massage to soothe aching feet can be wonderful, but Dr. McGuire cautions against this model of massager if your skin is on the drier side.
It may seem counterintuitive, but prolonged exposure to water and moisture will only dry out your skin more, he says. Luckily, some foot spas (including the HoMedics option above) are actually water-optional and can still relieve uncomfortable, stressed feet when used dry.
2. Heating, if You Have Diabetes
Heating might be a non-negotiable feature for some, but Dr. McGuire says that people with diabetes should avoid heated foot massagers, due to the fact that neuropathy (a common condition among people with diabetes) can make it harder to sense or tolerate heat.
If you're shopping for a high-end foot massager, you're likely to come across some units that feature purportedly therapeutic lights, but take these claims with a grain of salt. "Anything that comes on that's light probably doesn't do anything," Dr. McGuire says.
Infrared lights, for example, may generate some heat, but that's about it. In other words, additional lights in a foot massager won't do you any harm, but they won't do you much good, either.
What Else You Should Know Before You Buy
Here are some other things to keep in mind as you shop for the best foot massager for you:
1. You Don't Have to Break the Bank
If faced with a cheaper, bare bones foot massager and a pricier one with extra bells and whistles, Dr. McGuire says his choice would be easy. "I would try the $20 one first before you go buying the $100 one," he says. "You might be surprised."
In fact, the solution to your foot pain might be at home already in the form of a tennis ball, soda bottle or rolling pin. When it comes to such an individual matter as relieving pain and discomfort, prioritize what works for you, even if it isn't the fanciest option on the market.
2. Your Pain May Need Medical Attention
If you're dealing with chronic or severe foot pain, skip the massager and talk to your doctor or podiatrist. They might prescribe a pair of orthotics or recommend you wear different shoes, which should provide you with a more direct, effective solution to your pain.
"There may be a real reason why something hurts all the time that's correctible," Dr. McGuire says.
Is this an emergency? If you are experiencing serious medical symptoms, please see the National Library of Medicine's list of signs you need emergency medical attention or call 911.