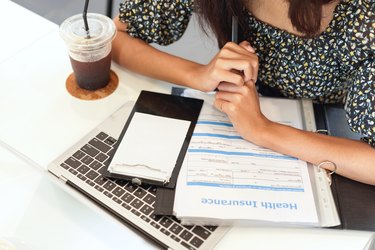 Whether you get insurance through your job or pay for it yourself, shopping for heath care coverage can be tricky.
The Affordable Care Act, which has been in effect for over a decade, has made it easier to buy individual coverage. This allows you to get no-cost preventive care, and also prevents companies from charging you high premiums — or denying you coverage entirely — if you have a pre-existing health condition.
But there are a few mistakes you can make that can hurt your wallet — and potentially your health — in the long run. Here are seven slip-ups to avoid.
Get to Know Insurance Jargon
One of the reasons shopping for insurance is so tricky is that you need to take in a whole new vocabulary: premium, deductible, copay, in-network, out-of-network and so on. Get a grasp on common insurance terms and jargon with this helpful guide from the American Academy of Pediatrics.
Mistake 1: You Pick a Plan Solely Based on the Cost
Yes, it may be tempting to go with the lowest health insurance premium you can find (i.e. the lowest-cost plan), but you need to then check the deductible.
"Usually, the lower the premium, the higher the deductible, and vice versa," explains Michelle Katz, MSN, LPN, a Washington, DC-based health care advocate.
A deductible is the amount of money you're required to pay out of pocket before the health insurance company starts to pay for your care, according to HealthCare.gov. For example, if your deductible is $2,000, you'll have to pay for the first $2,000 of care yourself. After that, you typically pay a copayment or percentage of the cost.
Even if you're the picture of health and rarely get sick, if you get into an auto accident or otherwise require emergency care, you could end up with a deductible that you struggle to meet. If you do pick a low-premium, high-deductible plan, Katz advises you make sure you have the cash available to cover your deductible in a worst-case scenario.
Tip
If you're purchasing coverage through the Healthcare Marketplace, it's possible the premium you'll pay will be lower than the sticker price. You may be eligible for the premium tax credit, which helps cover health insurance premiums, per the IRS. Visit HealthCare.gov to explore ways you may be able to save on health insurance, such as income-based premium-savings or qualifying for programs such as Children's Health Insurance Program (CHIP).
Mistake 2: You Dismiss the High-Deductible Plans
Despite the above caveat, there are some situations where a high-deductible health plan (HDHP) may make sense, notes Adria Gross, founder of MedWise Insurance Advocacy in Monroe, New York.
If you tend to use your health insurance a lot for a chronic condition, or you're expecting a lot of medical bills in the next year (think: scheduled surgery, pregnancy), you probably are better off steering clear.
But if not, keep in mind that the Affordable Care Act mandates that all HDHPs cover preventive services — including immunizations and screening tests such as mammograms — before the deductible comes into play, per HealthInsurance.org. So most if not all of your basic care will be covered.
It may also make sense to consider a HDHP if you have the cash to sock away into a health savings account (HSA), Gross adds. This is a tax-advantaged personal savings account that works in combination with a HDHP to provide both investment and health coverage.
You can use an HSA to pay medical expenses that aren't paid by your HDHP, and, if you don't use it, it becomes an interest-bearing nest egg you can roll over from year to year. In 2023, the contribution limit is $3,850 for an individual and $7,750 for a family, according to the IRS.
Mistake 3: You Don't Purchase Enough Coverage
You can't choose the most cost-effective coverage without having a ballpark figure for your annual health care costs, says Gross. That's why, when you choose a plan, you need to think about your total health care costs: the premium, deductible and copayment/coinsurance amounts.
While you don't have a crystal ball to predict your health care costs over the next year, the amount you spent this past year can usually give you a good general idea, Gross says. You can find your claims, including what you spent out of pocket, on your health insurer's website. Your pharmacy should also have a record of how much you spent on medication.
Once you've crunched those numbers, you'll have a better idea of what's covered by your current plan, and whether you'll save money if you switch to another plan with more or less coverage.
Mistake 4: You Automatically Renew the Same Policy Year After Year
You wouldn't buy a new car without shopping around first — the same is true of health insurance.
Most ACA health plans allow you to automatically renew every year, and, if that plan isn't available, you may be automatically enrolled in a similar plan with comparable coverage and pricing.
But just because you have the option to auto-renew doesn't mean you should settle for it, says Katz. "You always need to reassess your health care needs and see what plan options are available to you," she notes.
It may be that you realize some of your doctors are no longer in-network, or a procedure you'll require over the next year won't be covered. You may also discover when you shop around that there's another plan with similar coverage that has a lower premium, Katz adds.
Mistake 5: You Don't Check That Your Doctors and Drugs Are Still Covered
This is a big mistake, says Gross, who regularly gets calls from panicked patients who discover they've been seeing a doctor who suddenly is no longer on their plan.
It's not enough to check online with the insurance company to make sure all your providers are still in-network.
"The insurance websites aren't always up to date, so if a doctor has just stopped taking your insurance, it might not be listed on there," Gross explains.
That's why she advises people to call all their doctors directly, to make sure they will still take their insurance during the following calendar year.
Mistake 6: You Don't Read the Fine Print
Not all health care plans are created equal. If you spend winters in Florida and summers in a cooler northern climate, your health care plan may not automatically cover you in both areas, says Gross. Same for international travel, and dental or vision care.
"This is especially true for inexpensive plans with high deductibles and very limited coverage," she explains.
You'll need to read your plan closely, so you're not hit with any surprise high-cost medical bills.
Mistake 7: You Assume You Don't Need Health Insurance
You may be tempted to skip enrolling for health insurance altogether, especially if you're young and healthy. In fact, about 31 million (or 11.5 percent) of Americans under the age of 65 are uninsured, according to the National Center for Health Statistics. That's a big mistake, says Gross.
"If you thumb your nose and are hit by a bus, you'll be hit with a hefty hospital bill that could run into the hundreds of thousands of dollars," she explains. "Yes, an emergency room will take care of you even if you don't have health insurance. But they will send you a bill afterwards, and they may be very aggressive about chasing down payment."
The bottom line? You're better off enrolling in health insurance, no matter your age or health status.
Choosing health insurance can be overwhelming. Fortunately, there's help available. Enter your location on HealthCare.gov to find a assister, broker or agent who can help you find a plan, fill out an application and more — for free.
Is this an emergency? If you are experiencing serious medical symptoms, please see the National Library of Medicine's list of signs you need emergency medical attention or call 911.