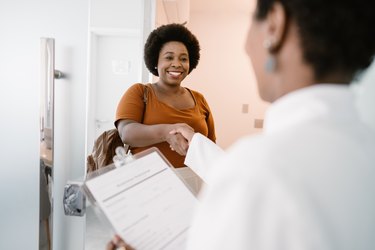 We get it, going to the doctor can be intimidating and scary. What's worse is having a doctor who doesn't represent, understand or respect your culture or beliefs that directly affect your health and lifestyle.
A lack of representation in the medical field can affect the experience of patients and their health outcomes, according to Luis Manrique-Trujillo, MD, a neurologist at Georgetown University Medical Center.
"Miscommunication, mistrust, disempowerment and poor satisfaction may emerge from cultural and language disparities between health service consumers and health care practitioners," Dr. Manrique-Trujillo says.
"On the other hand, racial and ethnic minorities have higher morbidity and mortality from chronic diseases. This translates into an increasing need [for] culturally competent providers who are able to understand their patients."
There's no doubt you feel more comfortable talking to someone who looks like you and understands your culture, but for minority patients that can be hard to find. This limits the number of accessible providers for people from marginalized communities, Dr. Manrique-Trujillo says.
What Is Cultural Competency?
The American Hospital Association defines culture competency as a health care system's ability to provide care while being mindful of a patient's race, ethnicity, language and cultural beliefs. One factor that can make it difficult to find a physician who closely empathizes with someone's cultural needs is a lack of diversity in the medical field, Dr. Manrique-Trujillo says.
Only 5 percent of U.S. physicians are Black and nearly 6 percent are Hispanic. Just over 3 percent of practicing physicians have a disability. The smallest demographic of doctors are Native American, with just 0.3 percent, according to 2018 data from the Association of American Medical Colleges (the most recent data available).
"The lack of Indigenous representation in medicine leads to the lack of culturally safe and responsive care," says Victor Lopez-Carmen, MPH, a Yaqui and Dakota medical student at Harvard Medical School.
"This can result in poorer health outcomes and a perpetuation of a lack of trust toward the health care system, which can lead to misdiagnosis, miscommunication and a lack of empathy toward the unique health needs of Indigenous peoples," Lopez-Carmen says.
Dr. Manrique-Trujillo believes increasing patient satisfaction is key for providing high-quality medical care. "A person who feels validated from their provider will be more likely to follow recommendations, adhere to treatments and even remain stable from a medical standpoint," he says.
The process of finding a culturally sensitive doctor shouldn't just be on a patient's shoulders. Health care systems also share responsibility to ensure people of all backgrounds are able to find care that makes them most comfortable and accommodated.
"Health care providers can also take steps to improve their cultural safety and responsiveness," Lopez-Carmen says. "This may include seeking out cultural safety training or resources, engaging with Indigenous communities and organizations, and being open to feedback and learning opportunities."
In the meantime, however, here are some ways to find a doctor who makes you feel seen and understood.
Try searching online for the specific attributes you'd like your doctor to have, Dr. Manrique-Trujillo suggests. You can specifically search the race and ethnicity of providers in your area, or other preferences that matter most to you.
For example, you can try Googling something like 'Black podiatrist near me' or 'local Asian cardiologist' depending on your needs and preferences. If you're looking for a mental health specialist, for example, Psychology Today has a website where you can find a provider who fits your preferences in regards to gender, sexuality, ethnicity, languages spoken and religion.
If you have insurance, you can also search your provider's list of in-network doctors and usually filter by race, ethnicity, languages spoken and more.
For affordable care options that don't require insurance, check out FreeClinics.com to help you find free medical clinics in your local area. Just search your zip code to find the closest options.
2. Explore Minority-Focused Organizations
The lack of representation in health care has lead to the creation of several national organizations highlighting minorities in medicine. Exploring minority-focused organizations can help you find a doctor with a similar background or identity.
Don't be afraid to pick up the phone. The doctor's office receptionists are there to help you. If you're wondering about who you're seeing for an appointment, find out before you arrive.
"Patients could call offices and confirm what languages a provider speaks or what cultural competencies they provide," Dr. Manrique-Trujillo says.
There's no such thing as a silly question, especially when it comes to your health care provider.
"When making a health care appointment, Indigenous patients can ask if the health care provider has experience working with Indigenous patients or if they have received training on cultural safety," Lopez-Carmen says.
The same is true for inquiring about gender-affirming care, language or care that aligns with religious beliefs and practices.
"Other aspects to consider are the inclusion and diversity initiatives that the provider or their institutions are leading," Dr. Manrique-Trujillo says.
"This highlights the importance of recognizing the problem of cultural competency and a higher likelihood they will be interested in learning about the patient's culture."
5. Advocate for Your Needs
You are your own greatest advocate. Finding a doctor who meets your standards may seem tedious or frustrating, but the more you vocalize your needs, the more likely you'll receive the care you deserve.
Advocating for yourself may look like telling your doctor that you need to keep a certain cultural food in your diet, or that you'd prefer not to be weighed during your appointment.
"Patients can also bring a support person with them to appointments who can help advocate for their needs and ensure their cultural and health care needs are being met," Lopez-Carmen says.
If the doctor you're working with doesn't respond in the way you're looking for, it may be time to look for someone else.
Everyone needs support, especially if you're living with a condition you have to manage every day. National and local support groups exist so no one has to feel alone in their health struggles or the process of finding care that's a right fit.
"Consider joining patient advocacy associations or support groups where you are able meet other people with similar conditions and receive feedback about their experiences," Dr. Manrique-Trujillo says.
For example, We Are ILL is a nonprofit patient advocacy organization redefining what sick looks like for Black women living with multiple sclerosis. And Kaleidescope Fighting Lupus is a nonprofit community supporting people living with lupus.
Long-time members of these groups may have suggestions for culturally competent doctors they have worked with in the past for you to try contacting, too.
Is this an emergency? If you are experiencing serious medical symptoms, please see the National Library of Medicine's list of signs you need emergency medical attention or call 911.