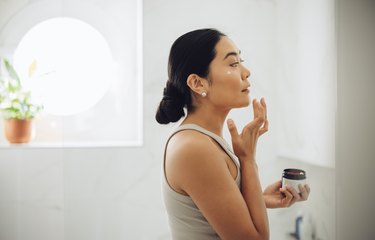 It seems there's always a new beauty trend going around on social media, and this time, it's about minimizing — or streamlining — your skin-care routine. It's called "skin streaming."
For those hopping on the bandwagon, the days of complex, 10-step skin-care routines are long gone. A lengthy regimen may be a form of self-care some people enjoy, but the latest trend appeals to the minimalists out there who don't have the time, patience or budget to apply a long list of products.
Plus, skin streaming has us questioning whether using more products is really necessary to nurture our skin health.
To find out if skin streaming is worth the hype or just another trend that will pass soon enough, we spoke to dermatologists and got their take.
What Is Skin Streaming, Exactly?
The term "skin streaming" refers to the process of streamlining your skin-care routine. It's essentially a way to Marie Kondo your regimen and edit out the products that don't serve you or that may be redundant.
"Skin streaming is perhaps a new term for a well-known and often recommended concept by dermatologists," says Jeremy Brauer, MD, a board-certified dermatologist and founder of Spectrum Skin and Laser in Purchase, New York. "Essentially, it minimizes the number of products in your skin-care routine."
In this case, less is actually more. Skin streaming isn't about ditching all your favorite active ingredients, but rather, finding ways to combine their benefits in a single step.
Dr. Brauer recommends finding products that contain multiple key ingredients instead of using them separately. Contrary to popular belief, using too many skin-care products in the same routine can hinder your skin goals, he says.
For example, we all love a good vitamin C or hyaluronic acid serum. But these common active ingredients can often be found in a multipurpose serum or moisturizer.
Mojgan Hosseinipour, DO, FAAD, a board-certified dermatologist in Hollywood, Florida, calls these "high-impact products," which optimize your routine in fewer steps.
Skin Streaming Basics: 3 Skin-Care Essentials You Need
So, what does it include? At its core, skin streaming advocates for the basics. The only three essential skin-care products you need are: a facial cleanser, moisturizer and sunscreen.
This may not sound like much, but keeping your skin clean, moisturized and protected from the sun is the foundation of taking care of your skin.
A simple three-step routine can be surprisingly effective because it includes products that address multiple skin issues without conflicting with one another, says Jennifer Baron, MD, FAAD, a board-certified dermatologist in San Jose, California.
Here's how to get started:
A good skin-care routine starts with a clean canvas. Use a gentle, alcohol-free cleanser to remove makeup, dirt and debris, per the American Academy of Dermatology.
Depending on your skin type, you may need to wash twice a day — in the morning and evening. For those with dry or normal skin, once a day at night is plenty. Those with oily, acne-prone skin can wash their face up to two times per day.
You should also always wash your face after exercising or sweating.
‌Try These Dermatologist-Recommended Cleansers:‌
Tip
Salicylic acid may not mix well with certain other ingredients, such as retinol or vitamin C, so use caution when adding it to your skin-care routine.
After cleansing, you may be used to using a toner or serum. The most fundamental routine inspired by skin streaming is free of these products, and Dr. Brauer explains why: "While these products are important for skin health, you can achieve similar results with the right moisturizer."
He recommends looking for a moisturizer that contains hydrating ingredients like hyaluronic acid, glycerin or niacinamide.
‌Try These Dermatologist-Recommended Moisturizers‌
SPF not only reduces sunburns but also the risk of skin cancer. It also prevents photoaging, which occurs when excessive sun exposure causes premature signs of aging, such as melasma and fine lines.
Round out your daytime skin-care routine with a sunscreen that has SPF 30 or greater and broad-spectrum protection. Both chemical and mineral sunscreens are effective, but the latter is gentler for those with sensitive skin.
‌Try These Dermatologist-Recommended Facial Sunscreens:‌
Is Skin Streaming Right for You?
According to the dermatologists we spoke to, anyone can be a good candidate for skin streaming. "I wholeheartedly agree with skin streaming," Dr. Baron says.
There are a few reasons why someone would be drawn to skin streaming.
For starters, it saves you time, money and headaches. It can be expensive and time-consuming to invest in an army of skin-care products, and sometimes it's downright confusing to keep track of which product to use and when.
Skin streaming can also cut back on bad reactions to product combinations and irritation.
"Some products don't mix well, or their ingredients can cancel each other out," explains Dr. Brauer.
Using too many active ingredients in one routine, such as multiple exfoliants, can aggravate the skin. And even if certain ingredients are deemed OK to use together, different formulations (from different brands) may react differently than expected.
Streamlining your routine makes you more aware of what you're putting onto your skin, so you don't double up on the same ingredient or mix products that don't play well with others.
What to Keep in Mind Before You Try Skin Streaming
For some, eliminating certain products may not work, Dr. Brauer says. It can require some trial and error to find the essential products your skin responds best to without overwhelming it.
People with skin conditions like acne, rosacea or eczema, for example, might need antibacterial and anti-inflammatory ingredients incorporated into their routines. Retinol is also a sound ingredient for various skin concerns, such as acne and anti-aging, so it may be worth adding a step specifically for your prescription-strength or OTC retinoid.
Dr. Hosseinipour also recommends against removing specific ingredients or products recommended by your dermatologist. Consulting with your dermatologist is generally a good idea when drastically switching up your routine and addressing your specific concerns.
Overall, though: "You don't need 10 different skin-care products," says Dr. Brauer. "You just need a few of the right ones."
Is this an emergency? If you are experiencing serious medical symptoms, please see the National Library of Medicine's list of signs you need emergency medical attention or call 911.