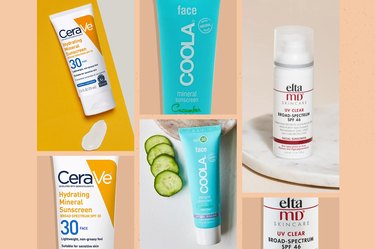 If you have vitiligo — an autoimmune disorder that causes patches of skin to lose their color — wearing sunscreen regularly is important because you're more prone to sunburn.
With vitiligo, your immune system essentially attacks your pigment-producing cells, which prevents them from making melanin and causes a loss of pigmentation in those areas of skin, explains Joshua Zeichner, MD, director of cosmetic and clinical research in dermatology at Mount Sinai Medical Center.
"Melanin is our skin's natural sunscreen — areas of skin without it are particularly at risk for both sunburn and sun-related UV damage," Dr. Zeichner says.
(Despite this, people with vitiligo appear to have a ‌lower‌ risk of getting skin cancer, according to a September 2018 study in the ‌Journal of Investigative Dermatology,‌ although experts aren't quite sure why.)
Everyone should be choosy when it comes to sunscreen, but especially those with vitiligo, as their skin may be more vulnerable and more sensitive.
We chatted with dermatologists, who broke down the most important features of sunscreen for someone with vitiligo. Our top picks are based on their criteria, including:
SPF
Ingredients
Consistency
Availability
Cost
Find more information on how we choose and cover products here.
The Best Sunscreens for Vitiligo
1. EltaMD UV Clear Broad-Spectrum SPF 46
Pros
Mineral
Doesn't leave a white cast
High SPF
Like most dermatologists, Kseniya Kobets, MD, director of Cosmetic Dermatology and assistant professor at Montefiore-Einstein, recommends a mineral or zinc-based sunscreen for those with vitiligo, because these products tend to be less irritating and more protective.
"Zinc-based SPF can sometimes be challenging since they can leave a white tint and look chalky, which is why I often recommend EltaMD UV Clear," she says. "It is readily accessible, absorbs easily and feels good on most skin types."
It's also fragrance-free and contains sodium hyaluronate to hydrate the skin.
‌2. Blue Lizard Sensitive Mineral Sunscreen SPF 50+
Pros
Water-resistant
Free of irritating ingredients
Derm-recommended
Affordable
Cons
Difficult to rub in
Gets on clothing
The mineral sunscreen is both water- and sweat-resistant for up to 80 minutes, which makes it a great choice for when you know you'll be outdoors exercising or enjoying the pool or a body of water.
"This sunscreen dries transparent and offers broad-spectrum UVA/UVB protection," says Mariano Busso, MD, a board-certified dermatologist in Miami.
It's also paraben- and fragrance-free, so it's ideal for sensitive skin and won't exacerbate your vitiligo symptoms.
‌3. CeraVe Hydrating Mineral Sunscreen SPF 30
Pros
Contains moisturizing ingredients
Mineral
Stamps of approval from the SCF and NEA
Affordable
Cons
Somewhat difficult to blend in
Small size
When it comes to sunscreens that are safe for use on your face, Dr. Busso recommends this mineral-based, broad-spectrum sunscreen, which contains moisturizing ingredients including ceramides and hyaluronic acid, both of which help support a healthy skin barrier.
This sunscreen also gets the stamp of approval from both the Skin Cancer Foundation and National Eczema Association.
Tip
"Always remember to liberally apply sunscreen and reapply every two hours, as well as right away after swimming or perspiring," Dr. Busso says.
4. Sun Bum Mineral Sunscreen Spray SPF 50
Pros
Easy spray application
Large size
High SPF
Cons
Leaves a white cast
Difficult to rub in
It's difficult to find a spray sunscreen that's mineral and won't cause irritation for those with sensitive skin. That's what makes this product by Sun Bum so unique.
It's a mineral sunscreen containing SPF 50 that sprays onto your skin so you can apply easily and liberally.
It protects your skin with zinc oxide and leaves a matte finish that doesn't shine or shimmer in direct sunlight.
5. Coola Organic Mineral Face Sunscreen Sheer Matte SPF 30
Pros
Contains natural ingredients
Matte finish
Conceals skin imperfections
Cons
Some people say the scent is unpleasant
If you have vitiligo on your face, a tinted mineral SPF like this one by Coola can help partially shield some of the contrast in the light and dark patches of skin, Dr. Kobets says.
It's formulated with natural ingredients, including organic shea butter, cucumber extracts and phyto-protectors such as plankton, which boost the level of protection your skin gets from the sun's harmful UV rays.
This SPF has a nice matte finish and goes on smooth.
6. Supergoop! Play SPF 50 Mineral Lotion
Pros
Contains high SPF
Lightweight and non-greasy
Contains hydrating ingredients
If you're looking for a mineral sunscreen that won't cause redness and irritation but will protect your skin from the sun's harmful UV rays without using skin-absorbing chemicals, this is a great one to try.
It's non-greasy, water- and sweat-resistant and contains a broad-spectrum SPF 50 lotion.
"What stands out to me when it comes to this sunscreen is its use of natural ingredients, such as citrus and basil, as both can provide a hydration boost to your skin," says Dr. Busso.
Why Sunscreen Is Important for People With Vitiligo
Vitiligo occurs when the cells that produce melanin — the pigment that determines the color of your skin, hair and eyes — die or stop functioning.
This, Dr. Busso explains, can put you at an increased risk for sunburn and skin damage because melanin provides some protection from harmful ultraviolet (UV) radiation.
For this reason, sunscreen use is paramount in protecting the skin.
What to Look for in a Sunscreen for Vitiligo
Here are some features dermatologists recommend looking for when shopping for a sunscreen for vitiligo.
However, Dr. Busso points out that higher SPFs, such as 50 or more, may provide better protection, particularly for skin areas that are more exposed to the sun, such as your face, shoulders and chest.
The consistency of sunscreen can influence how well it is applied and absorbed, explains Dr. Busso. For vitiligo-prone skin, he recommends opting for an SPF that is both lightweight and non-greasy.
"It should be easy to spread across the skin and absorb without leaving a white or grayish residue, which can be more visible on skin with color variations," he says.
Mineral sunscreens, such as those that contain zinc oxide and/or titanium dioxide as their main ingredient, sit on top of the skin and deflect UV radiation that way as opposed to chemical sunscreens that are absorbed into the skin.
Mineral sunscreens are frequently suggested for sensitive or reactive skin, such as skin that is prone to vitiligo, because they are less likely to cause irritation, Dr. Busso says.
4. Other Ingredients to Look Out For
Because people with vitiligo tend to have sensitive skin that's reactive, seeking sunscreens that are free from potential irritants like perfumes, parabens and certain preservatives can cut down on irritation.
Additionally, Dr. Busso recommends seeking out sunscreens that contain antioxidants such as vitamins C and E.
"Antioxidants can offer additional defense against environmental harm, and other natural ingredients like aloe vera and niacinamide can soothe the skin," he says.
Is this an emergency? If you are experiencing serious medical symptoms, please see the National Library of Medicine's list of signs you need emergency medical attention or call 911.