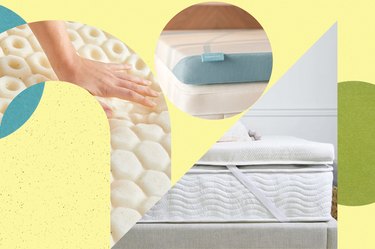 That can be incredibly detrimental, as 1 in 3 Americans are already not getting their fair share of shut-eye, per the Centers for Disease Control and Prevention, putting their physical and mental wellbeing at risk.
Back pain affects sleep in many ways, says Michael Breus, PhD, board-certified sleep specialist and clinical psychologist.
"Many of my patients with back pain become slightly more anxious as it gets closer to bedtime because they are worried that their pain will disrupt their ability to fall asleep or stay asleep (what I call pre-sleep pain anxiety)," he says. "Upon entering bed, many people desperately try to find a comfortable position, to either limit pain or eliminate it."
Breus also points out that some pain medications used for back pain can disrupt sleep, especially those containing caffeine.
These toppers are specifically designed to provide additional support and structure, alleviating pressure on the back so you stop waking up with back pain.
The Best Mattress Toppers for Back Pain
We reached out to various sleep specialists to better understand the specific features to look for in a mattress topper for back pain. We chose our top picks based on their input and the following criteria:
Firmness
Thickness
Materials
Pressure-relieving abilities
Find more information on how we choose and cover products here.
1. Saatva Graphite Memory Foam Mattress Topper
While memory foam has been around for quite some time, graphite infusion is rather new. In addition to providing the benefits of memory foam — namely, pressure point relief and enhanced durability — it also has the added perk of thermal regulation, making it great for hot sleepers.
2. Linenspa Memory Foam Mattress Topper
If you're looking to upgrade your mattress but don't have the budget to drop hundreds of dollars, this topper is a great purchase.
It's made from gel-infused memory foam that conforms to your spine to help enhance proper alignment and comfort. It comes in two- or three-inches of thickness, so you can decide how much of that "sink-in" feel you get.
Another perk: The cover is machine-washable, which makes for easy cleaning.
3. Molecule Copperwell Mattress Topper
Molecule's Copperwell mattress topper features copper-infused memory foam, which, like graphite, helps with temperature regulation.
It also has natural antimicrobial properties to help prevent bacterial growth and unpleasant odors.
It's 3 inches thick and has seven zones of dynamic, targeted support to provide the right pressure relief to help not only with back pain, but hip pain as well.
One drawback is that this topper doesn't come with its own cover, so you'll definitely want to order one to protect its integrity and enhance longevity. It also comes with a 5-year warranty, which is always a plus.
Brought to you by Tempur-Pedic, this mattress topper uses the same technology that's been used in Tempur-Pedic beds for over 20 years.
"Many people with a history of degenerative low back pain prefer high-density foam options like this one due to its firmer support levels," says Allen Conrad, DC, CSCS, chiropractor and owner of Montgomery County Chiropractic Center in North Wales, Pennsylvania.
It offers three inches of thick support that is responsive to your individual body shape, weight and size. It's also temperature-regulated, so you can feel cool while you snooze, and comes with a removable and machine-washable cover.
5. Viscosoft Select High Density Mattress Topper
Anyone with back pain should opt for a firmer mattress topper because of the benefits it offers for pain relief while sleeping.
Viscosoft is a high-density mattress topper made from gel-infused memory foam, so it provides the support you need along with the cooling benefits and reduced pressure on your joints that memory foam generally offers.
You can choose between three or four inches of height and even trial this topper for 90 nights.
6. Birch by Helix Plush Organic Mattress Topper
If you have back pain but don't want a mattress topper that feels too firm or stiff, try out this plush mattress topper from Birch Living.
It's made from natural and organic materials, including cotton, latex and wool, and is free from harmful chemicals like polyurethane based foams.
Because this topper is organic, though, it's quite expensive, which may mean it's out of budget for some buyers.
7. Tuft & Needle Foam Mattress Topper
At only 2 inches thick, it's impressive the kind of support and pain relief this mattress topper can provide.
It has cooling technology and is designed to relieve the pressure points that cause pain in your back, hip and shoulders. It works well with most mattresses and comes with a hassle-free 10-year warranty.
Another perk is that the Tuft & Needle lets you try it out for 100 nights risk-free.
What to Look for in a Mattress Topper for Back Pain
Before you set out to buy the best mattress topper for back pain, here are some important factors to keep in mind to help guide your purchase.
If you have back pain, you're going to want your mattress topper to be on the firmer side, Conrad says.
"A firm mattress supports the natural curvature of the spine, helping you maintain proper spinal alignment," he says. "It also helps ensure your weight is evenly distributed and reduces motion transfer, which makes it less likely you'll wake up a sleep partner."
A thicker mattress topper — ideally at least 3 inches thick — often provides more cushioning and support, which can be beneficial for back pain relief, explains Alex Tauberg, DC, CSCS, chiropractor, and certified strength and conditioning specialist.
He also points out that the thicker the topper, the more pressure point relief it may provide, which can help alleviate back pain.
Tauberg recommends looking for a mattress topper that's made from materials known for their support, such as high-quality memory foam or high-density foam.
"You want material that will slightly conform to your body but doesn't allow you to sink in too much, as this can cause you to get stuck in positions throughout the night rather than moving around in your sleep throughout the night," he says. "If you're stuck in one place for a long period of time, muscles and joints tend to stiffen up and it can make getting up in the morning more difficult."
A good mattress topper for back pain should distribute your body weight evenly to alleviate pressure points on your back.
This, Tauberg explains, helps prevent discomfort and pain, especially if you suffer from issues like sciatica or lower back pain.
Is this an emergency? If you are experiencing serious medical symptoms, please see the National Library of Medicine's list of signs you need emergency medical attention or call 911.