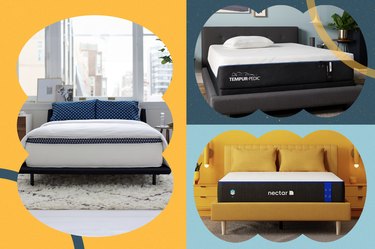 There's nothing better than a restful night's sleep. But pain in your back or neck can make it more difficult to drift off to dreamland — and stay there through the night.
While upgrading your mattress may not resolve the root cause of your pain, it can provide the support you need to feel more comfortable in bed, so you can get better shut-eye.
The key word here is "support," says Marleen Caldwell, PT, a physical therapist with the Cleveland Clinic.
"When we lie down, our bodies feel best if joints can be supported in their neutral positions," Caldwell says. "This means supporting the natural curves of the spine. If the spine is out of its neutral position for a prolonged period of time, say, by sleeping on a mattress that is too firm or too soft, this can create pain even in healthy tissue."
Sleep expert Michael J. Breus, PhD, aka The Sleep Doctor, says you should look for "a mattress that supports your body without sinking at the hips, allows relief at pressure points including the knees, hips, shoulders and head and lets your muscles relax throughout the body, especially at the back."
With that in mind, we've rounded up nine of the best mattresses to try when you have neck and back pain.
The Best Mattresses for Back and Neck Pain
We spoke with Caldwell and Bruce to get their take on the most important attributes for a mattress for people who have back or neck pain. Our top picks are based on their criteria, including:
Find more information on how we choose and cover products here.
2. Nectar Memory Foam Mattress
4. Avocado Green Mattress
5. Saatva Classic Mattress
7. Leesa Original Mattress
8. Cocoon by Sealy Chill Hybrid Mattress
9. Casper Wave Hybrid Mattress
What to Look for in a Mattress When You Have Back or Neck Pain
Keep these things in mind when shopping for a new mattress:
No matter which mattress you go with, purchasing one is an investment. While it's never a bad idea to have a new and supportive mattress, it's important to rule out other causes of back pain or neck pain before going all in on a mattress and hoping it solves all your pain problems.
Laying on a mattress for a few minutes in a store does not offer you the same insight as being able to sleep on it for a prolonged period of time, Caldwell says. Look for a mattress with at least a 90-day trial period, so you can get your money back if it doesn't work for you.
Firm versus soft is a matter of preference. Regardless of what you like more, what matters most is how supportive the mattress is and how well it promotes a neutral spine.
If you're considering whether it's time for a new mattress, Caldwell says you should first figure out how long you've been using your current one.
"The life of a mattress is up to 20 years, but your body needs may change sooner than this, so be aware that you may need a different support 10 years down the road," she says. "A pillow topper feels wonderful for the first year, but these tend to lose their support and comfort much sooner than the mattress."
What to Know Before You Buy a New Mattress
Buying a new mattress is an investment, and Caldwell says there are a few things she recommends before taking the plunge:
Rotate or flip your current mattress if possible (check the manufacturer recommendations for your mattress model).
Try sleeping in another bed in the house to see if pain is improved.
Avoid lying on your stomach if you have neck pain.
If you have neck pain, try swapping your pillow: Use just one pillow under your neck and head that supports your natural neck curves.
For people who side sleep with back pain, avoid curling up into a fetal position and place a pillow between the knees.
You can also try relieving the pain by:
Stretching (try these neck stretches and these back stretches)
Getting regular massages
Fitting in regular, gentle exercise during the day, such as walking and yoga
Why Back and Neck Pain Disrupt Sleep
Even if you're between the sheets for the recommended amount of time, pain affects the quality of your sleep.
"Pain receptors don't sleep," Caldwell says. "If your body is in an uncomfortable position for too long, those pain receptors send a signal to your brain to move. Sometimes this signal is so 'loud' it can wake you. Or sometimes the act of rolling in bed causes pain and can wake you."
Investing in a supportive mattress can help, but you also need to be proactive about your back and neck health during the day.
Was this article helpful?
Thank you for your feedback!
Is this an emergency? If you are experiencing serious medical symptoms, please see the National Library of Medicine's list of signs you need emergency medical attention or call 911.