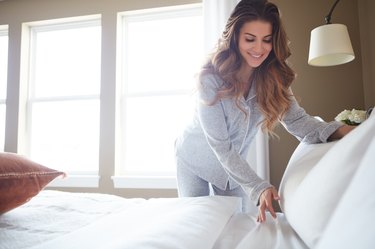 While choosing the right mattress is important, there's always comfort in knowing you can buy certain accessories after the fact to further enhance your sleeping experience. Take the best mattress toppers, for instance.
This sleepy time accessory can provide added comfort, support and temperature regulation, and also helps extend the longevity of your mattress.
"Some mattress toppers have cooling functions that can be especially helpful for people who perspire while they sleep," says Allen Conrad, DC, CSCS, owner of Montgomery County Chiropractic Center in North Wales, Pennsylvania. "These toppers are engineered to help reduce heat while you sleep, which will help prevent sweating while you rest."
You may have heard of a mattress pad, but it's important to note that this is different from a mattress topper. The primary function of a mattress pad is to provide protection for your bed, while a mattress topper will complement your sleeping style.
"Mattress pads, also commonly referred to as mattress protectors, protect against stains, spills and more, so they're added peace of mind, especially if you have kids or pets at home, as they can help keep your bed clean and fresh," says Peter Polos, MD, PhD, sleep medicine specialist and Sleep Number sleep expert.
"Think of mattress pads as a protective barrier that makes cleaning up accidents on the bed easier, and mattress toppers more as added comfort for a better sleep experience," he says.
With this in mind, we've rounded up the best mattress toppers of the year.
The Best Mattress Toppers
We reached out to various sleep specialists to better understand the specific features that make a mattress topper especially useful and how to find the perfect fit. We chose our top picks based on the following criteria:
Thickness
Quality materials
Temperature-regulating technology
Effectiveness
1. Saatva Mattress Topper
Pros
GOTS-certified organic cotton
Moisture-wicking
Comes in foam, graphite or latex
If you're looking for a mattress topper that provides support without being too soft or plush, this is a great in-between. It offers controlled, cooling airflow to keep your body at the right temperature through the night and is made from a GOTS-certified organic cotton cover that wicks away sweat to keep you dry.
It's also totally customizable — you can choose between three models: a foam topper, graphite topper and latex topper, all of which offer varying levels of comfort and support.
Each comes with a hybrid innerspring, which is nice for those who need pain relief, says Smita Patel, DO, MD, integrative neurologist, sleep medicine physician and founder of the iNeuro Institute.
2. Helix Plush Mattress Topper
Pros
Ultra plush
Budget-friendly
Made with soft bamboo fibers
Cons
Some reviewers thought it's too thin
A super-soft Revoloft Cluster fiber fill provides a plushness that makes you feel as though you're sleeping in a fancy hotel every night. For the affordable price tag, that's quite the perk!
This Helix topper is made from bamboo fibers that are soft to the touch but resilient too. It's also quite durable — made to be hypoallergenic and breathable so you don't overheat throughout the night.
Even at such a low cost, this Helix mattress topper still comes with a 1-year warranty and free shipping.
3. Tempur-Pedic TEMPUR Supreme 3-Inch Mattress Topper
Pros
Lumbar support
Great for arthritis
High-density foam
This model provides three inches of thick memory foam for ultimate back support and alignment throughout the night.
"This option has been around for a while — some 25 years — with many happy buyers due to its durability and comfort," Conrad says. "The high-density foam can help with lumbar spinal support for those with degenerative arthritis back conditions."
4. GhostBed Memory Foam Topper
Pros
Waterproof
Gel memory foam
Cooling
Cons
May still slide on some beds, according to reviews
This waterproof fitted mattress topper is made of gel memory foam, which offers intense cooling and sweat-wicking properties, thereby making it one of the best products for hot sleepers.
It wraps around your bed firmly thanks to GhostGrip elastic bands, so you don't have to worry about it sliding around while you sleep. It also has pressure relief in various comfort zones (your head, shoulders, torso, legs and feet) and has raised zones in these areas to provide ample airflow.
5. Perfectly Snug Smart Topper
Pros
Temperature-regulating
Soft
Split down the middle for varying preferences
This smart topper was specifically designed to keep sleepers hot or cool, depending entirely on the existing temperature of their body while they sleep. That's why it's so great for couples who might prefer varying temperature levels.
On top is a 2-inch layer with built-in sensors to detect the right temperature for keeping you comfortable all night long. You can connect to Perfectly Snug's app to actually set your preferred temperature and schedule it to preheat or pre-cool at certain times.
6. Brooklyn Bedding TitanFlex Topper
Pros
Moisture-wicking
Hypoallergenic
Made without ozone depleters, flame retardants, heavy metals or formaldehyde
If you notoriously toss and turn in your sleep, you may want to invest in a mattress for side sleepers. In the meantime, however, you can add a mattress topper to your bed to help support whichever side of your body you sleep on.
This topper from Brooklyn Bedding is one of the best mattress toppers for back pain and side sleepers. It's made with a patented hyper-elastic foam that responds to each move you make. Plus, it's moisture-wicking and hypoallergenic.
7. Sleep Number ComfortFit Mattress Layer
Pros
Plush
Hypoallergenic
Corner anchor bands to hold it in place
Cons
Some reviews say plush flattens over time
This Sleep Number mattress cover features plush support and soft comfort thanks to a unique fill blend of memory foam pieces and premium down alternative fibers, and a breathable lyocell blend cover for soothing sleep, Dr. Polos says.
It's hypoallergenic for those who are prone to allergies and features corner anchor bands to hold it securely in place throughout the night. "Logic Labels help you quickly and easily make your bed," Dr. Polos says.
8. Tuft & Needle Mattress Topper
Pros
Firm
Relieves back pain
Compatible with most mattresses
100-night free trial
Cons
Some reviewers say it's too hot
The best mattress topper for back pain is one that will keep you supported the entire night. This pick by Tuft & Needle is firm enough to cradle each part of your spine, and relieve pressure.
This topper is also made with the brand's adaptive foam, designed to relief pressure points in your hips and shoulders, too.
Plus it's breathable, firm and you get a 100-night free trial to decide if you like it.
9. Turmerry Latex Mattress Topper
Pros
Good Housekeeping Best Bedding Awards Winner
Oeko-Tex certified
Soft, medium and firm options
Cons
Some reviews say it can move around on the bed
Turmerry makes one of the best firm mattress toppers for back pain — or any pain, really. This topper is made with natural latex (which is hypoallergenic for those who are typically allergic) and comes in three different firmness options: soft, medium and firm. Basically, a guarantee you're bound to find the right mattress topper for you.
Bonus: You can also choose the thickness of the topper, from 2-inch to 4-inch thickness.
What to Look for in a Mattress Topper
Before you set out to buy a good mattress topper, here are some important factors to keep in mind to help guide your purchase.
Mattress toppers can run you anywhere from a hundred dollars to a thousand, so budget is an important consideration.
"For most people, a new mattress may cost five to 10 times more, 8. so trying a mattress topper may be a good short-term investment if buying a new mattress isn't possible," Conrad says.
Most mattress toppers come in down, latex and memory foam. If you're not someone who runs hot while you sleep and are looking for added support, memory foam might be right for you, Conrad says.
"If you tend to already sweat when sleeping, the newer gel memory foam topper options are designed to help keep the mattress cooler than the traditional memory foam models," he says.
Practically speaking, it's important to know the size of the bed you are shopping for — not just in terms of it being queen or king, but also in terms of depth.
"Each mattress topper has a depth to it, so you want to make sure your sheets will fit it," Dr. Patel says. "Some toppers are cut shorter at the edges to accommodate your current bed sheets, while others may push the limits."
Dr. Polos points out that caring for and washing a mattress topper is a bit more complicated than a mattress pad.
"With a mattress pad, you can use your washing machine at home and follow the instructions on the label, whereas mattress toppers are often too bulky for washing machines, so you have to use a mix of water and vinegar and air dry," he says. "To remove dust and debris, vacuum your mattress topper with a clean hose attachment."
Is this an emergency? If you are experiencing serious medical symptoms, please see the National Library of Medicine's list of signs you need emergency medical attention or call 911.