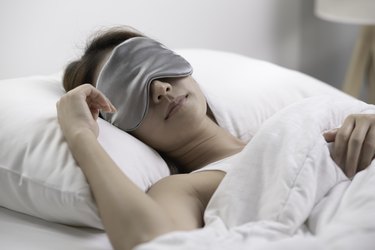 If you're a hot sleeper, you know the struggle of waking up in the middle of the night drenched in sweat. And if wearing lighter clothes or turning on the fan isn't cutting it, a good way to keep cool is by investing in a cooling comforter.
"Cooling comforters have a technology in place that cools the skin in order to decrease body temperature," says Nilong Vyas, MD, a board-certified sleep expert and medical review expert at the Sleep Foundation. "Studies state that cooler body temperature allows for better sleep regulation and fewer overnight wake-ups."
Here, find the best comforters for hot sleepers, and what to look for in a lightweight comforter and cooling duvet insert.
The Best Comforters for Hot Sleepers
We chatted with sleep experts, who broke down the most important attributes of cooling comforters and how to find one that best suits your sleep needs. Our top picks are based on their criteria, including:
Comfort
Breathability
Ease of cleaning
Cost
Want to create a truly comfortable sleep experience? Shop more cooling products:
1. COHOME King 2100 Series Cooling Comforter
Pros
Cost-effective
Lightweight
Machine-washable
Cons
Takes longer to dry after washing
Starting at around $48 for a Twin, COHOME's 2100 is a budget-friendly cooling comforter.
It is encased with microfiber filling, so it's breathable, lightweight and doesn't make noise. Plus, it's machine-washable, making for an easy clean.
2. Slumber Cloud Lightweight Comforter
Pros
Down alternative
Oeko-Tex 100 certified
Breathable
If you're waking up in a sweat and are looking for a lightweight option, or wanting a designated summer comforter, look no further than Slumber Cloud's Lightweight Comforter. What makes this blanket ideal for hot sleepers is that it uses NASA-approved technology to regulate heat and moisture and has a cotton shell for breathability.
Bonus? It's Oeko-Tex 100 certified, so this blanket shouldn't cause skin irritation.
3. SIJO CLIMA All-Season Comforter
Pros
Machine-washable
Oeko-Tex 100 certified
Breathable
Made of a Tencel and nylon blend, the CLIMA comforter works to keep your body at a comfortable and optimal temperature.
For example, when you're hot, the comforter absorbs the heat and releases it back to your body whenever you feel cold. It's able to do this because of the brand's CLIMA technology, which uses phase-change material to maintain the body's temperature.
This blanket is also Oeko-Tex 100 certified, which means it's free of harsh chemicals and dyes.
Whenever this comforter needs a clean, simply throw it in the washing machine on a cold cycle.
4. Best Value: Linenspa Down Alternative Comforter
Pros
Cost-effective
Multiple sizes
Machine washable
If you want the feel of a luxurious comforter but are on a budget, go for this duvet insert by Linenspa. The polyester down alternative has a quilted design for maximum comfort. It comes in multiple sizes and has built-in corner side loops to keep it in place in your duvet cover.
Plus: It's machine washable. Just throw it on a gentle cycle and air dry.
5. REST Evercool Cooling Comforter
Pros
Keeps you dry
Hypoallergenic
Non-toxic materials
Sweaty sleepers worry no more. This cooling comforter from REST is just what you need to stay dry and fresh all night long. This comforter is made with ultra-fine yarn that dissipates heat 10 times faster than cotton.
Bonus? It's non-toxic and hypoallergenic, making it perfect for sensitive skin.
6. Buffy Breeze Comforter
Pros
Environmentally friendly
Breathable
Absorbs moisture
Environmentally friendly comforters exist, and this one from Buffy checks all of the boxes. Constructed out of 300 plant-based Tencel fibers — a material that absorbs moisture and keeps the skin feeling cool — the Buffy Breeze is biodegradable and breathable.
The downside? This blanket is dry-clean only.
6. Ervét Split-Duvet Bundle
Pros
Eco-friendly
Breathable
Two duvets
Cons
Can only be purchased at ErvetBedding.com
Pricey
Have you tugged covers at night because your partner was hogging them? If the answer is yes, you'll no longer have to, thanks to this duvet bundle.
With the Ervét comforter, you and your partner will get your own duvet. Each duvet comes with its own breathable and cooling insert.
Choose between the lightweight insert for summer nights and the all-season insert for chilly evenings. Plus, there are three different types of cover materials to choose from: organic bamboo, cotton percale or cotton sateen.
7. Casper Humidity Fighting Duvet
Pros
One-year warranty
Feels like real down
Moisture-wicking
Cons
Pricey
Can only purchase on Casper.com
Filled with ethically-sourced down, Casper's Humidity Fighting Duvet is comfortable and breathable. This duvet insert has an added layer of merino wool keeps the moisture at bay so you can sleep peacefully.
Bonus: It comes with a one-year warranty.
8. Luna Cooling Bamboo Weighted Blanket
Pros
Sustainable materials
Cooling
Oeko-Tex 100 certified
Made of 100 percent lyocell bamboo, Luna's weighted blanket promotes airflow and prevents you from overheating.
In addition to providing a cooling effect, it's filled with glass beads, which offers a slight pressure and may induce a calming effect to help you get to sleep faster.
What's more, it's Oeko-Tex 100 certified and wicks away moisture, so you can have a sweat-free and comfortable sleep.
9. Brooklinen Down Alternative Comforter
Pros
Hypoallergenic
Eco-friendly
Lightweight
Cons
Down alternative can be noisy
If you're allergic to down comforters, swap out your traditional one for this down-free alternative.
This down alternative comforter is filled with polyester fibers that have been recycled from plastic water bottles, making it a great option for people with allergies or who want an eco-conscious design.
Despite the blanket being lightweight, it's warm enough to be used during all seasons.
10. Tuft & Needle Down Alternative Duvet Insert
Pros
100-night sleep trial
Breathable
Lightweight
Cons
Down alternative can be noisy
If all you need is a duvet insert, give Tuft & Needle's Down Alternative Duvet Insert a go.
Made of 100 percent cambric cotton shell, Tuft & Needle's duvet insert is breathable and lightweight. It's also encased with a polyester fill, so the blanket won't clump together.
If the insert doesn't meet your expectations, you can return it thanks to the 100-night sleep trial. There's also a two-year warranty in case anything else comes up.
What to Look for in a Cooling Comforter
The best cooling comforter uses signature technology — which consists of a blend of fibers and materials, such as polyester, Tencel, and cotton — to regulate body temperature.
So how does cooling technology work exactly? Well, when your skin's temperature increases, the material absorbs the excess heat to prevent you from overheating. When you get cold, the material restores heat back to your body.
2. Materials and Breathability
When you're on the hunt for a cooling comforter, it's best to "avoid too bulky or heavy comforters," which can trap heat, Dr. Vyas says.
Cooling comforters are usually made of breathable materials and fibers, such as polyester, Tencel and cotton. These materials are known for absorbing heat, which can help decrease your overall body temperature.
Additionally, if you have sensitive skin or are prone to skin breakouts, Dr. Vyas says to "look for fills without too many synthetic ingredients." (Think: polyester.)
If a comforter is synthetic and chemical-free, it will be labeled Oeko-Tex 100 certified.
The best cooling comforters are usually lightweight, which varies by brand. If your comforter is weighted, it will weigh between 10 and 25 pounds. Follow the brand's instructions for choosing a blanket weight.
Cooling comforters come in myriad sizes, from twin to California king, so choose one that fits your bed's size. For example, if you have a queen bed, choose a queen-sized cooling comforter.
The majority of quality-made cooling comforters cost between $100 and $200. If cost is a concern, there are some affordable options under $100, including the COHOME King 2100 Series Cooling Comforter and the Luna Cooling Bamboo Weighted Blanket.
Is this an emergency? If you are experiencing serious medical symptoms, please see the National Library of Medicine's list of signs you need emergency medical attention or call 911.