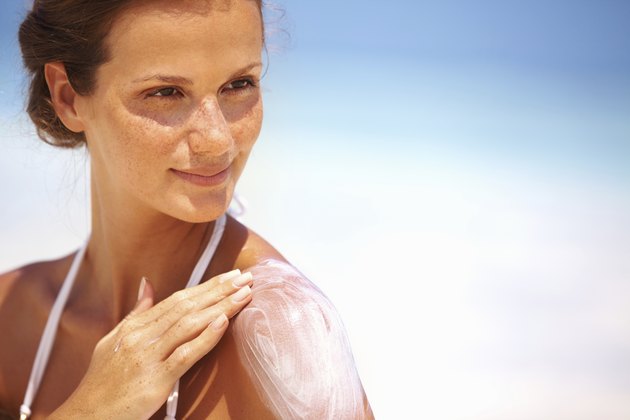 Zinc oxide is a white, powdery mineral that is used for making plastics and other textiles. It also appears in some cosmetics. This mineral is not soluble in water, but it does dissolve in acidic environments. It is known best in the United States as a primary ingredient in sunscreen lotions. When applied topically, zinc oxide offers several important benefits for the skin.
UV Protection
According to Dr. Marilynn Syrett, zinc oxide is one of the safest ingredients for protecting the skin from the harmful effects of ultraviolet (UV) rays. UV rays penetrate the skin and damage tissue, speeding up the aging process and drying the skin out. These rays also increase the risk of skin cancer. Sunscreens containing zinc oxide filter out UV rays, keeping them from penetrating the skin and causing cell damage.
Skin Healing
Zinc oxide is also effective for healing the skin. It can be used to heal wounds, reduce the tenderness associated with sunburns and soften chapped skin. Jonathan Moore, DPM, notes that people who are zinc deficient typically experience slower wound-healing times. When zinc oxide is applied to the wound area, it provides the body with the extra zinc it needs to repair skin cells. Zinc oxide helps keep the wound area moist and clean.
Astringent
Lotions and creams containing zinc oxide are effective skin astringents, says Dr. Syrett. You can apply zinc oxide to keep excess oils from forming on the surface. It is sometimes used as an acne treatment -- it is believed to reduce the appearance of blemishes and reduce skin irritation and inflammation, reducing the number and severity of acne breakouts.