Stress balls are small balls or objects filled with a malleable gel or clay that are held in the palm of your hand. The act of repeatedly squeezing the ball releases tension and helps to relieve stress. The benefits of stress balls also include boosting blood circulation and helping with the treatment of carpal-tunnel syndrome -- and they're used as a tool for meditation. The balls can also be used as a physical therapy tool to help strengthen the muscles of the hand and wrist. Consult with a physician before treating stress or injuries on your own.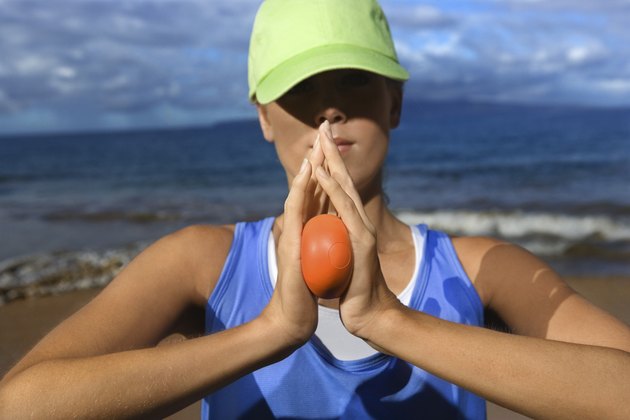 Relieve Stress
Decreasing stress and tension can help to improve the quality of your life by promoting better sleep, warding off illness and enhancing a general feeling of well-being. Squeezing the ball activates the muscles of your hand and wrist; releasing the grip allows the muscles to relax. The repeated pattern of grip and release helps to alleviate tension and stress.
Physical Therapy
The muscles in your hands and wrist can become weak from numerous conditions, such as overuse, arthritis or a fracture or sprain. Squeezing a stress ball can help to rehabilitate and strengthen your hand. Hold the ball in the palm of your hand and squeeze it as tight as possible; hold the grip for five seconds and release. Repeat 10 times.