The statins, also known as HMG-CoA reductase inhibitors, are prescription medications used along with diet and exercise to lower cholesterol. The statins include Lipitor (atorvastatin), Crestor (rosuvastatin), Lescol (fluvastatin), Mevacor or Altoprev (lovastatin), Zocor (simvastatin) and Pravachol (pravastatin). These drugs work by blocking a chemical called the HMG-CoA reductase, which is needed for the formation of cholesterol in the body. Many patients may not be able to take a statin medication due to a contraindication.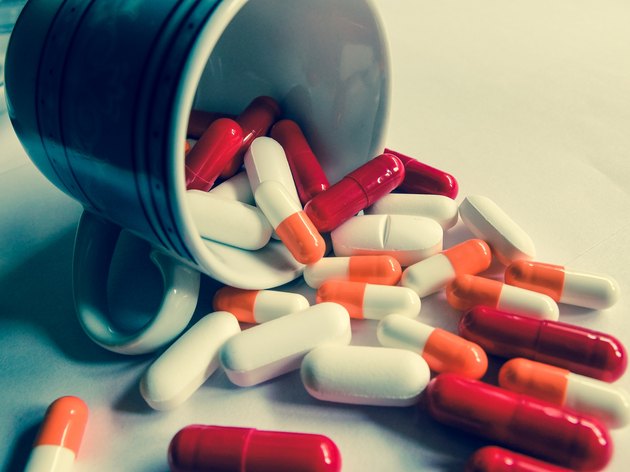 Pregnancy and Breastfeeding
The statins belong to pregnancy category X, meaning that fetal malformation may occur and the risks far outweigh the benefits. If a woman is pregnant or breastfeeding, statins are not recommended. The formation of cholesterol is important in the development of the fetus, which is why cholesterol and triglyceride levels increase during the end of pregnancy, explains "Pharmacotherapy: A Pathophysiologic Approach." However, pregnant or nursing women must utilize non-statin methods to lower cholesterol during this time.
Active Liver Disease
Statins are contraindicated in individuals who have active liver disease. The drugs are eliminated from the body by going through the liver, states the "Drug Information Handbook." In those with active liver disease, the liver can not function properly and is unable to eliminate medications as effectively. This may lead to an accumulation of the drug in the body that may cause harmful effects. It may also cause liver disease to progress quicker, causing complete liver failure.
Elevation of Liver Enzymes
Statins may cause an elevation in liver enzymes. Usually, the increase is mild and the patient may continue on the medication. However, if the elevation of the enzymes is persistent and three times above normal levels, the patient should stop taking the medication right away. The effect usually reverses once the patient discontinues the medication. Increase liver enzymes may lead to permanent liver damage, states MayoClinic.com. Furthermore, liver problems may develop without symptoms. The patient must keep all doctor appointment to ensure she is being monitored appropriately. Individuals who start a statin medication must have a blood test within six weeks to check liver function.
Allergic Reactions
Individuals may develop an allergic reaction to a statin, which is characterized by itching or hives, swelling in the hand or face, chest tightness and trouble breathing. The patient should stop the medication immediately if he experiences any of these symptoms and seek medical attention. The patient should be placed on a different medication and never be exposed to a statin medication again.
Is This an Emergency?
If you are experiencing serious medical symptoms, seek emergency treatment immediately.