The National Institutes of Health reports that alcoholism is a chronic disease with four essential features: an alcoholic will crave alcohol, he won't be able to stop drinking, he'll have physical withdrawal symptoms; he'll need greater amounts of alcohol to get high. The most acute withdrawal symptoms will occur in the first days of detox. Symptoms after detox are called post acute withdrawal symptoms, or PAWS.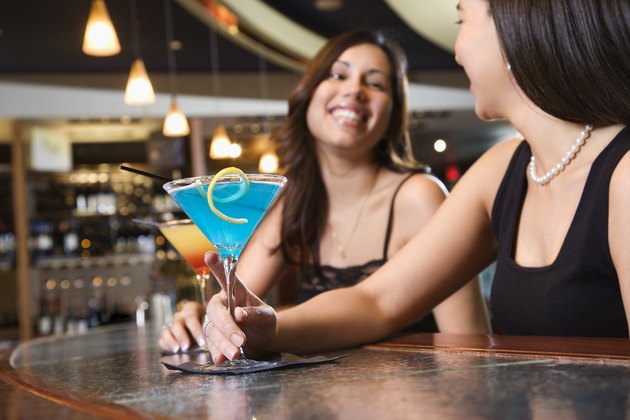 PAWS
Post acute withdrawal symptoms are all of the symptoms you will experience after you detox from alcohol. Unlike acute withdrawal symptoms, which consist of a short list of symptoms most people experience, the list of symptoms that occur after withdrawal do not affect everyone. Some people experience PAWS for a few months while others have symptoms for a year or more. The most common PAWS symptoms include mood swings, irritability, fatigue, disturbed sleep, problems concentrating, cognitive and memory problems.
Anxiety
Many people drink to cope with social and family anxiety. When alcohol is no longer used to numb fears, a person in recovery may feel fearful when there is no danger. Anxiety can have physical symptoms like feelings of dizziness, rapid heartbeat or stomachache.
Mood Swings
Manor House, a drug rehabilitation program, explains that during a chronic period of intoxication, the brain undergoes chemical changes and damage can occur. After detoxing, it's normal to feel mood swings since in the past, an alcoholic would control her moods with alcohol. Anywhere from six months to two years after getting sober, a person in recovery can more easily become depressed, feel angry, irritable and sad.
Cognitive Disruption
After getting treatment for alcoholism, it's normal to have racing thoughts, which may feel distracting. Some people complain of feeling scattered or lack of concentration. The Family Intervention Center of Virginia reports "Cause and effect reasoning suffers as well in the early stages of recovery." Usually this clears up after six to 12 months.
Insomnia
It's not uncommon to have trouble sleeping, even if you do feel tired, for several months after recovering from alcohol addiction. In 2006, the journal Addiction Biology published a study by Watanabe Kei-Ichiro, which found that in a pool of 27 patients admitted to the hospital for alcohol dependence, most began having symptoms of insomnia after they were withdrawn from alcohol. The most active period of insomnia, in fact, occurred after 160 days of being sober. The patients suffered from lack of sleep at an average of 4.4 out of 10 nights.
Memory Loss
The Family Intervention Center of Virginia reports that memory loss is one of the most typical post acute withdrawal symptoms after alcohol detox. Short-term memory (information learned within the last 30 minutes) is a common complaint. It helps to be patient, avoid stressors, and try to develop a steady routine in the early days of recovery.