A steaming bowl of hot oatmeal is a real stick-to-your-ribs breakfast that will likely keep you feeling full and satisfied until lunch. Oats are an excellent source of dietary fiber, which is important for bowel and cardiovascular health. However, if you start adding too many toppings, your healthy breakfast can turn into a dessert. Sprinkle just a bit of brown sugar over your oats and mix in dried or fresh fruit for natural, nutritious sweetness.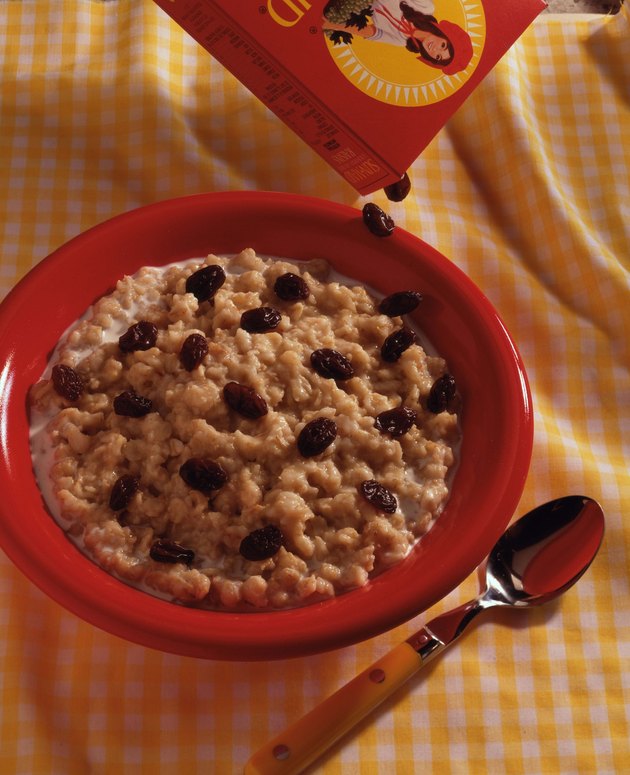 Just Plain Oats
The amount of calories in a bowl of oatmeal depends on serving size and variety. A cup of regular or quick oats prepared with water has approximately 166 calories. A packet of instant oatmeal without any sweetener has around 150 calories.
Adding Brown Sugar
There is nothing particularly nutritious about brown sugar. One teaspoon of unpacked brown sugar has 11 calories. Limit yourself to just a spoonful of sugar or you'll undo the healthiness of your breakfast. Another option is using a packet of brown sugar instant oatmeal, which has roughly 200 calories when prepared with water.