Though they often play second -- or even third -- fiddle to the elliptical and treadmill, steppers are a non-impact cardio option for the climbing-inclined. Also known as stair climbers, steppers are sometimes relegated to gym corners, which makes them an underutilized cardio and strengthening tool. Stepper machines tone your lower extremities, primarily focusing on the upper thighs and glute muscles, and strengthen your heart and lungs. Different kinds of stepper machine exercises provide specific benefits.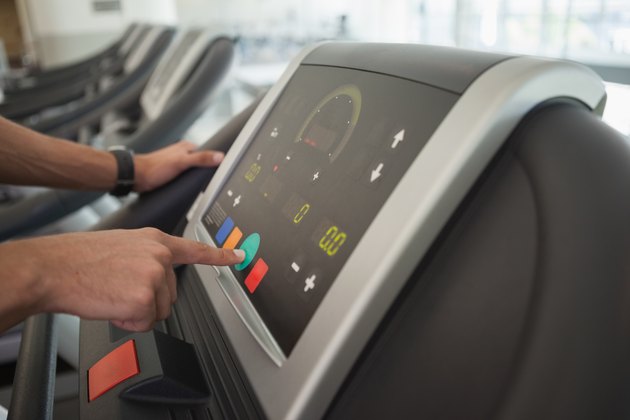 Stepping Up for Cardio
Cardiorespiratory exercise is attained by maintaining a vigorous pace on a stepper. This kind of exercise strengthens the heart, lowers cholesterol and blood pressure, and reduces the risk of peripheral artery disease and diabetes, according to Harvard Health. It also strengthens the lungs and surrounding chest muscles, increasing your respiratory rate and oxygenating your blood. Maximize your cardiorespiratory benefits by maintaining a vigorous stepping pace with no resistance, for 30 minutes. Fluctuate your speeds, alternating lower, resting speeds with faster jaunts. Evenly space out your sprints, leaving room for a 30- to 60-second rest for each one- to two-minute high-pace sprint. Gradually extend your cardio up to 60 minutes per session.
Stepping to Build the Bottom
Lower body exercises on a stepper machine strengthen the buttocks and leg muscles. Several smaller muscles form the major muscle groups, and stair machines mainly work five of these: the rectus femoris and vastus medialis, or front quad muscles; the rear thighs' semimembranosus; the calves' gastrocnemius; and the primary buttock muscle, the gluteus maximus. Enhance your lower body by gradually raising your resistance in steady increments. Raise the steppers resistance enough to feel to fatigue your thighs and glutes after 30 minutes. Swap two to three moderate, cardio stepper workouts for resistance-added workouts.
Stepping for Stamina
Resistance training exercises on a stepper build stamina; however, stamina-enhancing exercises are highly intense. Keep your resistance levels above one, after a five-minute warmup, varying levels as you switch between intervals. High intensity interval training, or HIIT, requires an effort greater than 80 percent of your max heart rate, according to personal trainer, Pete McCall. Increase your resistance level on the stepper each minute during your warmup. Step at a high-speed for two to three minutes, then slow down for one minute. Slightly decrease your resistance and speed during the resting phase. Work in two to three HIIT sessions a week to focus on your stamina. Your max heart rate is your age subtracted from 220.