Recovering from a fractured humerus is no walk in the park. Immediately after this type of injury, it's not uncommon to experience uncomfortable pain and swelling in your arm. In addition, you may have decreased shoulder range of motion and muscular weakness that persist for a long time after the initial fracture. After checking with your doctor to ensure they are appropriate in your specific case, try the following exercises to aid in your rehabilitation.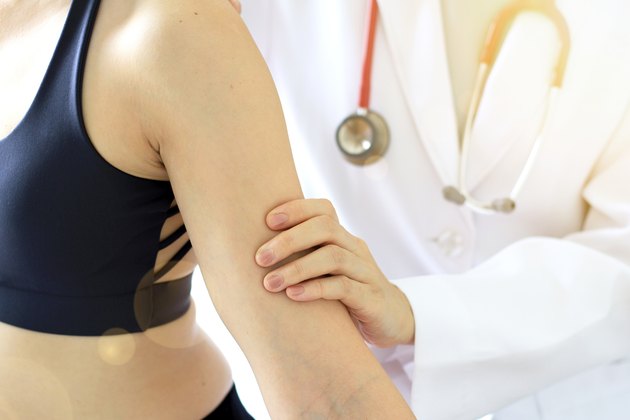 1. Codman
This technique helps with early mobility in the shoulder without placing undue stress on your fractured humerus. It also plays a role in bringing healthy joint fluid and much needed nutrients to the healing area.
HOW TO DO IT: Lean your good arm onto a countertop and let your injured arm hang down towards the floor. Gently shift your body forward and backward as your hanging arm slowly swings. The motion in the injured arm should come from your body's movement and not from your shoulder muscles. Do two to three sets of 25 repetitions and then repeat the exercise moving side to side.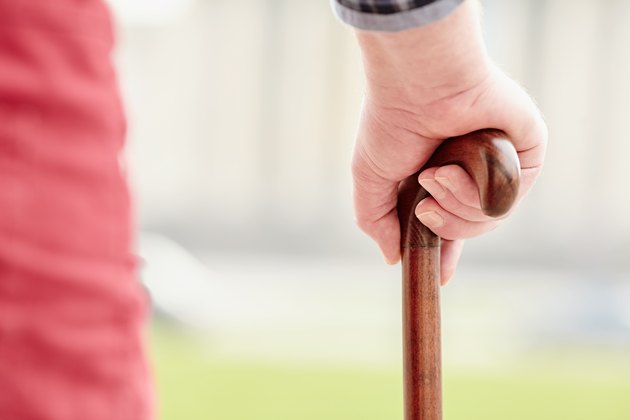 2. Cane Stretch
This stretch helps to improve external rotation in your shoulder. This motion is important for everyday activities like putting on a seat belt and washing your hair.
HOW TO DO IT: Lie on your back with your arms at your side and your elbows bent to 90 degree angles. Holding a cane or a wooden dowel, use your good arm to push the cane against the palm of your injured side and move it away from your body. Make sure to keep the elbow of your fractured arm at your side at all times. When a gentle stretch is felt, hold it for 30 seconds before relaxing. Do three to five stretches in a sitting and try to complete the exercise two times each day.
3. Table Bow
Table bows help to advance your shoulder flexion range of motion, which aides in your ability to perform overhead tasks.
HOW TO DO IT: Stand facing a table or counter and place the palm and forearm of your injured extremity on the surface. Without moving the arm, slowly back away from the counter as you lean your body forward. When you feel a light pull, maintain the stretch for 30 seconds before returning to your initial position. Twice daily, complete a set of three to five stretches.
4. Scapula Squeeze
Scap squeezes target the muscles surrounding your shoulder blades that bring you into a better posture. Poor activation of these muscles may lead to increased pain and stiffness in the shoulder joint.
HOW TO DO IT: Sit in a chair with your arms resting on your thighs. Bring your shoulder blades into a down and back position like you are tucking them into your back pockets. Be sure not to shrug your shoulders or move your arms as you do this. After 10 seconds, relax your squeeze. Do two to three sets of 10 repetitions of the exercise two to three times per day.
5. Isometric Abduction
Isometrics are an easy way to activate your rotator cuff muscles without moving your shoulder, which can be painful initially after a humerus fracture.
HOW TO DO IT: Stand with a wall at your side and bend your elbow. Move your arm sideways into the wall and push against it as though you were trying to raise your arm overhead. Sustain the push for 10 seconds before relaxing and do three sets of 10 repetitions of the exercise daily. Begin by pushing with 10 to 20 percent of your effort and increase the intensity as this becomes easier.
6. Wall Walk
This exercise helps to improve your overhead range of motion using a wall to assist your rotator cuff muscles with the movement.
HOW TO DO IT: Stand facing a wall and put the hand of your injured arm against it. Use your fingers to walk up the surface as far as you can. When a light stretch is felt in your shoulder, hold your arm here for 10 seconds before sliding your palm back down again. Try 10 repetitions and complete the exercise two times each day.
Warnings and Precautions
Each specific injury is unique and it's vital to work hand-in-hand with your physician to ensure the program detailed above is appropriate for you. Failure to do this can cause increased damage to your arm and prolong your recovery timeline. In addition, it's important to stop any exercise that causes you additional pain to avoid aggravating your shoulder.