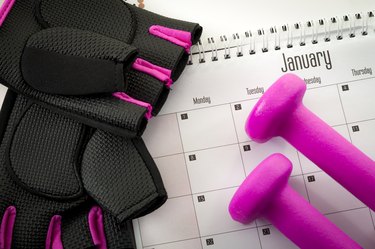 A good personal trainer really knows her stuff. She has knowledge of anatomy and physiology, biomechanics, exercise technique, program development and nutrition. She also has the certification to show she's knowledgable in these areas. It takes time to study for and pass the personal trainer certification exam. How long it takes depends on your prior experience and knowledge and how much time you have to prepare.
Online Programs
Many organizations offer an online distance-learning personal training certification program. The programs are typically self-paced, meaning you can study intensively or learn more slowly depending on your schedule. As an example, the International Sports Sciences Association states that most students can complete its course in 8 to 10 weeks, assuming they study about an hour or two per day.
There may be a time limit on how long you can study for a course. ISSA's limit is four months from the date you purchase the course. If you need more time, you can apply for a free two-month extension.
Testing Center Exams
Some certifying agencies, such as the American Council on Exercise, require that you take your final exam at a monitored testing center. First, you'll obtain the course material from the fitness organization and then schedule to take a test at a testing center close by. ACE requires that you take the exam within six months of purchasing the certification course. In most cases, you can schedule the exam whenever is best for you, but you will have to make sure you can show up at the scheduled date and time.
Workshops
Some organizations, like the Aerobics and Fitness Association of America, offer supplemental live workshops as an add-on option when you purchase course materials. These workshops are not required to take the exam, but you may find they are a helpful learning experience. If you choose to take a workshop prior to taking your exam, you will have to wait until a live workshop is available in your area. How soon that is available will depend on where you live.
Associate's Degree
If you decide you would like a more in-depth study experience, you may enroll in a more intensive program to receive an associate's degree in exercise science and personal training. These programs will offer advanced skills that may pay off professionally in the long run.
If you opt to take ISSA's associate's degree course, for example, you must complete 90 credits, 30 of which must be earned as structured undergraduate course work, rather than self-paced study. Your timeline will be in part determined by course start dates and availability. Two years is typically the amount of time required to receive an associate's degree. However, with ISSA's program you are qualified to begin training after you have completed a portion of the total credits required.