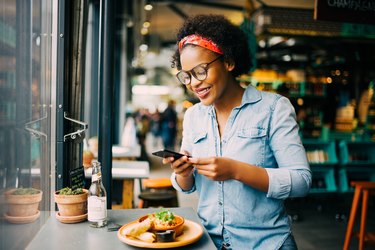 If you're on a mission to lose weight but aren't a fan of tracking macros or counting calories, the simplicity of the Weight Watchers points system may appeal to you.
Weight Watchers rebranded as WW in 2018, and with the name swap came a change to the program's points system. On the old Weight Watchers PointsPlus system, users had a minimum of 26 points a day, with the option to add one to three more. Each week, they could earn 49 bonus points.
But on the new WW system, users build their own SmartPoints budget based on their personal goals and lifestyle.
About the Weight Watchers SmartPoints System
The WW SmartPoints system assigns foods points based on their calorie, sugar, saturated fat and protein content. Each person is then assigned a number of daily SmartPoints based on their current weight, height, sex, activity level and weight-loss goal.
While a sedentary, shorter person may get 23 SmartPoints per day, taller and more active individuals might get 29 points.
Tracking SmartPoints isn't quite the same as counting calories, for the same reason that eating 100 calories of cake isn't quite the same as eating 100 calories of vegetables, which provide you with various vitamins and minerals. So, whereas calorie counting does not consider the nutrients of certain foods, SmartPoints are assigned based on nutritional value.
SmartPoint values for some common foods include:
1 tablespoon extra virgin olive oil — 4 points
1 ounce sharp cheddar cheese — 4 points
1 tablespoon almond butter — 3 points
1 turkey burger — 3 points
How to Get Your SmartPoints Number
When you sign up for WW and download the app, you'll enter details about yourself, such as your age, height, weight and sex. Based on these factors, the program will calculate how many Weight Watchers points you can get each day. Your specific SmartPoints number is calculated to help you lose weight at a healthy pace.
You can also use the WW app to keep track of how many SmartPoints you've used and how many you have remaining each day.
Make the Most of Your Budget With ZeroPoint Foods
The SmartPoints system also features ZeroPoint foods. Because they're essential components of a healthy diet, ZeroPoint foods don't count toward your daily allowance of points.
These are primarily vegetables and fruits but also include some forms of lean meat, eggs and beans. Encompassing more than 200 different foods, the ZeroPoint concept was crafted after the company saw effective weight loss in people even without tracking these specific foods.