Black tar is a type of heroin that largely comes from Mexico into the United States. Unlike other forms of heroin, black tar takes on a sticky black form or a hard rock-like form, instead of a white or tan powder. However, like other forms of heroin, black tar can be either smoked or melted for intravenous injection. Using black tar heroin is a dangerous behavior that can result in a wide range of potentially deadly side effects.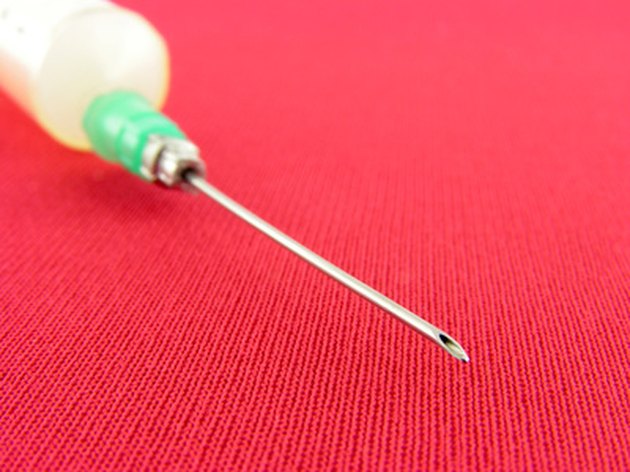 Opioid Receptors
One side effect of black tar is the way that it interacts with your opioid receptors. Like other forms of heroin, black tar converts to morphine in your body where it can then attach itself to opioid receptors. These receptors are responsible for the way you feel pain, as well as play a major role in the pleasure or reward senses of your body. The activation of these sensors creates the euphoric rush felt during black tar drug use.
Spontaneous Abortion
Black tar heroin may cause spontaneous abortion for those who are pregnant, states the National Institute on Drug Abuse. Spontaneous abortion is the accidental abortion of a fetus, typically within the first 20 weeks of a pregnancy. The March of Dimes organization also cautions against the use of all types of heroin during pregnancy as it can result in birth defects, including infant withdrawal and sudden infant death syndrome, or SIDS.
Disease
Black tar can also increase your risks for certain diseases, especially if you administer the drug intravenously. Most chances for disease come from sharing needles with other infected users, which can infect you with serious diseases such as HIV/AIDS and hepatitis. The act of injection can also cause disease, such as venous sclerosis, which causes the veins to become so hard and narrow that further injection is impossible.
Addiction
Black tar heroin is an extremely addictive substance. This is largely due to the euphoric feeling that is caused by the opiate properties of the black tar interacting with the opioid receptors of the brain. Addiction can lead to other problems, including malnutrition, crime and homelessness due to the extreme need to fulfill cravings for the drug. The National Institute on Drug Abuse estimates that approximately 23 percent of those who try heroin, including black tar, will become addicted to it.
Withdrawal
Once addiction is achieved, stopping use of black tar even for a short time can create withdrawal side effects. These symptoms can vary in severity, but may include headache, nausea, cramps, vomiting, diarrhea, muscle spasms depression and irritability. In some cases drugs, such as clonidine, may be used to help lessen the effects of withdrawal, states Drugs.com.
Tolerance and Overdose
Another side effect of black tar is a growing tolerance to heroin, which can eventually lead to an overdose. Tolerance occurs as the body grows used to the amount of black tar being used, requiring you to use more in order to achieve the same level of euphoric effects.